Mercy as the Basis for Solving the Social Dispute About Justice
Edward Sienkiewicz

University of Szczecin, Faculty of Theology
Keywords:
mercy; justice; social dispute; anthropological and personalist criterion
Abstract
The social dispute over justice that is in a great crisis, must not be limited to social and economical criteria only. This is proved by the elementary experience, since attempts to overcome injustice only on this level are not effective. The anthropological and personalist criterion is necessary here. Only this criterion allows one to integrally define a man – also in his relations with others – as a person. Also justice has a personalist character, and because of this it is not a value that is only added to a man. As such, it is also an objective value that has an obligatory character, which is difficult to justify, and the more so to make it come true, without the Christian Revelation. The event of Jesus Christ, with the preparation given in the Old Testament, shows man's sin as the fundamental source of injustice. This is why in an encounter with injustice only God's mercy is effective, as the only factor – through Jesus' paschal mystery – that overcomes sin. It is not tantamount to giving up justice, but to practicing it – as in Jesus' understanding surrendering to the criteria of justice is a necessary condition of mercy, so that the sin can be judged and overcome, and the man can be saved.
References
Aristotle, Nicomachean Ethics. Translated by Daniela Gromska. Warszawa: PWN, 1982.
Bailey, John A. "Initiation and the Primal Woman in Gen 2-3." Journal of Biblical Literature 89 (1970), 137-150.
Barth, Grzegorz. Hermeneutyka osoby. Lublin: Wydawnictwo KUL, 2013.
Bartnik, Czesław S. Personalizm. Lublin: Wydawnictwo KUL, 2008.
Benedykt XVI. Deus caritas est. Città del Vaticano: Libreria editrice vaticana, 2005.
Dogiel G., Antropologia filozoficzna, Kraków 1992.
Epos o Gilgameszu. Translated by Krystyna Łyczkowska, Piotr Puchta, Magdalena Kapełuś. Warszawa: Wydawnictwo Agade, 2002.
Feuillet, Andre. "Dwa aspekty sprawiedliwości w Kazaniu na Górze." Communio 1-2 (1981), 67-76.
Francis. Evangelii gaudium. Città del Vaticano: Libreria editrice vaticana, 2013.
Francis. Misericordiae vultus. Bull of Indiction of the Extraordinary Jubilee of Mercy. Città del Vaticano: Libreria editrice vaticana, 2015.
Gnilka, Joachim. Jesus von Nazaret. Botschaft und Geschichte. Freiburg–Basel–Wien: Herder, 1993.
Goppelt, Leonhard. Teologia del Nuovo Testamento. L'opera di Gesu nel suo significato teologico a cura di Jürgen Roloff, vol. 1. Brescia: Morcelliana, 1982.
Góralczyk, Paweł. "O większą sprawiedliwość w ekonomii i polityce." Communio 20 (2000), no 5, 110-129.
John Paul II. Encyclical letter Dives in misericordia. Città del Vaticano: Libreria editrice vaticana, 1980.
John Paul II. Encyclical letter Redemptor hominis. Città del Vaticano: Libreria editrice vaticana, 1979.
Lemański, Janusz. "Księga Rodzaju. Rozdziały 1-11." In Nowy komentarz biblijny – Stary Testament, edited by Antoni Paciorek, Roman Bartnicki, Antoni Tronina. Częstochowa: Edycja Św. Pawła, 2013.
Katechizm Kościoła Katolickiego, Poznań: Pallottinum, 2002.
Majka, Józef. "Miłosierdzie jako zasada społeczna w świetle encykliki Dives in misericordia." In John Paul II. Dives in misericordia. Translated by Stanisław Grzybek, M. Jaworski. Kraków: Polskie Towarzystwo Teologiczne, 1981.
Metz, Johann B. Teologia polityczna. Translated by Agnieszka Mosurek. Kraków: WAM, 2000.
Müller, Gerhard L. "Chrystologia – nauka o Jezusie Chrystusie." Translated by Wiesław Szymona, traktat V. In Podręcznik teologii dogmatycznej, edited by Wolfgang Beinert. Kraków, Wydawnictwo M, 1998.
Nagórny, Janusz. Posłannictwo chrześcijan w świecie, vol. 1: Świat i wspólnota. Lublin: Wydawnictwo KUL, 1997.
Napiórkowski, Andrzej A. Bosko-ludzka wspólnota. Podstawy katolickiej eklezjologii integralnej. Kraków: WAM, 2010.
Neuner, Peter. Eklezjologia – nauka o Kościele, translated by Wiesław Szymona, treaty VI. In Podręcznik teologii dogmatycznej, edited by Wolfgang Beinert. Kraków, Wydawnictwo M, 1998.
Ouellet, Marc. "Sprawiedliwość Przymierza," translated by Lucjan Balter. In Communio 15: Bóg bogaty w miłosierdzie, edited by Lucjan Balter, 126-139. Poznań: Pallottinum, 2003.
Pawłowski, Zdzisław. Opowiadanie, Bóg i początek, Teologia narracyjna Rdz 1-3, (Rozprawy i Studia Biblijne 13), Warszawa: Vocatio, 2003.
Sternberg, Meir. The Poetics of Biblical Narrative. Ideological Literature and the Drama of Reading. Bloomington: Indiana University Press, 1987.
Synowiec, Juliusz S. Oto twój król przychodzi. Mesjasz w pismach Starego Przymierza. Kraków: Wyższe Seminarium Duchowne OO. Franciszkanów 1992.
The Dictionary of Classical Hebrew, vol. 1-6, edited by David J. A. Clines. Sheffield: Sheffield Phoenix Press, 1993-2007.
Thomas Aquinas. Summa Theologica. Translated by Pius Bełch. Londyn: Veritas, 1975.
Westermann, Claus. Theologie des Alten Testaments in Grundzügen. Göttingen: Vandenhoeck & Ruprecht, 1995.
Wojtyła, Karol. "Objawienie Trójcy Świętej a świadomość zbawienia w świetle Vaticanum II". In Z zagadnień kultury chrześcijańskiej, 11-19. Lublin: Wydawnictwo KUL, 1973.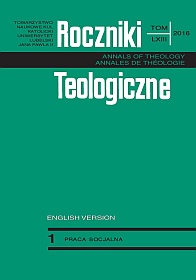 Copyright (c) 2016 Roczniki Teologiczne
This work is licensed under a Creative Commons Attribution-NonCommercial-NoDerivatives 4.0 International License.