Christus Totus – Different Ways of Interpretation
Włodzimierz Wołyniec

Pontifical Faculty of Theology in Wrocław
Keywords:
Christus totus; the Church; the Head and the Body; social person; Adam; cosmic Christ
Abstract
The christological title Christus totus seldom appears in modern theology. It seems that the reason for this stems from the lack of precise understanding and interpretation of the very title. Therefore, the article: "Christus totus − different ways of interpretation"  is an attempt at the presentation of theological wealth hidden behind it. From ecclesiological aspect, Christus totus expresses the unity of Christ − the Head and Body of the Church. Without covering over the identity of the Divine Person, Jesus Christ must be eternally and inextricably perceived with the Church, which takes over and borrows from its Divine Head new subjectivity. Christus totus, in the anthropological perspective, is a paradigm of the new man. On the one hand, He is the new Adam, a social, corporate being, yet on the other hand, He is a Personality characterized by His total openness to others. Jesus Christ is a man who does not exist for Himself but for others, opening wide the boundaries of His existence. From the cosmic perspective Christus totus is finally cosmic Christ, because He remains in the relation of cause and effect of the entire creation. However, Christ does not fade away in the Universe in any pantheistic sense, but remains in it, being present as the incarnated Son of the Father, performing real transformation of the Universe into New Heaven and New Earth.
References
Bartnik, Czesław S. Kościół Jezusa Chrystusa. Wrocław: Wydawnictwo Wrocławskiej Księgarni Archidiecezjalnej, 1982.
Bartnik, Czesław S. Dogmatyka katolicka, vol. 1. Lublin: Wydawnictwo KUL, 2000.
Bartnik, Czesław S. Dogmatyka katolicka, vol. 2. Lublin: Wydawnictwo KUL, 2003.
Chardin, Pierre Teilhard de. Oeuvres, vol. 9: Science et Christ. Paris: Éditions du Seuil, 1955-1976.
Cipriani, Settimio. Le lettere di Paolo, Assisi: Cittadella, 1991.
Enchiridion symbolorum, definitionum et declarationum de rebus fidei et morum. Translated by Heinrich Denzinger, edited by Peter Hünermann. Freiburg im Br.−Basel−Rom−Wien: Herder, 199938.
Evdokimov, Paul. Orthodoxy. New York New City Press, 2011. Translated by Jerzy Klinger. Warszawa: Pax, 1964.
Jagielski, Mariusz. L'Ėglise dans le temps: Yves Congar: la quête d'un réalisme ecclésiologique. Paris: Cerf-Alpha, 2015.
Jezus Chrystus. Historia i Tajemnica. Edited by Wincenty Granat; Edward Kopeć. Lublin: TN KUL, 1988.
Karas, Marcin. Historiozofia Teilharda de Chardin wobec tradycyjnej myśli chrześcijańskiej. Kraków: Księgarnia Akademicka, 2012.
Kulisz, Józef. Tajemnica Jezusa Chrystusa w rozumieniu Teilharda de Chardin. Warszawa: Bobolanum, 1995.
La Bibbia commentata dai Padri. Nuovo Testamento 8. Edited by Thomas C. Oden, in italian edited by Carlo Dell'Osso; Angelo Di Berardino. Roma: Città nuova, 2005.
Maloney, George A. The Cosmic Christ. From Paul to Teilhard. London: Sheed and Ward, 1968. Translated by Tadeusz Mieszkowski. Warszawa: Pax, 1972.
Rahner, Karl. Jezus Christus. Systematik der kirchl. Christologie. LTK1, vol. 5, 953-961.
Ratzinger, Joseph. Introduction to Christianity. San Francisco: Ignatius Press, 2004. Translated by Zofia Włodkowa. Kraków: Znak, 1996.
Ratzinger, Joseph. Opera omnia, vol. 1: Lud i Dom Boży w nauce św. Augustyna o Kościele. Translated by Wiesław Szymona, edited by Krzysztof Góźdź, Marzena Górecka, Wiesław Szymona, Lublin: Wydawnictwo KUL, 2014.
Papieska Rada ds. Kultury i Dialogu Międzyreligijnego. Jezus Chrystus Dawcą wody żywej. Chrześcijańska refleksja na temat New Age. Watykan, 2003.
Rusecki, Marian. Traktat o Objawieniu. Kraków: Wydawnictwo Księży Sercanów, 2007.
Sesboüé, Bernard. Poza Kościołem nie ma zbawienia. Historia formuły i problemy interpretacyjne. Translated by Agnieszka Kuryś. Poznań: W drodze, 2007.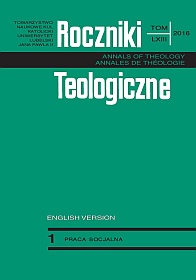 Copyright (c) 2016 Roczniki Teologiczne
This work is licensed under a Creative Commons Attribution-NonCommercial-NoDerivatives 4.0 International License.