Saint Thomas – doctor gratiae? The Primacy of Divine Grace in Aquinas' Thought in the Light of Sixteenth-century Confessional Polemics
Marcin Składanowski

John Paul II Catholic University of Lublin
Keywords:
Thomas Aquinas; Martin Luther; divine grace; justification
Abstract
The author seeks to underline these elements of Saint Thomas Aquinas' teaching on the necessity of divine grace which concern the fundamental theological issues of the Reformation. A brief analysis of Luther's idea about Scholastic theology and his reasons for rejection of the Catholic doctrine on grace, in the light of Aquinas' teaching, indicates that Luther probably did not know the original thought of Doctor Angelicus. The article consists of two parts. The first is devoted to Luther's rejection of Scholastic theology and the problem of Luther's knowledge of Aquinas' works. The second part presents Aquinas' theses on the necessity of divine grace which coincide with some Luther's theological intuitions.
References
Bayer Oswald, Martin Luther's Theology. A Contemporary Interpretation, tłum. T.H. Trapp, Eerdmans, Grand Rapids 2007.
Gilbert Paul P., Wprowadzenie do teologii średniowiecza, tłum. T. Górski, WAM, Kraków 1997.
Hödl Ludwig, "Lumen gratiae". Ein Leitgedanke der Gnadentheologie des Thomas von Aquin, w: Mysterium der Gnade. Festschrift für Johann Auer, red. H. Roßmann, J. Ratzinger, Pustet, Regensburg 1975, s. 238-250.
Janz Denis Raymond, Luther and Late Medieval Thomism. A Study in Theological Anthropology, Wilfrid Laurier University Press, Waterloo 1983.
Kraus Georg, Nauka o łasce – zbawienie jako łaska, tłum. W. Szymona, Wydawnictwo M, Kraków 1999.
Lienhard Marc, L'Évangile et l'Église chez Luther, Cerf, Paris 1989.
Lorda Juan Luis, Łaska Boża, tłum. J. Lekan, KUL, Lublin 2012.
McGrath Alister E., Luther's Theology of the Cross. Martin Luther's Theological Breakthrough, Blackwell, Malden 2004.
O'Callaghan Paul, Luther and "sola gratia": The Rapport between grace, human freedom, good works and moral life, "Scripta Theologica" 49(2017), nr 1, s. 193-212.
Pelikan Jaroslav, Tradycja chrześcijańska. Historia rozwoju doktryny, t. 3: Rozwój teologii średniowiecznej (600-1300), tłum. J. Pociej, UJ, Kraków 2009.
Pesch Otto Hermann, Zrozumieć Lutra, tłum. A. Marniok, K. Kowalik, W drodze, Poznań 2008.
Składanowski Marcin, Marcin Luter – świadek Chrystusa i nauczyciel wiary? Ekumeniczne katolicko-luterańskie spojrzenie na Reformatora w świetle dokumentu "Od konfliktu do komunii", "Studia Teologiczne Białystok, Drohiczyn, Łomża" 33(2015), s. 65-79.
Sobór Trydencki, Decretum de iustificatione. Dekret o usprawiedliwieniu (13 stycznia 1547 r.), w: Dokumenty soborów powszechnych, t. 4: (1511–1870): Lateran V, Trydent, Watykan I, opr. A. Baron, H. Pietras, WAM, Kraków 2004, s. 288-319.
Sobór Watykański II, Deklaracja o wychowaniu chrześcijańskim Gravissimum educationis (28 października 1965 r.).
Sobór Watykański II, Dekret o formacji kapłańskiej Optatam totius (28 października 1965 r.).
[Thomas Aquinas], Sancti Thomae Aquinatis Ordinis Praedicatorum Doctoris Angelici et Communis omnium scholarum Catholicarum Patroni Summa Theologica de novo edita cura et studio Collegii Provinciae Tolosanae eiusdem Ordinis apud S. Maximinum, Andreas Blot, Parisiis1926.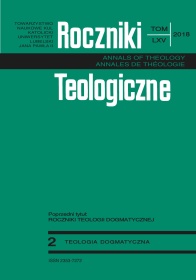 Copyright (c) 2018 Roczniki Teologiczne
This work is licensed under a Creative Commons Attribution-NonCommercial-NoDerivatives 4.0 International License.