Quality of Life as Interdisciplinary Problem
Wiktoria Gerasymczuk

Department of Psychology in Donetsk National University

Olga Bacylewa

National University of Donetsk
Keywords:
quality of life; behaviour; self-realization; public health
Abstract
The aim of the study is to review existing approaches and traditions regarding the definition and study of quality of life based on the analysis of literary data and the results of their own observations. The concept of quality of life is part of the category-conceptual apparatus of various social, natural and economic sciences. It is the fact that the quality of life is the object of studying representatives of different fields of scientific knowledge, which leads to quite different approaches to its study. The quality of life, as a complex psychophysiological and psychosocial construct, can be defined as a combination of personality relationships associated with a subjective understanding of the value of health and the need for self-realization, including in conditions of illness. Today, more and more quality of life is seen as a complex indicator, a system construct that has a complex multifactorial organization. The study of quality of life deserves special attention, based on the study of the needs and interests of the individual, which are always individual and are reflected in subjective representations, assessments and attitudes.
References
Астахов В.М., Якість життя: медичні та психосоціальні аспекти, ІІІ Всеукраїнський конгрес з міжнародною участю «Особистість у сучасному світі», Kyjiw, "Інформаційно-аналітичне агентство", 2014, 632-635 [Estahov V.M., Yakіst' zhittya: medichnі ta psikhosotsіal'nі aspekty, in: V.M. Astakhov, O.V. Batsileva, III Vseukrainski kongres «Osobistіst'u suchasnomu svіtі», Kyjiw, "Іnformatsіyno-analіtichne agentstvo" 2014, 632-635].
Бацилєва О.В., Репродуктивне здоров'я: медико-психологічні та соціальні аспекти, Донецьк 2011 [Batsileva O.V., Reproduktyvne zdorov'ya: mediko-psyhologіchnі ta sotsіal'nі aspekty, Donets'k 2011].
Данакин Н.С., К определению качества жизни, in: Качество жизни населения: показатели и пути повышения, ed. Н.С. Данакин, Белгород 2004, 14-18 [Danakin N.S., K opriedielieniyu kachiestva zhizni, in: Kachiestvo zhizni nasieleniya: pokazatieli i puti povysheniya, ed. N.S. Danakin, Bielgorod 2004, 14-18].
Калинина Г.В., «Качество жизни» как феномен социального развития, Москва 2000 [Kalinina G.V., «Kachiestvo zhizni» kak fienomien socyalnoho rozvitiya, "Viestnik Chuvash" 2000, nr 7, 67-79].
Кулайкин В.И., Социально-психологические параметры качества жизни в различных социальных группах, Кострома 2006 [Kulaykin V.I., Sotsial'no-psikhologicheskiye parametry kachestva zhizni v razlichnykh sotsial'nykh grupakh, Kostroma 2006].
Лига М.Б., Качество жизни как основа социальной безопасности, Москва 2006 [Liga M.B., Kachestvo zhizni kak osnova sotsial'noy bezopasnosti, Moskva 2006].
Мажак І.М., Категорійно-понятійний апарат дослідження якості життя, пов'язаної зі здоров'ям, економічно активного населення, "Экономика здравоохранения" 2013, nr 12, 72-81 [Mazhak I.M., Kategorіyno-ponyatіyniy aparat doslіdzhennya yakostі zhittya, pov'yazanoї zі zdorov'yam, ekonomichno aktyvnoho naselennya, 2013, nr 12. http:// www.dy.nayka.com.ua, 321].
Новик А.А., Руководство по исследованию качества жизни в медицине, Москва 2007 [Novik A.A., Rukovodstvo po isledovaniyu kachiestva zhizni v miedicynie, Moskva 2007].
Сурмач М.Ю., Качество жизни, связанное со здоровьем, как предмет изучения социологии медицины, "Экономика здравоохранения" 2011, nr 2, 100-104 [Surmach M.Y., Kachestvo zhizni, sviazanoye so zdorovyem, kak priedmet izuchieniya socjologii medycyny, "Ekonomika zdravookhraneniya" 2011, nr 2, 100-104].
Жеребин В.М., Индикаторы качества жизни населения, "Вопросы статистики" 2012, nr 3, 25-36 [Zherebin V.M., Indikatory kachestva zhizni naseleniya, "Voprosy statistiki" 2012, nr 3, 25-36].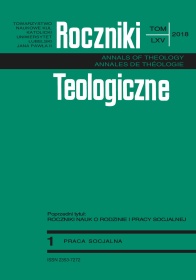 Copyright (c) 2018 Roczniki Teologiczne
This work is licensed under a Creative Commons Attribution-NonCommercial-NoDerivatives 4.0 International License.