Musical Formation of the Faithful in the Church in Poland According to Synod Documents after the Second Vatican Council
Tomasz Lisiecki

The John Paul II Catholic University of Lublin, Faculty of Theology
Keywords:
music; liturgy; formation; synod of dioceses
Abstract
The author of the article has analyzed the synod documents of the Church in Poland, seeking answers to questions about the musical formation of the faithful. Synodal solutions, encouraging permanent musical education of members of parish communities, indicate the people responsible for its implementation and determine the musical material that the faithful should learn. The author analyzes the above-mentioned issues, understanding music in the liturgy, first and foremost, as the Church's prayer related to integrity with liturgical texts and activities. Undertaking the task of teaching faithful liturgical songs, acclamations, hymns, etc., would enliven in the author's intention the spirit of the liturgy in individual pastoral centers. All the conclusions gathered in the article could be a model for the musical formation of the faithful in particular dioceses in Poland.
References
Congregatio de Cultu Divino et Disciplina Sacramentorum. "Instructio de quibusdam observandis et vitandis circa Sanctissimam Eucharistiam 'Redemptionis Sacramentum'," 25 III 2004. AAS 96 (2004): 549–601; Polish text in: Kongregacja ds. Kultu Bożego i Dyscypliny Sakramentów. "Instrukcja o tym, co należy zachowywać, a czego unikać w związku z Najświętszą Eucharystią" [Congregation for Culture and Discipline: Instructions on what to do and what to avoid in relation to the Most Holy Eucharist], Redemptionis Sacramentum. Poznań: Pallottinum, 2004.
II Polski Synod Plenarny [II Polish Plenary Synod] (1991–1999). Poznań: Pallottinum, 2001.
I Synod Archidiecezji Białostockiej [I Białystok Archdiocesan Synod]. Białystok: Kuria Metropolitalna Białostocka, 2000.
Chrystus światłem, Maryja wzorem. II Synod Diecezji Częstochowskiej [Christ the Light, Mary the Model. II Częstochowa Diocesan Synod]. Częstochowa: Częstochowskie Wydawnictwo Diecezjalne "Regina Poloniae," 1987.
I Synod Diecezji Drohiczyńskiej [I Drohiczyn Diocesan Synod]. Drohiczyn: Drohiczyńskie Wydawnictwo Diecezjalne, 1997.
I Synod Diecezji Ełckiej [I Ełk Diocesan Synod] 1997–1999. Ełk: Kuria Biskupia Diecezji Ełckiej, 1999.
III Synod Gdański, Misja Kościoła Gdańskiego na Początku Nowego Tysiąclecia [III Gdańsk Synod, the Gdańsk Church's Mission at the Beginning of the New Millenium]. Gdańsk: Kuria Metropolitalna Gdańska, 2001.
III Powojenny Synod Archidiecezji Gnieźnieńskiej [III Post-War Synod of Gniezno Archdiocese]. Gniezno: Prymasowskie Wydawnictwo "Gaudentinum," 2001.
Pierwszy Synod Diecezji Kaliskiej (2007–2009). Prawo diecezjalne Kościoła kaliskiego [First Synod of Kalisz Diocese (2007–2009). Diocesan Law in the Kalisz Church,]. Kalisz: Kuria Diecezjalna, 2009.
Drugi Synod Diecezji Kieleckiej i posynodalne zarządzenia Biskupa Kieleckiego [Second Synod of Kielce Diocese and the Post-synodal Ordinances of the Bishop of Kielce]. Kielce: Kuria Diecezjalna, 1984.
III Synod Diecezji Kieleckiej [III Kielce Diocesan Synod]. Kielce: "Jedność," 1992.
I Synod Diecezji Koszalińsko-Kołobrzeskiej [I Koszalin-Kołobrzeg Diocesan Synod]. Koszalin 1986–1990. Koszalin: [b.w.], 1990.
I Synod Diecezji Legnickiej [I Legnica Diocesan Synod] (2007–2012). Legnica: Biblioteka im. Jana Pawła II, 2012.
II Synod Diecezji Lubelskiej [II Lublin Diocesan Synod]. Lublin: Lubelskie Wydawnictwo Diecezjalne, 1988.
"I Synod Diecezji Łowickiej" [I Łowicz Diocesan Synod]. Wiadomości Diecezji Łowickiej 3 (1999).
I Synod Diecezji Opolskiej. Statuty i aneksy. Parafia u progu nowego tysiąclecia [I Synod of the Opole Diocese. Statutes and Annexes. The Parish at the Beginning of the New Millennium]. Opole: Wydawnictwo Świętego Krzyża, 2005.
I Synod Diecezji Pelplińskiej [I Pelpin Diocesan Synod]. Pelplin: "Bernardinum," 2001.
XLII Synod Diecezji Płockiej [XLII Płock Diocesan Synod] 1987–1991. Płock: Płockie Wydawnictwo Diecezjalne, 1992.
Gdzie jest Bóg tam jest przyszłość. XLIII Synod Diecezji Płockiej [Where God Is, there Is a Future. XLIII Synod of Płock Diocese]. Płock: Płocki Instytut Wydawniczy, 2016.
Synod Archidiecezji Poznańskiej 2004–2008, zwołany i przeprowadzony przez arcybiskupa Stanisława Gądeckiego, t. I: Dokumenty, t. II: Statuty [Synod of the Archdiocese of Poznań 2004-2008, Convened and Conducted by Archbishop Stanisław Gądecki, vol. I: Documents, vol. II: Statutes,]. Poznań: Wydawnictwo Świętego Wojciecha, 2008.
Synod Archidiecezji Przemyskiej 1995–2000. Statuty i aneksy [Synod of the Archdiocese of Przemyśl 1995-2000. Statutes and Annexes]. Przemyśl: Wydawnictwo Archidiecezji Przemyskiej, 2000.
Synod Diecezji Rzeszowskiej [Rzeszów Diocesan Synod]. Rzeszów: Poligrafia Wyższego Seminarium Duchownego, 2004.
Aby byli jedno. Drugi Synod Diecezji Sandomierskiej. Dekrety i instrukcje [That They Be One. Second Synod of the Diocese of Sandomierz. Decrees and Instructions]. Sandomierz: Wydawnictwo Diecezjalne, 1999.
Prawo partykularne Kościoła sosnowieckiego. I Synod Diecezji Sosnowieckiej [Local Laws of the Sosnowiec Church. I Synod of the Sosnowiec Diocese]. Sosnowiec: Wydawnictwo "Scriptum" Tomasz Sekunda, 2005.
IV Synod Diecezji Tarnowskiej [IV Tarnów Diocesan Synod]. Ad imaginem Ecclesiae universalis. Tarnów: Kuria Diecezjalna, 1990.
Pierwszy Synod Diecezji Warszawsko-Praskiej [First Synod of the Warszawa-Praga Diocese]. Warszawa: Kuria Biskupia Diecezji Warszawsko-Praskiej, 2000.
Drugi Synod Diecezji Włocławskiej [Second Wlocławek Diocesan Synod]. Włocławek: [Kuria Diecezjalna], 1994.
Synod Archidiecezji Wrocławskiej [Wrocław Archdiocesan Synod] 1985–1991. Wrocław: [s.n.], 2005.
I Synod Diecezji Zamojsko-Lubaczowskiej [I Zamość-Lubaczowa Diocesan Synod] 1996–2001. Zamość: Kuria Diecezjalna, 2001.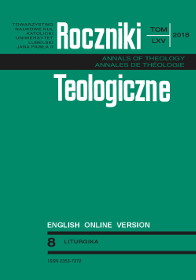 Copyright (c) 2018 Roczniki Teologiczne
This work is licensed under a Creative Commons Attribution-NonCommercial-NoDerivatives 4.0 International License.