Physical Activity among Women and Men in Time Off from Work
Julia Gorbaniuk

The John Paul II Catholic University of Lublin, Institute of Family Studies and Social Work

Maria Chuchra

The John Paul II Catholic University of Lublin, Institute of Family Studies and Social Work
Keywords:
physical activity; motor activity; women; men
Abstract
Introduction. Research on the literature shows different and sometimes contradictory data about the physical activities of women and men.
Aim. The goal of the research study is to compare selected aspects of physical activity in women and men.
Material and methods. 100 men and 100 women were selected and tested using the "pairing method" and examined in terms of four variables: place of residence, education, marital status and age. A specially prepared survey questionnaire was used.
Results. Men and women differ in terms of certain aspects of physical activity (especially its types), while their motivations and limitations only slightly differ.
Conclusions. Women significantly more often prefer walking as a physical activity, while men prefer running, swimming, and using the weight room and gym for team sports. On working days, women have significantly less free time than men. The only motivating factor for physical activity that differentiates both groups is the "beauty" motif that is more often present in women. The groups do not differ in terms of obstacles keeping them from undertaking physical activity, although women more often reported a lack of time.
References
Aktywność fizyczna Polaków [Physical activity among Poles], CBOS, Warsaw 2013.
Aktywność fizyczna Polaków 2017, https://sponsoringsport.pl/raport-aktywnosc-fizyczna-polakow-2017 (10.04.2018).
Chuchra, Maria, Julia Gorbaniuk. "Selected health behaviours in professionally active men and women," Polish Journal of Public Health no. 2 (2017): 67–70.
Duda, Barbara. "Charakterystyka aktywności fizycznej osób dorosłych" [Characteristics of physical activity in adults]. Medycyna Sportowa no. 6 (2006): 329–332.
Gorbaniuk, Julia, Maria Chuchra. "Preferencje żywieniowe kobiet i mężczyzn aktywnych zawodowo" [Nutritional preferences among professionally active women and men]. Roczniki Teologiczne 64, no. 10 (2017): 161–164.
Góreczka, Aleksandra, Wojciech Garczyn´ski. "Motywy podejmowania aktywności fizycznej—przegląd literatury" [Motifs for undertaking physical activity. A review of the literature]. Health and Sport no. 7 (2017): 322–337.
Kaźmierczak, Urszula, Agnieszka Radzimińska, Maciej Dzierżanowski, Irena Bułatowicz, Katarzyna Strojek, Grzegorz Srokowski, Walerij Zukow. "Korzyści z podejmowania regularnej aktywności fizycznej przez osoby starsze" [Benefits of regular physical activity among the elderly]. Journal of Education, Health and Sport no. 5(1) (2015): 56–68.
Poziom aktywności fizycznej Polaków [The level of physical activity of Poles], KANTAR PUBLIC 2017 pp. 4. Ministerstwo Sportu i Turystyki, https://msit.gov.pl/download/1/13795/Analiza wynikow2017.pdf [10.05.2018].
Słopiecka, Aleksandra, Elżbieta Kamusińska. "Formy wypoczynku preferowane przez kobiety" [Forms of recreation preferred by women]. Medycyna Ogólna i Nauki o Zdrowiu 18, no. 1 (2012):1–7.
Sport i aktywność fizyczna [Sport and physical activity], Eurobarometr (no. 3.334), Belgia, 2010.
Stachura, Alicja, Łucja Płatek, Adam Benek. "Aktywność ruchowa kobiet i mężczyzn w różnym wieku." In Kultura fizyczna i zdrowotna współczesnego człowieka—teoretyczne podstawy i praktyczne implikacje, [Movement activity of women and men at different ages, in: Physical and health culture of contemporary man—theoretical foundations and practical implications], edited by Arkadiusz Kazimierczak, Anna Maszorek-Szymala, Ewelina Dębowska, 214–219. Łódź, 2008.
Uczestnictwo Polaków w sporcie i rekreacji ruchowej w 2012 r. [Poles Participating in sports and physical recreation in 2012], GUS, Warszawa, 2013.
Wleklak, Katarzyna, Jarosław Janowski, Ewa Bresińska-Krawiec, Jan Konarski, Małgorzata Liberka, Krzysztof Karpowicz, Joanna Apolinarska. "Porównanie motywów uczestnictwa kobiet w różnych formach aktywności fizycznej typu aerobik i aqua—aerobik." [Comparison of motifs of women's participation in various forms of physical activity such as aerobics and aqua—aerobics, "The motor activity of people of all ages"]. Aktywność ruchowa ludzi w różnym wieku 17, no. 1 (2013): 65–75.
Maria Zapała, Bożena Kowalczyk, Bogumiła Lubińska-Żądło, "Aktywność fizyczna a styl życia kobiet w wieku produkcyjnym" [Physical activity and the lifestyles of women in their productive time]. Medycyna Ogólna i Nauki o Zdrowiu 21, no. 4 (2015): 391-397.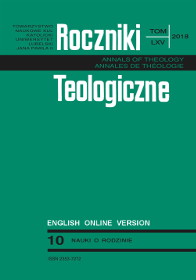 Copyright (c) 2018 Roczniki Teologiczne
This work is licensed under a Creative Commons Attribution-NonCommercial-NoDerivatives 4.0 International License.