The Biblical Call for Parents to Raise Their Children
Urszula Dudziak

The John Paul II Catholic University of Lublin, Institute of Family Studies and Social Work
Keywords:
Holy Bible; parents; children; upbringing; educate; raise
Abstract
One of the main assignments for spouses is to transmit life. It is not enough to do this only in a physical way, but also in the mental, spiritual and social dimensions. Transmitting life is not simply procreation, but also education. Christian parents should learn about bringing up children from the texts of the Holy Bible. This will help them to fulfill their duties at the beginning of the journey of their married life. The parenting commitment is beneficial for their offspring, country, the Church and world.
References
Bagrowicz, Jerzy, Stanisław Jankowski. "Pan Bóg twój, wychowuje ciebie" (Pwt 8,5). Studia z pedagogii biblijnej ["The Lord your God Brings You Up" (Dt 8:5). Studies in Biblical Pedagogy]. Torun´: Wydawnictwo UMK, 2005.
Borkowski, Tomasz. "Wartości religijne. Kształtowanie postaw religijnych człowieka" [Religious Values. Shaping the Religious Attitudes of Man]. Fides et Ratio 1(17) (2014): 166–178.
Chałas, Krystyna. Wychowanie ku wartościom. Elementy teorii i praktyki [A Values Education. Elements of Theory and Practice]. Lublin−Kielce: Jedność, 2006.
Dudziak, Urszula. "Powołanie do miłości." Pielgrzym [Czasopismo Polonii katolickiej w Kanadzie] [A Call to Love, "Pilgrim" [Journal of the Catholic Polonia in Canada]], no 15 (October 1989): 1, 24.
Dziewiecki, Marek. Wychowanie duchowe, moralne i religijne chłopców. Od urwisa do bohatera [Spiritual, Moral and Religious Education for Boys. From a Scamp to a Hero]. (Kraków: Wydawnictwo eSPe, 2013).
Flis, Jan. Konkordancja Starego i Nowego Testamentu do Biblii Tysiąclecia [The Thousand Years Bible Concordance of the Old and New Testaments]. Warszawa: Fundacja Misyjna Świeckich, 1991.
Franciszek, papież: Wiarę trzeba przekazywać w dialekcie miłości [Belief Must Be Conveyed in the Dialect of Love],
http://pl.radiovaticana.va/news/2018/01/07/papie%C5%BC_wiar%C4%99_trzeba_przekazywa%4% 87_ w_dialekcie_mi%C5%82o%C5%9Bci/1357873 (7.01.2018).
Iacoboni, Marco. Mirroring People. The New Science of How We Connect with Others. New York: Farrar, Straus and Giroux, 2009.
Krajski, Stanisław. http://www.savoir-vivre.com.pl/?zachowanie-przy-stole-%E2%80%93-wciaz-w-pelni-aktualny-material-z-miedzywojnia,797 (8.01.2018).
Krajski, Stanisław. Savoir vivre jako sztuka życia. Filozofia savoir vivre'u [Savoir vivre as the Art of Life. The Philosophy of savoir vivre]. Warszawa: Agencja SGK Ewa Jadwiga Krajska, 2007.
Kulesza, Wojciech. Efekt Kameleona. Psychologia naśladownictwa [The Chameleon Effect. Psychology of Immitation]. Warszawa: Wydawnictwo Naukowe Scholar, 2016.
Kulpaczyński, Stanisław. Psychologia rozwojowo-wychowawcza nie tylko dla katechetów [Developmental and Educational Psychology not Only for Catechists]. Lublin: Polihymnia, 2009.
Kunowski, Stefan. Podstawy współczesnej pedagogiki [Fundamentals of Contemporary Pedagogy]. Warszawa: Wydawnictwo Salezjańskie, 2004.
Mazur, Piotr. Podstawy pedagogiki pastoralnej [Fundamentals of Pastoral Pedagogy]. Kraków: Wyższa Szkoła Filozoficzno-Pedagogiczna "Ignatianum," Wydawnictwo Apostolstwa Modlitwy, 2011.
McDowell, Josh. Mity edukacji seksualnej [Sex Education Myths]. Warszawa: Vocatio, 2000.
Nowak, Marian. Teorie i koncepcje wychowania [Theories and Concepts of Education]. Warszawa: Wydawnictwo Akademickie i Profesjonalne, 2008.
Przetacznik-Gierowska, Maria, Ziemowit Włodarski. Psychologia wychowawcza [Psychology of Raising Children]. Warszawa: Wydawnictwo Naukowe PWN, 2017.
Psychologia rozwoju człowieka [Psychology of Human Development], edited by Barbara Harwas-Napierała, Janusz Trempała. Warszawa: Wydawnictwo Naukowe PWN, 2000.
Religijno-moralny wymiar rozwoju i wychowania [Religious and Moral Dimensions of Development and Upbringing], edited by Alina Rynio, Katarzyna Braun, Anna Lendzion i Danuta Opozda. Lublin: Wydawnictwo KUL, 2012.
Savage, Jill. Mama—najlepszy zawód na świecie [Mother. The Best Profession in the World]. Translated by Małgorzata Szymańska, Agnieszka Marianowicz-Szczygieł. Warszawa: Vocatio, 2007.
Sieroń, Roman B. Model wychowania chrześcijańskiego według św. Pawła Apostoła [The Christian Education Model According to St. Paul the Apostle]. Ružomberok−Stalowa Wola: Wydawnictwo Diecezjalne i Drukarnia w Sandomierzu, Katedra Pedagogiki Katolickiej KUL, 2008.
Sztuka kierownictwa duchowego [The Art of Spiritual Direction], edited by Józef Augustyn, Jakub Kołacz. Kraków: Wydawnictwo Apostolstwa Modlitwy, 2007.
Śliwerski, Bogusław. Współczesne teorie i nurty wychowania [Contemporary Theories and Currents of Education]. Kraków: Impuls, 2001.
Walesa, Czesław. "Psychologiczna analiza rozwoju religijności człowieka ze szczególnym uwzględnieniem pierwszych okresów jego ontogenezy" [Psychological Analysis of the Development of Man's Religiousness, with Particular Reference to the First Periods of his Ontogenesis]. In Psychologia religii, edited by Zdzisław Chlewiński, 143–180. Lublin: TN KUL, 1982.
Wołochowicz, Mariola i Piotr. "Czy chrześcijańskie dziecko powinno chodzić do przedszkola." TIPS—Pomysły dla chrześcijańskich rodzin [Should a Christian Child Go to Pre-School, "TIPS and Ideas for Christian Families], no 16: 1–4, [addition to Absolutnie Fantastyczne no 1 (1998)].
Wołochowicz, Mariola i Piotr. "Nie składajmy dzieci na ofiarę" [Let's not Sacrifice our Children]. Cel no 1 (94) (2006): 20–21, 32.
Wołochowicz, Piotr. Wierzące dzieci. Ugruntowanie i rozwój. O tym, jak tworzyć dobre środowisko przekazu wiary [Believing Children. Foundations and Development. How to Create a Good Environment for Teaching the Faith]. Kraków: Wydawnictwo Światło–Życie, 2018.
Wołochowiczowie, Mariola i Piotr. Wierzące dzieci. O tym jak wychowywać dzieci do dojrzałej wiary [Believing Children. On How to Raise Children to a Mature Faith]. Kraków: Wydawnictwo Światło–Życie, 2014.
Wołochowiczowie, Mariola i Piotr. Wierzące dzieci. Reanimacja. O tym jak odbudować w dzieciach żywą wiarę [Believing Children. Resuscitation. How to Create a Living Faith in Children]. Kraków: Wydawnictwo Światło–Życie, 2015.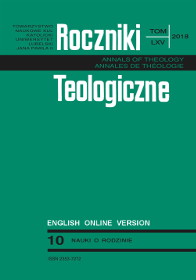 Copyright (c) 2018 Roczniki Teologiczne
This work is licensed under a Creative Commons Attribution-NonCommercial-NoDerivatives 4.0 International License.