Seventeenth Century Pietism as a Protestant Form of New Evangelization
Sławomir Pawłowski

The John Paul II Catholic University of Lublin, Faculty of Theology
Keywords:
exhortation Evangelii Gaudium; Pope Francis; new evangelization; Pia Desideria; Pietism; Philipp Jacob Spener
Abstract
Can counterparts of the Catholic new evangelization be found in the Protestant world? They certainly can. One of them—despite all their temporal and theological difference—is Pietism, a religious revival movement initiated by Philipp Jacob Spener (1635–1705), who presented his proposals in the book titled Pia Desideria (1675). Pietism emphasized the revival of personal faith, ardent prayer, reading the Holy Scriptures, human involvement in the transformation of socio-economic structures, missionary activity, and community life.
Is there, conversely, also a Catholic form of Pietism? The answer is not straightforward, because the 21st century Catholic Church has behind it the great work of the Second Vatican Council with its call for lay apostolate, biblical renewal, and the revival of ecclesial movements. The idea of the parish as a "community of communities," sensitivity to the need to proclaim the kerygma, the emergence of prayer and formation groups, charismatic renewal—in all of these one can see the implementation of the ideals that guided the Pietists. In a sense, Pope Francis' exhortation Evangelii Gaudium deserves to be called the pia desideria of our times.
References
"Ewangelia w świecie—Orędzie XIII Zgromadzenia Ogólnego Synodu Biskupów do ludu Bożego" [The Gospel in the World—Address of the 13th General Assembly of the Synod of Bishops to the People of God], http://nowaewangelizacja.org/strefa-ewangelizacji/dokumenty-o-nowej-ewangelizacji/ (accessed: 1.03.2018).
Congregation for the Doctrine of the Faith. Iuvenescit Ecclesia, http://episkopat.pl/relacja-miedzy-darami-hierarchicznymi-a-charyzmatycznymi-list-kongregacji-nauki-wiary/ (accessed: 14.06.2016).
International Theological Commission. Teologia dzisiaj. Perspektywy, zasady i kryteria [Theology today: Perspectives, principles, and criteria]. Cracow: Dehon Wydawnictwo Księży Sercanów, 2012.
Kasper, Walter. "Nowa ewangelizacja—wyzwanie pastoralne, teologiczne i duchowe" [New Evangelization—A pastoral, theological, and spiritual challenges]. In Nowa ewangelizacja. Impulsy do ożywienia wiary [New Evangelization. Impulses for the revival of the faith], edited by George Augustin, 19–37. Ząbki, Poland: Apostolicum, 2012.
Konieczny, Mariusz. "Pietyzm" [Pietism]. In Encyklopedia katolicka [The Catholic Encyclopedia]. Vol. 15, col. 550–552. Lublin: TN KUL, 2011.
Maciuszko, Janusz. "Niezamierzony manifest pietyzmu" [Unintended Manifesto of Pietism]. An introduction to Spener's work. In Filip Jakub Spener. Pia Desideria, 7–21. Bielsko Biała: Wydawnictwo Augustana, 2002.
Maino, Paolo. Il posmoderno nella Chiesa? Il Rinovamento carismatico. Milan: San Paolo Edizioni, 2004.
Neumann, Jacek. "Dlaczego katecheza ewangelizacyjna?" [Why evangelization-oriented catechesis?]. In Ewangelizować czy katechizować? [To evangelize or to catechize?], edited by Stanisław Dziekoński, 133–143. Warsaw: Verbinum, 2002.
Nosowski, Zbigniew. "Nawrócenie kościelnych struktur" [The conversion of Church structures]. In Lublin—Miasto zgody religijnej. Ekumenizm w historii, teologii, kulturze [Lublin—A City of Religious Harmony. Ecumenism in history, theology, and culture], edited by Sławomir Pawłowski and Sławomir Jacek Żurek, 193–207. Lublin: TN KUL, 2017.
Pawłowski, Adam. Kerygmat w nowej ewangelizacji [The kerygma in new evangelization]. Poznań: Agape, 2014.
Pope Benedict XVI. "Holy Mass for the Opening of the Synod of Bishops and Proclamation of St. John of Avila and of St. Hildegard of Bingen as 'Doctors of the Church': Homily of His Holiness Pope Benedict XVI, Rome, 7 October 2012," http://w2.vatican.va/content/benedict-xvi/en/homilies/2012/documents/hf_ben-xvi_hom_20121007_apertura-sinodo.html (accessed: 20.01.2018).
Pope Francis. Adhortacja apostolska Evangelii gaudium. O głoszeniu Ewangelii w dzisiejszym świecie [Apostolic Exhortation Evangelii Gaudium on the Proclamation of the Gospel in Today's World]. Cracow: Wydawnictwo M, 2013.
Pope Francis. Apostolic Exhortation Evangelii Gaudium on the Proclamation of the Gospel in Today's World, http://w2.vatican.va/content/francesco/en/apost_exhortations/documents/papa-francesco_esortazione-ap_20131124_evangelii-gaudium.html (accessed: 20.01.2018).
Pope John Paul II. "Address to CELAM (Opening Address of the Nineteenth General Assembly of CELAM, 9 March 1983, Port-au-Prince, Haiti)." L'Osservatore Romano English Edition 16/780, no. 9 (18 April 1983).
Selderhuis, Herman J. "Tradycja protestancka w Europie (od XVI do XIX wieku)" [The Protestant tradition in Europe (from the 16th to the 19th century]. In Duchowość chrześcijańska. Zarys 2000 lat historii, od Wschodu do Zachodu [The Story of Christian Spirituality: Two Thousand Years, From East to West], edited by Gordon Mursell, 165–200. Częstochowa, Poland: Edycja Świętego Pawła, 2004.
Spener, Philipp Jacob. Pia Desideria. Bielsko Biała: Wydawnictwo Augustana, 2002.
Spener, Philipp Jacob. Pia Desideria. Translated by Theodore G. Tappert. Philadelphia, PA: Fortress Press, 1964.
Szlachetka, Waldemar. "(Nowa) ewangelizacja—obowiązek wszystkich czy przywilej wybranych" [(New) evangelization—everyone's duty or a privilege of the selected few]. In Polskie drogi nowej ewangelizacji [The Polish paths of new evangelization], edited by Kazimierz Święs and Dariusz Lipiec, 107–122. Lublin: Wydawnictwo KUL, 2014.
Zieliński, Tadeusz J. Protestantyzm ewangelikalny. Studium specyfiki religijnej [Evangelical Protestantism: A study of its religious specificity]. Warsaw: Wydawnictwo Naukowe ChAT, 2013.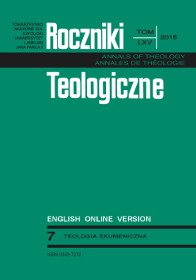 Copyright (c) 2018 Roczniki Teologiczne
This work is licensed under a Creative Commons Attribution-NonCommercial-NoDerivatives 4.0 International License.