Anglicans and Methodists Together Again?
The Restoration of Church Unity between Anglicans and Methodists in Great Britain according to the Document Mission and Ministry in Covenant
Przemysław Kantyka

The John Paul II Catholic University of Lublin, Faculty of Theology
Keywords:
Church of England; Methodist Church; Anglicans; Methodists; Covenant; Church unity; Mission and Ministry in Covenant
Abstract
The article presents the latest proposal by the Church of England and Methodist Church Faith and Order bodies to restore Anglican–Methodist unity in Great Britain. If mutually adopted, the document titled Mission and Ministry in Covenant would enable the introduction of episcopacy in the British Methodist Church, the presbyteral ordination of Methodist ministers by a bishop, and—as a result—the mutual recognition and interchangeability of presbyteral ministry in both Churches. The proposal concerning the introduction of episcopal ordination in the Methodist Church recommends ordination to the episcopacy of each elected President of Methodist Conference. Thus ordained, the President-bishop would then ordain Methodist presbyters. As regards the Methodist presbyters who were not episcopally ordained, the document proposes the recognition of their ministry by the Church of England in the terms of "bearable anomaly." Yet, such a solution poses many questions and gives rise to theological doubts.
References
"Anglican–Methodist Covenant" (2003), www.anglican-methodist.org.uk/cotc3.doc (accessed: 12.02.2018).
Anglican–Methodist International Commission for Unity in Mission. Into All the World: Being and Becoming Apostolic Churches. London: Anglican Consultative Council, 2014.
Anglican–Methodist International Commission. Sharing in The Apostolic Communion. Lake Junaluska, NC: World Methodist Council, 1996.
Council for Christian Unity of the General Synod of the Church of England. The Porvoo Common Statement. London: Church House, 1993.
First Council of Nicaea. "The Canons." New Advent (website), http://www.newadvent.org /fathers/3801.htm (accessed: 20.01.2018).
Fuller, Reginald H. "Anglican Self-Understanding and Anglican Traditions." In Tradition im Luthertum und Anglikanismus, edited by Günther Gassmann and Vilmos Vajta (Oecumenica, 1971/72), 175–190. Gütersloh: Gütersloher Verlagshaus Gerd Mohn, 1972.
Gajda, Piotr M. Prawo małżeńskie Kościoła katolickiego [Marriage law of the Catholic Church], https://opoka.org.pl/biblioteka/T/TA/ TAI/pr_malzenskie_10.html (accessed: 13.02.2018).
"General Synod: Mission and Ministry in Covenant. Church of England moves a step closer towards union with the Methodists," https://www.churchtimes.co.uk/articles/2018/16-february/news/uk/ general-synod-mission-and-ministry-in-covenant (accessed: 16.02.2018).
Kantyka, Przemysław. Ku wspólnemu rozumieniu Kościoła. Eklezjologia dialogu katolicko-metodystycznego [Towards a common understanding of the Church. The ecclesiology of Catholic–Methodist dialogue]. Lublin: Wydawnictwo KUL, 2008.
Kantyka, Przemysław. "Metodyści" [Methodists]. In Encyklopedia katolicka [The Catholic encyclopedia], vol. 12, col. 651–655. Lublin: TN KUL, 2008.
Lambeth Conference of 1888. London: Wells Gardner, Darton & Co., 1888.
Leonis Papae XIII Litterae Apostolicae Apostolicae curae De ordinationibus Anglicanis. AAS 29 (1896/97): 198–202.
Napiórkowski, Stanisław Celestyn. "Modele jedności" [Models of unity]. In Ku chrześcijaństwu jutra. Wprowadzenie do ekumenizmu [Towards the Christianity of tomorrow: An introduction to ecumenism], edited by Wacław Hryniewicz, Jan Sergiusz Gajek, and Stanisław Józef Koza, 479–503. Lublin: TN KUL, 1996.
Pastuszko, Marian. "Szafarz święceń" [Dispenser of holy orders] (canons 1012–1023). Prawo Kanoniczne 43, nos. 3–4 (2000): 117–251.
Sykes, Norman. Old Priests and New Presbyter: The Anglican Attitude to Episcopacy, Presbyterianism and Papacy since the Reformation. Cambridge: University Press, 1956.
Tavard, George. The Quest for Catholicity: A Study in Anglicanism. London: Herder, 1964, 38–39.
The Church of England, The Methodist Church. Mission and Ministry in Covenant. Report from The Faith and Order bodies of the Church of England and the Methodist Church, https://www.churchofengland.org/sites/default/files/2017-10/mission-and-ministry-in-covenant. pdf (accessed: 12.01.2018).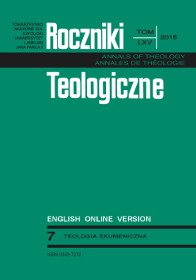 Copyright (c) 2018 Roczniki Teologiczne
This work is licensed under a Creative Commons Attribution-NonCommercial-NoDerivatives 4.0 International License.