Chronicle of the Saints Apostles Peter and Paul Parish Church in Zabłudów as a Source in Studies on the History of the City
Andrzej Górski

Faculty of Theology, John Paul II Catholic University of Lublin
Keywords:
chronicle; Zabludow; Parish of Zabludow; interwar period
Abstract
The purpose of the article is to present the problem area regarding the events that took place in the city of Zabłudów between 1927 and 1938. In particular, the analysis focused on the Chronicle of the Peter and Paul Parish Church in Zabłudów written by the then parsons Witold Kuźmicki and Jerzy Sienkiewicz. In the chronicle the authors focused not only on purely religious matters but also on a description of the events concerning many patriotic celebrations in the period being discussed by inhabitants of the city and the surrounding towns. The article also includes an attempt to restore the value of the document in the form of a chronicle as an important source of historical information. The article is intended not only for historians but also for all the persons interested in the regional history from the interwar period.
References
Budowa Domu Ludowego we wsi Kamionce, gmina Zabłudów, "Dziennik Białostocki" 1928, nr 25.
Czajka M., Kamler M., Sienkiewicz W., Leksykon Historii Polski, Wydawnictwo Wiedza Powszechna, Warszawa 1995.
Górski A., Ks. Aleksander Paulin Giedrojć, "Zabłudów i Okolice" 2014, nr 11.
Hołodok S., Jałbrzykowski Romuald abp, w: Encyklopedia Katolicka, t. 7, red. zb., TN KUL, Lublin 1997, kol. 737-738.
Krahel T., Martyrologia duchowieństwa archidiecezji wileńskiej 1939-1945, Wydawnictwo BUK w Białymstoku, [b.m.w.] i [b.r.w].
Kronika, w: Słownik literatury staropolskiej, red. T. Michałowska, Zakład Narodowy im. Ossolińskich, Wrocław 1998.
Kronika, "Jutrzenka Białostocka" 1937, nr 9.
Kufel R.R., Jak prowadzić kronikę parafialną, Agencja Wydawnicza "PDN", Zielona Góra 2014.
Maroszek J., Prawa i przywileje miasta i dóbr ziemskich Zabłudów, Dział Wydawnictw Filii UW, Białystok 1994.
N.A., Kronika parafialna, "Wiadomości Archidiecezjalne Wileńskie" 1927, nr 15.
Ostapowicz A., Dzieje wsi Rafałówka, Zabłudów 2015.
Roszkowski W., Lista największych właścicieli ziemskich w Polsce w 1922 roku, "Przegląd Historyczny" [Wydawnictwo DiG], 74(1983), nr 2, s. 281-289.
Straszewicz M., Królowa Polski NMP, w: Encyklopedia Katolicka, t. 9, red. A. Szostek, TN KUL, Lublin 2002, kol. 1372-1374.
Szewach Gober aptekarz, wójt i burmistrz Zabłudowa, "Zabłudów i Okolice" 2019, nr 3 (118).
Szot A., Dzieje rzymskokatolickiej parafii pw. św. Apostołów Piotra i Pawła w Zabłudowie, Książnica Podlaska im. Łukasza Górnickiego w Białymstoku i Miejski Ośrodek Kultury w Zabłudowie, Białystok 2003.
Szot A., Zabłudów, w: Encyklopedia Katolicka, t. 20, red. E. Gigilewicz i in., TN KUL, Lublin 2014, kol. 1139-1140
W sprzeczce zabił kolegę, "Dziennik Białostocki" 1936, nr 85.
Wieś w dążeniu do oświaty, "Dziennik Białostocki" 1932, nr 193.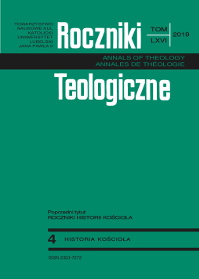 Copyright (c) 2019 Roczniki Teologiczne
This work is licensed under a Creative Commons Attribution-NonCommercial-NoDerivatives 4.0 International License.