Select Determinants of the Professional Activity of People with Disabilities
Witold Janocha

The John Paul II Catholic University of Lublin
Keywords:
disability; professional activity; social attitudes
Abstract
There are so many factors determining the professional activity of disabled people that it would be difficult to mention all of them. In this article, two conditions will be pointed out, namely the internal resources of people with disabilities and the attitudes of the environment. The resources that even disabled people could and should be equipped with during their childhood and youth are of key importance in these people's subsequent social and professional activities. Not less important are the resources derived from the environment in which disabled people live that motivate or discourage them in their search for a job.
References
Allport G.W., The nature of prejudice, Addison Wesley 1984.
Becker G.S., Ekonomiczne podejście do zachowań ludzkich, w: Ekonomiczna teoria zachowań ludzkich, PWN, Warszawa 1990 (1962), t. 2, s. 633-635.
Bejma U., Praca jako wartość w życiu człowieka. Wybrane aspekty, "Periodyk Naukowy Akademii Polonijnej" 15(2015), nr 4, s. 47-73.
Brzezińska A.I., Kaczan R., Piotrowski K., Rycielski P., Uwarunkowania aktywności zawodowej osób z ograniczeniami sprawności: kapitał osobisty i społeczny, "Nauka" 2(2008), s. 129-156.
Brzezińska A.I., Kaczan R., Smoczyńska K. (red.), Diagnoza potrzeb i modele pomocy dla osób z ograniczoną sprawnością, Warszawa 2010.
Cook S.W., Interpersonal and Attitudinal Outcomes in Cooperating Interracial Groups, "Journal of Research in Developmental Education" 12(1978), s. 97-98.
Duckitt J., The social psychology of prejudice, New York 1992.
Giddens A., Socjologia, Warszawa 2004.
Jan Paweł II, Encyklika Laborem exercens, Watykan 1981.
Janocha W., Rodzina z osobą niepełnosprawną w społecznym systemie wsparcia, Kielce 2009.
Kalinowski M., Praca, w: Uzależnienia. Fakty i mity, red. I. Niewiadomska, Lublin 2005.
Kawczyńska-Butrym K., Niepełnosprawność – specyfika pomocy społecznej, Katowice 1998.
Mach B., Pokolenie historycznej nadziei i codziennego ryzyka. Społeczne losy osiemnastolatków z roku 1989, Warszawa 2003.
Mackelprang R., Salsgiver R., Disability: A diversity model approach in human service practice. Pacific Grove 1999.
Macrae C.N., Stangor Ch., Hewstone M., Stereotypy i uprzedzenia. Gdańsk 1999.
Ostrowska A., Niepełnosprawni w społeczeństwie. Postawy społeczeństwa polskiego wobec ludzi niepełnosprawnych. (Raport z badań), Warszawa 1994.
Przetacznik-Gierowska M., Zasady i prawidłowości psychicznego rozwoju człowieka, w: Psychologia rozwoju człowieka, red. M. Przetacznik-Gierowska, M. Tyszkowa, t. 1. Zagadnienia ogólne, Warszawa 2002, s. 57-84.
Rothbart M., John O.P, Social categorization and behavioral episodes: A cognitive analysis of the effects of intergroup contact. "Journal of Social Issues" 41(1985), s. 81-104.
Smart J., Disability, Society and the Individual, Austin, Texas 2009.
Tremain S., Foucault and the Fovernment of Disability, Michigan 2005.
Turowski J., Socjologia. Małe struktury społeczne, Lublin 2001.
Viorst J., To, co musimy utracić, Warszawa 1996.
Woods F.J., Carrow M.A., Choice rejection status of speech defective children, "Exceptional Children" 25(1959), s. 279-283.
Yuker H.E., The lack of a stable order of preference for disabilities: A response to Richardson and Ronald, "Rehabilitation Psychology" 28(1983), s. 93-103.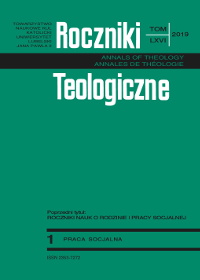 Copyright (c) 2019 Roczniki Teologiczne
This work is licensed under a Creative Commons Attribution-NonCommercial-NoDerivatives 4.0 International License.