Street Work as a Social Worker Working Method
Katarzyna Białożyt

Institute of Social Work, Pedagogical University of Cracow
Keywords:
method of social work; street work; street worker; help; support
Abstract
A multitude of social problems is a challenge for contemporary social assistance. Because, Poland, like many European countries, moving away from a welfare state, a significant role is attributed to social work, which should be focused on the motivation and desire to change the call to a person relying on welfare. Despite the extensive activities of social workers they are not always able to reach out to those in need of support and intervention in crisis situations. Many potential clients of social assistance, for various reasons, do not use the opportunities offered them support. This is why more common method of social work becomes a street worker, which allows you to reach individuals/marginalized groups, long remain in a difficult situation. In presented article attempts to outline the idea of street work, the role of street workers and stages "street" social work.
References
Bałchan A., Lasota M., Przewodnik streetworkera, Katowice–Opole: Stowarzyszenie "Po MOC" dla Kobiet i Dzieci im. Marii Niepokalanej 2010.
Białożyt K., Praca socjalna jako istotny filar pomocy społecznej, w: S. Fundowicz, P. Śwital, M. Wieczorek (red.), ABC Administracji, t. II, Radom: SKAUTH 2013, s. 54-68.
Bielecka E., Tradycyjne i innowacyjne formy interwencji społecznej, "Pedagogika Społeczna" 2010, nr 2 (36), s. 7-28.
Fontaine A., Andersson M., Quoc-Duy T., Międzynarodowy przewodnik metodologiczny po streetworkingu na świecie, Bruksela: Wydawnictwo Międzynarodowej Sieci Streetworkerów Społecznych 2008.
Grudziński A., Streetworking as an Innovative Form of Social Work with Marginalized Groups, w: M.Rusnáková (red.), Aktuálne dianie, perspektívy a vývojové trendy v sociálnej, edukačnej a zdravotníckej práci s marginalizovanými skupinami, Ružomberok 2013, s. 77-83.
Hobot Ł., Praca socjalna w środowisku ulicznym z osobami bezdomnymi oraz młodzieżą zagrożoną wykluczeniem i niedostosowaniem społecznym na przykładzie projektu "Streetwork – skuteczny kontakt z klientem", w: M. Michel (red.), Streetworking. Aspekty teoretyczne i praktyczne, Kraków: Wydawnictwo Uniwersytetu Jagiellońskiego 2011, s. 97-107.
Michel M., Streetworking – podstawy profilaktyki i resocjalizacji w środowisku lokalnym, w: M. Michel (red.), Streetworking. Aspekty teoretyczne i praktyczne, Kraków: Wydawnictwo Uniwersytetu Jagiellońskiego 2011, s. 13-34.
Pikuła N., Social Economy in Social Work, w: L.Pekarcik, E.Janigova (red.), Sociálna práca, manažment a ekonómia – s aplikáciou na podmienky trvalo udržatel'ného rozvoja sociálnych služieb, Ružomberok 2012, s. 17-25.
Ulijasz B., Współdziałanie państwa i Kościoła katolickiego w zakresie pomocy społecznej, Kraków: Wydawnictwo Scriptum 2013.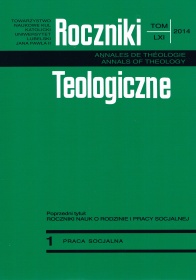 Copyright (c) 2014 Roczniki Teologiczne
This work is licensed under a Creative Commons Attribution-NonCommercial-NoDerivatives 4.0 International License.