Social Cooperatives as an Important Element of the Social Economy in the Process of Socio-Professional Integration of People at Risk of Social Exclusion.
Theoretical and Practical Aspects
Katarzyna Zielińska - Król

Institute of Family Studies, Faculty of Theology, John Paul II Catholic University of Lublin
Keywords:
social economy; social cooperative; social goals
Abstract
Element that creates the reality of the social economy in the Polish space is a social cooperative. The formula of its activity offers great opportunities for people belonging to disadvantaged groups. There is a proposal targeted primarily for the unemployed, the disabled people, addicts, the homeless, for those who for various reasons do not wish or are not capable of making business. They want instead to take joint and group economic activities, spread and reduce the risk of running their own business, while also pursuing social goals. The present article attempts to define social cooperatives in the social economy, its law and theoretical aspects.
References
Bohdziewicz-Lulewicz M., Sutuła J., Ekonomia społeczna jako element rozwoju regionu oraz społeczności lokalnych, "Ekonomia Społeczna" 2012, nr 2 (5) (wyd. specjalne).
Ekonomia społeczna, Warszawa–Kraków: Związek Lustracyjny Spółdzielni Pracy, Ministerstwo Polityki Społecznej 2004.
Głąbicka K., Ekonomia społeczna – wyzwanie dla instytucji pomocy społecznej, Warszawa: Mazowieckie Centrum Polityki Społecznej 2010.
Godlewska-Bujok B., Miżejewski C., Ustawa o spółdzielniach socjalnych. Komentarz, Warszawa: Ministerstwo Pracy i Polityki Społecznej. Departament Pożytku Publicznego 2012.
Grewiński M., Rymsza M., Polityka aktywizacji w Polsce. Usługi reintegracji w sektorze gospodarki społecznej, Warszawa: Wydawnictwo Wyższej Szkoły Pedagogicznej TWP 2011.
Grotowska-Leder J., Faliszek K., Ekskluzja i inkluzja społeczna. Diagnoza–uwarunkowania–kierunki działań, Warszawa: Wydawnictwo Edukacyjne Akapit 2005.
Hauser J., Ekonomia społeczna a rozwój (skrypt 1), Kraków: MSAP UEK 2008.
Kompendium wiedzy z zakresu tworzenia i prowadzenia spółdzielni socjalnych, Koszalin: Fundacja Centrum Innowacji i Przedsiębiorczości [b.r.].
Koral J., Spółdzielnie socjalne, "Podmioty ekonomii społecznej", Fundacja Inicjatyw Społeczno-Ekonomicznych, Warszawa 2008.
Sienicka A., Spółdzielnia socjalna, http://www.ekonomiaspoleczna.pl/x/ 433225 (dostęp: 28.09.2013).
Sobol A., Społeczne aspekty działalności spółdzielni socjalnych, Warszawa: Ogólnopolski Związek Rewizyjny Spółdzielni Socjalnych–Krajowa Rada Spółdzielcza 2009.
Spółdzielnia socjalna – szansa na nowe miejsce pracy, Sopot: Caritas Archidiecezji Gdańskiej–Partnerstwo na Rzecz Rozwoju "Na Fali".
Ustawa o spółdzielniach socjalnych, Dz.U. z 2006 r., nr 94, poz. 651.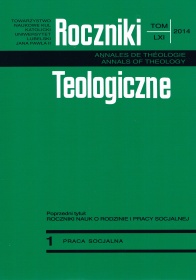 Copyright (c) 2014 Roczniki Teologiczne
This work is licensed under a Creative Commons Attribution-NonCommercial-NoDerivatives 4.0 International License.