Social Cooperatives to Face the Challenges of Modern Times
Witold Janocha

Institute of Family Studies, Faculty of Theology, John Paul II Catholic University of Lublin
Keywords:
social cooperative; social reintegration; vocational reintegration
Abstract
In a world torn apart by inequality in income, access to the labour market, etc., it is difficult not to agree with the views of contemporary sociologists, who presented a vision of a society producing excluded people without opportunities for participation in mainstream social life. The idea of social cooperatives, is a sort of antidote to such a state of affairs. The cooperative ownership reinforces the need for mutual assistance, leads to socialization, tends to engage in cooperative activities. Thanks to the social cooperatives, many groups excluded has the ability to social and professional reintegration, becoming the owners of businesses and realistically affect their functioning.
References
Bauman Z., Życie na przemiał, Kraków 2004.
Beck U., Społeczeństwo ryzyka. W drodze do innej nowoczesności, Warszawa 2002.
Deklaracja Spółdzielczej Tożsamości, http://krs.org.pl (dostęp: 15.11.2013).
Domagalski A., Spółdzielczość odpowiedzią na kryzys, Warszawa: "Spółdzielczość Polska" 2008.
Godlewska-Bujok B., Miżejewski C., Ustawa o spółdzielniach socjalnych. Komentarz, Warszawa 2012.
Izdebski H., Ustawa o działalności pożytku publicznego i o wolontariacie. Komentarz, Warszawa 2003.
Karta Etyki Spółdzielczej, Krajowa Rada Spółdzielcza, Warszawa 2003.
Krajowy Program Przeciwdziałania Ubóstwu i Wykluczeniu Społecznemu 2020. Nowy wymiar aktywnej integracji, Warszawa 2013.
Sobol A. (red.), Społeczne aspekty działalności spółdzielni socjalnych, Warszawa 2009.
Spółdzielnia socjalna jako forma działalności gospodarczej, Warszawa 2009, wup. mazowsze.pl/.pdf (dostęp: 15.11.2013).
Staręgi-Piasek J. (red.), Ekonomia społeczna, perspektywa rynku pracy i pomocy społecznej, Warszawa 2007.
Żukiewicz A., Bezrobocie i bezrobotni – reintegracja społeczna i zawodowa, w: J. Staręgi-Piasek (red.), Ekonomia społeczna, perspektywa rynku pracy i pomocy społecznej, Warszawa 2007, s. 86-101.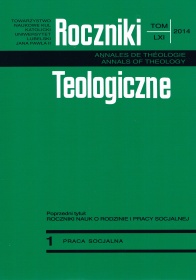 Copyright (c) 2014 Roczniki Teologiczne
This work is licensed under a Creative Commons Attribution-NonCommercial-NoDerivatives 4.0 International License.