Social Policy of the European Union for 25 Years. Contribution to the Discussion
Adam Zadroga

Institute of Family Studies, Faculty of Theology, John Paul II Catholic University of Lublin
Keywords:
social policy; European Union; EU policies; the welfare state; liberal social model
Abstract
The object of analysis of this study is – postulated by the author – the future shape of EU social policy for 25 years. In the starting point – the possibility of achieve a uniform social model in Europe was subjected to a critical evaluation. The author believes that this scenario is not only unrealistic, but also socially harmful. Therefore – as an alternative – the author presents the assumptions and implications of the adoption of liberal (marginal) approach to social policy.
References
Anioł W., Europejska polityka społeczna, Warszawa: Elipsa 2005.
Giddens A., Social Model for Europe?, w: A. Giddens, P. Diamond, R. Liddle (red.), Global Europe, Social Europe, Cambridge: Polity Press 2006, s. 14-36.
Golinowska S., Przyszłość państwa opiekuńczego i zabezpieczenia społecznego, "Polityka Społeczna" 2005, nr 11-12, s. 1-9 (tekst dostępny także na stronie: http://rszarf.ips.uw.edu.pl/kierunki/golinowska.pdf).
Jouen M., Palpant C., For a New European Social Contract, "Studies & Research" 2005, nr 43, Notre Europe (tekst dostępny pod adresem: http://ftp. infoeuropa.eurocid.pt/database/000034001-000035000/000034716.pdf).
Księżopolski M., Wspólnie czy osobno? Rozważania o polityce społecznej, Warszawa: Dom Wydawniczy ELIPSA 2013.
Lodge J., Social Europe: Fostering a People's Europe?, w: J. Lodge(Ed.), New York: St. Martin's Press 1989, s. 303-318.
Radło M. J., Strategia lizbońska nie spełnia pokładanych w niej nadziei, http:// www.rzeczpospolita.pl/gazeta/wydanie_050129/ekonomia/ekonomia_a_4.html (dostęp: 29-30.01.2005).
Szarfenberg R., Człowiek i polityka społeczna – Unia Europejska 2050 (wersja z 15.06.2007), http://rszarf.ips.uw.edu.pl/pdf/psue2050.pdf (dostęp: 15.06.2013).
Szarfenberg R., Europejska polityka społeczna – krótkie wprowadzenie, w: K. Płowiec (red.), Przewodnik po europejskiej polityce społecznej, Warszawa: Wyd. Wrzos 2009, s. 21-72.
Wilding P., The Welfare State 2000-2050, referat przygotowany na pięćdziesiątą coroczną konferencję "Political Studies Association – UK", 10-13 kwietnia 2000 r., Londyn, http://rszarf.ips.uw.edu.pl/welfare-state/wilding2.pdf (dostęp: 15.06.2013).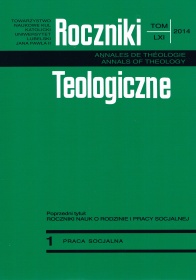 Copyright (c) 2014 Roczniki Teologiczne
This work is licensed under a Creative Commons Attribution-NonCommercial-NoDerivatives 4.0 International License.