Challenges for Religious Education at School in the Opinion of Religion Teachers
Keywords:
religious education, religiosity, catechesis, religion teachers
Abstract
English translation. The original article can be found here
Challenges to the teaching of religion are analysed from different perspectives and in different aspects. In the diagnosis of problems, one of the most important factors is the opinion of religion teachers who confront these challenges directly and on a daily basis. This article is an analysis of the results of a survey of religion teachers in this context. Challenges from the students, from the parents, from the institutional Church, from the school and challenges from the parish are discussed. Among the most serious challenges is the lack of faith of the pupils and the lack of need for faith development were identified. The research shows that the strongest correlate of attitudes towards Religious Education at school is religious indifference and waning religiosity.
References
Centrum Badania Opinii Społecznej. Religijność młodych na tle ogółu społeczeństwa. Komunikat z badań nr 144/2021, edited by Mirosława Grabowska. Warszawa: CBOS, 2021.
Chmielewski, Mirosław. "Katecheza rodzinna w kontekście współczesnych uwarunkowań społeczno-eklezjalnych." In Rodzina jako Kościół domowy, ed. Antoni Tomkiewicz, Włodzimierz Wieczorek, 305–321. Lublin: Wydawnictwo KUL, 2010.
Dziedzic, Jan. "Religijność a postawy moralne polskiej młodzieży. Refleksja psychologiczno­pastoralna." Polonia Sacra 20 (2016): 67–86.
Głowacki, Antoni. "Religijność młodzieży i uczestnictwo w lekcjach religii w szkołach." In Młodzież 2018, ed. Mirosława Grabowska, Magdalena Gwiazda, 153–166. Warszawa: Centrum Badania Opinii Społecznej, 2019.
Kiciński, Andrzej. "Współczesna formacja katechetów." Roczniki Teologiczne 52 (2005): 109–125.
Mąkosa, Paweł. "Confessional and catechetical nature of religious education in Poland." The Person and the Challenges 5 (2015): 53–66.
Mąkosa, Paweł. "Katecheza parafialna dzieci – prawda czy fałsz, sukces czy porażka?" In Katecheza w parafii, ed. Marian Zając, 127–138. Lublin: Wydawnictwo "Natan," 2016.
Mąkosa, Paweł. "Preewangelizacja pierwszym i koniecznym etapem formacji chrześcijańskiej." Katecheta 54 (2010), 7–8: 25–34.
Mąkosa, Paweł. "Rezygnacja z nauczania religii w szkołach ponadpodstawowych wyzwaniem dla Kościoła w Polsce." In Edukacja religijna wobec przemian kulturowych, ed. Paweł Mąkosa, 129–138. Lublin: Wydawnictwo KUL, 2019.
Mąkosa, Paweł. "Systematyczna katecheza parafialna dzieci i młodzieży. Motywacja i realizacja." In Miejsca katechezy. Rodzina, parafia, szkoła, ed. Stanisław Kulpaczyński, 273–312. Lublin: Polihymnia, 2005.
Mąkosa, Paweł and Dominik Kiełb. "Between Personal Faith and Facade Religiosity. Study on Youth in the South-Eastern Poland." European Journal of Science and Theology 17 (2021), 5: 15–30.
Osewska, Elżbieta. "Ograniczenia i możliwości katechezy w rodzinie." Seminare. Poszukiwania naukowe 11 (1995): 81–98.
Rozporządzenie Ministra Edukacji Narodowej w sprawie warunków i sposobu organizowania nauki religii w publicznych przedszkolach i szkołach. Dz. U. 2020, poz. 983.
Szulich-Kałuża, Justyna. "Kreowanie wizerunku Kościoła katolickiego w dyskursie polskiej prasy." Biuletyn Edukacji Medialnej 2 (2018): 69–81.
Szymczak, Wioletta. "Interdisciplinarity in Pastoral Theology. An Example of Socio-Theological Research," Verbum Vitae 38 (2020), 2: 503–527.
Szymczak, Wioletta i Tomasz Adamczyk. Młodzież w kontekstach współczesnych. Rodzina. Czas. Szkoła. Kościół. Lublin: Wydawnictwo KUL, 2022.
Tilles, Daniel. "Only 9% of young people in Poland view Catholic church positively, finds poll." Notes from Poland. Accessed 9.06.2022. https://notesfrompoland.com/2020/11/16/only-9-of-young-people-in-poland-view-catholic-church-positively-finds-poll/.
Zając, Marian. "Katecheza parafialna." In Wybrane zagadnienia katechetyki, ed. Józef Stala, 144–174.Tarnów: Wydawnictwo Diecezji Tarnowskiej "Biblos," 2003.
Zakrzewski, Grzegorz Jerzy. "Motywy rezygnacji młodzieży z lekcji religii oraz szanse zatrzymania tego procesu na podstawie badań w diecezji płockiej." In Nowa epoka polskiej katechezy, ed. Dominik Kiełb, 69–86. Rzeszów: Bonus Liber, 2021.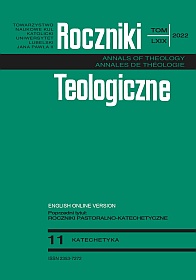 Copyright (c) 2023 Roczniki Teologiczne
This work is licensed under a Creative Commons Attribution-NonCommercial-NoDerivatives 4.0 International License.