Holiness in Time: the Liturgical Year in the Economy of Salvation
Keywords:
liturgical year, liturgy, Economy of Salvation, time
Abstract
The liturgical year is the celebration of the mystery of Christ and of His salvific work over time. The Chosen People sanctify time because God reveals and acts through various events within it. The Jewish theologian Abraham Joshua Heschel teaches that time is an attribute of God and of holiness. Time permeates and subordinates space, because it is the very presence of Yahweh Himself. The paschal mystery of Jesus Christ is the fullness of time but not its completion. It is not only man and the whole of creation which are renewed, but time also is purified, because the resurrection becomes the center of the mystery of time. The content of the liturgical year is the Savior, so in the liturgy the time of the celebration anticipates as well the time of God himself, that is, eternity. In this way, time lived in the Church becomes an instrument of sanctification.
References
Auge, Matias. "Czas i obrzęd: składowe autentycznych przeżyć". W Liturgia i psychologia. (Kościół w Trzecim Tysiącleciu, t. 12), red. Andrzej Żądło, 66-77. Katowice: Księgarnia św. Jacka, 2014.
Brzegowy, Tadeusz. "Kalendarz biblijny". W Czas i kalendarz, red. Zdzisław Kijas, 35-70. Kraków: Wydawnictwo Naukowe PAT, 2001.
Brzeziński, Daniel. Chrystus wczoraj i dziś, i na wieki. Anamnetyczny wymiar roku liturgicznego. Toruń–Pelplin: Toruńskie Wydawnictwo Diecezjalne i Wydawnictwo Bernardinum, 2015.
Cantalamessa, Raniero. Pascha naszego zbawienia. Kraków: Wydawnictwo M, 1998.
Casel, Odo. Misterium świąt chrześcijańskich. Tyniec: Wydawnictwo Benedyktynów, 2014.
Hemming, Laurence Paul. Kult jako objawienie. Przeszłość, teraźniejszość i przyszłość katolickiej liturgii. Kraków: Fundacja Dominikański Ośrodek Liturgiczny, 2019.
Heschel, Abraham Joshua. Szabat. Kraków: Wydawnictwo Esprit SC, 2015.
Głowacki, Zbigniew. "Duchowość roku liturgicznego". W W służbie miłości. Eucharystia, red. Dawid Czaicki, 295-315. Siedlce–Kraków: Wydawnictwo Diecezji Siedleckiej UNITAS, 2013.
Jankowski, Augustyn. Biblijna teologia czasu. Tyniec: Wydawnictwo Benedyktynów, 2018.
Juszkiewicz, Jacek. "Szabat Abrahama Jashui Heschela". W Żydzi Wschodniej Polski. Seria IV: Uczeni żydowscy, red. G. Czerwiński, J. Ławski, 263-273. Białystok: Wydawnictwo Alter Studio, 2016.
Migut, Bogusław. "Rok liturgiczny aktualizacją misterium Chrystusa". Roczniki Liturgiczne 1(2009): 271-296.
Napora, Krzysztof. "Czas w kapłańskim opowiadaniu o stworzeniu: dzień pierwszy (Rdz 1,3-5)". Verbum Vitae 35(2019): 13-37.
Pałęcki, Waldemar. Rok liturgiczny Paschą Chrystusa. Misterium roku liturgicznego według Odo Casela (1886-1948). Sandomierz: Wydawnictwo Diecezjalne i Drukarnia w Sandomierzu, 2006.
Perszon, Jan. "Sacrum. II. W chrześcijaństwie". W Encyklopedia Katolicka. T. 17, red. Edward Gigilewicz, kol. 833. Lublin, 2012.
Pius XII. Mediator Dei (20 XI 1947). Warszawa: Fundacja im. O. Damiana de Veuster przy współpr. z Bractwem św. Piusa X, 1996.
Ratzinger, Joseph. Duch liturgii. Poznań: Klub Książki Katolickiej, 2002.
Ratzinger, Joseph. Sakrament i misterium: teologia liturgii. Kraków: Dominikański Ośrodek Liturgiczny i Wydawnictwo AA, 2011.
Woźniak, Robert. "«Ad futuram rei memoriam» – liturgia, chrześcijańska koncepcja czasu i ta eschata". W A świątyni w nim nie dojrzałem.... Liturgia i eschatologia, red. Krzysztof Porosło, 153-178. Tyniec: Wydawnictwo Benedyktynów, 2012.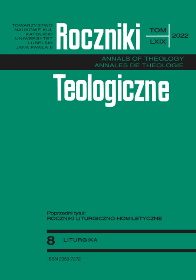 Copyright (c) 2022 Roczniki Teologiczne
This work is licensed under a Creative Commons Attribution-NonCommercial-NoDerivatives 4.0 International License.