Premarital Pastoral Care in Lithuania and Its Challenges: The Problematic Areas of Understanding the Decalogue
Vaineta Juškienė

Klaipeda University, John Paul II Centre for Christian Studies, Lithuania
Keywords:
premarital pastoral care in Lithuania, Catholic marriage, Decalogue
Abstract
Premarital pastoral care occupies an important place in the ministry of the Church and is relevant in every time period. The purpose of this article is to present the format of premarital pastoral care in Lithuania and its problematics in terms of the perception of the Decalogue. In Lithuania, the preparation for matrimony is regulated by the documents of the Universal Church and the Lithuanian Bishops' Conference. It is carried out in the format of a programme coordinated by the Family Centre. The programme includes essential elements of Catholic family life and faith, as the Sacrament of Marriage presupposes and requires faith. An integral part of the programme of preparing for marriage is the presentation and analysis of the Decalogue in harmony with family life. An empirical study indicates that the engaged couples question some aspects of the concept of the Decalogue in the areas of Sunday celebration, the value of the truth and respect for parents. These areas generate conflicting assumptions for the engaged and are the most difficult to perceive and accept. This reveals the need for constant renewal of the premarital pastoral care and deepening of its content in search of new relevant forms.
References
Aramavičiūtė, Vanda. Auklėjimas ir dvasinė asmenybės branda. Vilnius: Gimtasis Žodis, 2005.
Francis. Post-Synodal Apostolic Exhortation Amoris Lætitia, March 19, 2016. Holy See. Accessed October 17, 2022. https://www.vatican.va/content/dam/francesco/pdf/apost_exhortations/documents/papa-francesco_esortazione-ap_20160319_amoris-laetitia_en.pdf,211.
Gallagher, Luisa, J. "A Theology of Rest: Sabbath Principles for Ministry." Christian Education Journal: Research on Educational Ministry 16, no. 1 (2019): 134–49.
Katalikų Bažnyčios Katekizmas. Vilnius: Katalikų pasaulio leidiniai, 2015.
Korgul, Grzegorz. "Oczekiwania małżonków wobec duszpasterskiego wsparcia miłości małżeńskiej." Roczniki Teologiczne 68, no.6 (2021): 91–107. https://doi.org/10.18290/rt21686-5.
Laumenskaitė, Irena Eglė. "Ar užbaigėme tikėjimo metus?" Katalikai.lt, 2014. Accessed January 10, 2022, http://www.katalikai.lt/index.php?id=6&nid=10403.
Lietuvos Šeimos centras. Programa sužadėtiniams. "Dviem yra geriau negu vienam… Jei vienas iš jų suklumpa, kitas padeda bičiuliui atsikelti" (Koh 4,9-10). Kaunas: Lietuvos Šeimos centras, 2015.
Lietuvos Šeimos centras. Sužadėtinių rengimas santuokos sakramentui: užrašai kūrybingiems pasimatymams. Kaunas: Lietuvos Šeimos centras, 2018.
Lietuvos Vyskupų Konferencija. Instrukcija dėl pasirengimo Santuokos sakramentui programos įgyvendinimo, LVK, March 29, 2006. https://lvk.lcn.lt/naujienos/,78.
Lietuvos Vyskupų Konferencija. "Lietuvos Šeimos centras," LVK, 2022. https://lvk.lcn.lt/p_strukturos/lsc.
Lietuvos Vyskupų Konferencija. Nutarimas dėl pasirengimo Santuokos sakramentui programos. Bažnyčios žinios 22 (1996). https://www.baznycioszinios.lt/old/bz9622/622lvk2.html.
Pontifical Biblical Commission. The Bible and Morality: Biblical Roots of Christian Conduct. Holy See. Accessed October 17, 2022. https://www.vatican.va/roman_curia/congregations/cfaith/pcb_documents/rc_con_cfaith_doc_20080511_bibbia-e-morale_en.html.
Pontifical Council for the Family. Rengimas Santuokos sakramentui. Katalikų interneto tarnyba, 2000. Accessed January 25, 2022. http://www.lcn.lt/b_dokumentai/kiti_dokumentai/rengimas-santuokos.html.
"Popiežius Pranciškus: Nesantaika ir apkalbos – mūsų liga." Bernardinai.lt, September 4, 2015. Accessed January 24, 2022, https://www.bernardinai.lt/2015-09-04-popiezius-pranciskus-nesantaika-ir-apkalbos-musu-liga.
Reterer, Friedrich Vinzenz. Dievo teisynas ir gyvenimas. Vilnius: Aidai, 1997.
Volenik, Antun, Slavica Blažeka Kokorić, and Maja Laklija. "Analiza različitih aspekata partnerskih odnosa kod polaznika zaručničkih tečajeva i važnost vjere u njihovu životu." Obnovljeni Život 76 (2021): 97–111.
Zellma, Anna, and Wojsław Czupryński. "Cultural Model of Marriage and Family, as Shown in Selected Polish TV Series. A Pastoral Challenge for the Catholic Church." Nova prisutnost 18, no. 2 (2020): 311–23.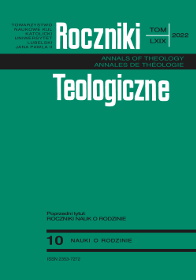 Copyright (c) 2022 Roczniki Teologiczne
This work is licensed under a Creative Commons Attribution-NonCommercial-NoDerivatives 4.0 International License.