Peace And Harmony in the Treaty About Peace Gilbert of Tournai (1200–1284)
Keywords:
Gilbert of Tournai, peace, harmony, franciscan spirituality, heaven hierarchy
Abstract
Gilbert of Tournai, a minor brother in the thirteenth century, in his work Treatise on Peace (Tractatus de pace et tranquillitate animi) deals with the theme of harmony and peace, analyzing this reality from many perspectives. His work, in terms of methodology and content, fully reflects the medieval approach to the problem, but at the same time introduces new perspectives and broadens the horizons of thought, based on the author's many years of academic experience. Recreating and reflecting on the most important ideas of this work will be the focus of this study.
References
Block, Wiesław. Wszystkim chrześcijanom. Duchowość św. Franciszka z Asyżu w świetle jego pism. T. 4: Ja, brat. Kraków: Serafin, 2019.
Cardini, Franco. "Gilberto di Tournai. Un francescano predicatore della crociata". Studi Francescani 72(1975): 31–43.
Gieben, Servus. "Il 'Rudimentum doctrinae' di Gilberto di Tournai con l'edizione de suo 'registrum' o tavola alla materia". W: Bonaventuriana: Miscelanea in onore di Jacques Guy Bougerol ofm, red. Chavero Blanco. T. 2, 621–680. Roma: Edizioni Antonianum, 1988.
Gilbert z Tournai. "Traktat o pokoju". W: Antologia mistyków franciszkańskich. Tłum. Stanisław Kafel. T. 2: Wiek XIII–XIV, 27–42. Warszawa: ATK, 1986.
Gilberto di Tournai i Herbert di Cherbury. Due prospettive sulla vita umana e celeste, red. Francesco De Carolis. Napoli: Giannini, 2010.
Horowski, Aleksander. "Il sermone su san Francesco". Collectanea Franciscana 78, nr 3–4 (2008): 525–552.
Horowski, Aleksander. "Gilberto di Tournai, un pedagogo in cerca di pace: tra l'università, il chiostro, il pulpito e la corte". W: Storia della spiritualità francescana, red. Marco Bartoli, Wiesław Block i Alessandro Mastromatteo. T. 1, 205–218. Bologna: EDB, 2017.
Horowski, Alessandro. "Maria e la perfezione della vita religiosa nei sermoni sull'annunciazione di Gilberto di Tournai". W: Religioni et doctrinae. Miscellanea di studi offerti a Bernardino de Armellada in occasione del suo 80 compleanno, red. Aleksander Horowski, 231–275 (Biblioteka seraphico-capuccina, 89). Roma: Istituto Storico Dei Cappuccini, 2009.
Krakowiak, Czesław. Gilbert z Tournai. W: Encyklopedia katolicka. T. 5, 1075. Lublin: TN KUL, 1989.
Le Goff, Jacques. San Luigi (Piccola Biblioteca Einaudi. Nuova serie. Storia, 348). Torino: Einaudi, 2007.
Łużyniecka, Ewa. Architektura klasztorów cysterskich. Filie lubiąskie i inne cenobia śląskie. Wrocław: Oficyna Wydawnicza Politechniki Wrocławskiej, 2002.
Maranesi, Pietro. "Gilbertus Tornacensis: 'Rudimentum doctrinae'". W: Editori di Quaracchi 100 anni dopo, bilancio e prospettive. Atti del Colloquio Internazionale, Roma 29–30 maggio 1995, red. Alvaro Cacciotti i Barbara Faes de Mottoni, 141–167. Roma: Antonianum, 1977.
Tractatus de pace auctore fr. Gilberto de Tornaco, red. Ephreme Longpré. Quaracchi, 1925.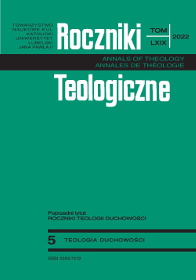 Copyright (c) 2022 Roczniki Teologiczne
This work is licensed under a Creative Commons Attribution-NonCommercial-NoDerivatives 4.0 International License.