Participation in the Eucharist as a Special Challenge During the Pandemic
Keywords:
The Eucharist, Participation in the Eucharist, Participatio Actuosa, Non-sacramental participation in the Eucharist
Abstract
Christian worship is worship modelled on that of Jesus Christ, and in union with Him (cf. Rm. 12:1). Therefore the fullest expression of the worship of the Church is the Eucharist. In it is made sacramentally present the consummate, once-for-all, unique offering of Christ, that is to say, His life of obedience and devotion to the Father, which has its fulfillment in death upon the cross. The participation of the faithful in the Eucharist consists in the following of Jesus in obedience to the Father, that is, in rendering a spiritual offering which Jesus joins to His one offering. Participation in the Eucharist is a special challenge during the pandemic not only due to physical difficulties in participating, but also as regards fullest possible extra-sacramental participation, i.e., long-distance participation. The most important condition is the desire for sacramental participation and union with Christ, that is, spiritual communion. Mass-media transmissions of the Mass are helpful in this. Other essential conditions for such participation are an accompanying desire for ongoing conversion (directing of one's life towards God) and involvement in the life of the Church on various levels. Meditation on the Word of God in the form of lectio divina is to be considered as an especial pillar of this extra-sacramental participation. The faithful have the right to read the books of Sacred Scripture in any order. The most ecclesial reading of the Bible, however, is that which is geared toward the daily Eucharist. The individual believer is nourished by this word which is addressed to the entire church on a given day.
References
Beauduin, Lambert. La piété de l'Église. Louvain: Abbaye du Mont-César, 1914; tłum. pol. Stefan Koperek. Modlitwa Kościoła. Kraków: PTT, 1987.
Bouyer, Louis. Liturgical Piety. Notre Dame: University of Notre Dame Press, 1955.
Bouyer, Louis. Wprowadzenie do życia duchowego. Zarys teologii ascetycznej i mistycznej. tłum. L. Rutkowska. Warszawa: PAX ,1982.
Czerwik, Stanisław. "Wprowadzenie do Konstytucji o liturgii świętej". W Sobór Watykański II. Konstytucje, dekrety, deklaracje, 25-47. Poznań: Pallotinum, 2012.
Gueranger Prosper. Explication des prières et des cérémonies de la Sainte Messe: d'après des notes recueillies aux conférences. Bruxelles: Association Saint-Jérôme, 1985.
Kavanagh, Aidan. "Relevance and Change in the Liturgy". Worship 45(1971), 2: 58-72.
Kavanagh, Aidan. The Shape of Baptism: The Rite of Christian Initiation. Collegeville (MN): Liturgical Press, 1978.
Kavanagh, Aidan. On Liturgical Theology: The Hale Memorial Lectures of Seabury-Western Theological Seminary 1981. Collegeville (MN): Liturgical Press, 1984.
Kereszty, Roch A. Wedding Feast of the Lamb: Eucharistic Theology from a Historical, Biblical, and Systematic Perspective. Chicago/Mundelein: Hillenbrand Books, 2004.
Mass-Ewerd, Theodor. Liturgie und Pfarrei: Einfluß der liturgischen Erneuerung auf Leben und Verständnis der Pfarrei im deutschen Sprachgebiet. Paderborn: Bonifacius, 1965.
Migut, Bogusław. "Eucharystia jako ofiara w świetle Katechizmu Kościoła Katolickiego i wprowadzeń do wybranych ksiąg liturgicznych". W Eucharystia – źródło, szczyt i życie. Tydzień Eklezjologiczny 2004, red. Jan Budzyński, Paweł Łukasik, Krzysztof Mielcarek. 23-49 [W trosce o Kościół V]. Lublin: Wydawnictwo KUL, 2005.
Migut, Bogusław. "The Eucharist as a Sacrament of Christian Initiation: Historical-Liturgical Aspect". Roczniki Teologiczne 66(2019), 8: 79-90.
Pieper, Josef. In Tune with the World: A Theory of Festivity. tłum. ang. Richard i Clara Winston. New York: Harcourt, Brace and World, 1965.
Ratzinger, Joseph/Benedykt XVI. Jezus z Nazaretu, cz. 2: Od wjazdu do Jerozolimy do Zmartwychwstania. tłum. pol. Wiesław Szymona. Kielce: Jedność, 2011.
Szlaga, Jan. "Eucharystia − ofiara Nowego Przymierza". W Eucharystia − miłość i dziękczynienie, red. Walerian Słomka, Antoni J. Nowak [Homo meditans IX]. Lublin: TN KUL, 1992.
Świerzawski, Wacław. Eucharystia Chrystusa i Kościoła. Kraków: WAM, 1983.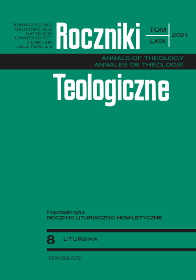 Copyright (c) 2021 Roczniki Teologiczne
This work is licensed under a Creative Commons Attribution-NonCommercial-NoDerivatives 4.0 International License.