Ethical Neutrality of the State – Ideal or Fiction?
Keywords:
ethical neutrality, state-Church relations, social morality
Abstract
Between the aspirations to create a religious state and the attitudes of combating all manifestations of religiosity in social life, there is sometimes a proposition of neutrality in worldview issues, including moral norms. Can the state and its institutions really maintain such neutrality? What is the Church's attitude to such proposals? The article is an attempt to answer these questions. It is based on the analysis of the phenomenon of neutrality itself, its forms and the true intentions of its supporters. These analyzes prove that neutrality is an ambivalent phenomenon and its acceptance by the Church depends on many conditions.
References
Benedykt XVI. Orędzie na Światowy Dzień Pokoju 2011 r. Wolność religijna drogą do pokoju.
Biesaga, Tadeusz. "Zagrożenia sumienia lekarza". Medycyna Praktyczna 7-8(2005): 18-21.
Borowik, Irena. "Pluralizm jako cecha przemian religijnych w kontekście transformacji w Polsce". W Pluralizm religijny i moralny w Polsce. Raport z badań, red. Irena Borowik, Tadeusz Doktór. Kraków: Nomos, 2001.
Chrzanowski, Wiesław. "Państwo demokratyczne a neutralne światopoglądowo". W Neutralność światopoglądowa państwa, red. Ewa Nowicka-Włodarczyk, 9-18. Kraków: Fundacja Międzynarodowe Centrum Rozwoju Demokracji, 1995.
Chyłka, Bartłomiej. "Granice zasady bezstronności światopoglądowej władz publicznych (Art. 25, ust. 2 Konstytucji RP". Studia Ełckie 19, nr 3 (2017): 295-311.
Cogiel, Marceli. "Wychowanie przez katechezę szkolną w dobie transformacji". Ateneum Kapłańskie 133(1999). Dostęp 30.12.2020. http://web.diecezja.wloclawek.pl/Ateneum/cogiel_542.html.
Jan Paweł II. Encyklika Veritatis splendor (6.08.1993). AAS 85(1993): 1133-1228.
Jan Paweł II. Homilia podczas Mszy św. (Lubaczów, 3.06.1991).
Jan Paweł II. Przemówienie do korpusu dyplomatycznego (Warszawa, 8.06.1991).
Jan Paweł II. Przemówienie w Parlamencie RP (11.06.1999).
Konstytucja Rzeczpospolitej Polskiej (2.04.1997).
Legutko, Ryszard. "Liberalizm i moralna neutralność". Znak 12(1997): 85-91.
Lewandowski, Jan. "Czy może istnieć państwo neutralne światopoglądowo?". Dostęp 30.01. 2021. https://opoka.org.pl/biblioteka/F/FS/jl_neutralnosc.html.
Mariański, Janusz i Zbigniew Narecki. "Indyferentyzm". W Encyklopedia Katolicka, t. 7, red. Jerzy Duchniewski i in., 150-2. Lublin: TN KUL, 1997.
Powszechna Deklaracja Praw Człowieka.
Stępniak, Marek. Religia w państwie laickim. Negacja – tolerancja – dialog. Łódź: Archidiecezjalne Wydawnictwo Łódzkie, 2009.
Szymanek, Jarosław. "Przepisy wyznaniowe w Konstytucji RP (uwagi porządkujące)". Studia z Prawa Wyznaniowego 14(2011): 5-23.
Zabielski, Józef. Współczesny indyferentyzm religijny. Studium teologicznomoralne. Białystok: Kuria Metropolitalna Białostocka, Wydział Duszpasterstwa, 1999.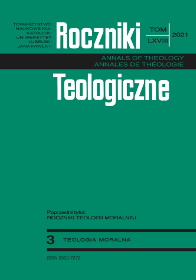 Copyright (c) 2021 Roczniki Teologiczne
This work is licensed under a Creative Commons Attribution-NonCommercial-NoDerivatives 4.0 International License.