Reform of marriage annulment processes: is it a theological reform?
Abstract
The article is a legal and theological analysis of Pope Francis "Mitis Iudex Dominus Jesus" document reforming the canons of the Code of Canon Law on marriage annulment cases (September 8, 2015). He shows its advantages and positive effects for a more efficient process of declaring marriage annulment, and draws attention to its theological and ecclesial novelty that raises questions. These questions require answers from the Church, bishops and theologians collaborating with the Pope.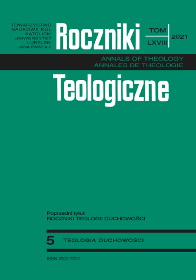 Copyright (c) 2021 Roczniki Teologiczne
This work is licensed under a Creative Commons Attribution-NonCommercial-NoDerivatives 4.0 International License.