The Obstacles on the Way of Realization of the Authentic Eucharistic Spirituality in the Teachings of Benedict
Keywords:
Eucharist, spirituality, Eucharistic spirituality, death, resurrection, word of God, Communion, service, abuse, ignorance
Abstract
Today, among many Catholics, a phenomenon of subjective judging of one's participation and experiencing the Eucharist can be seen. This means, that there exist a handful of obstacles on the way of experiencing the authentic Eucharistic spirituality. To see them, first one must discover the fundamental elements of said real Eucharistical spirituality. Among the most important of those are: the ability to connect, in the Eucharistic spirituality, the baptismal unity with Christ, which leads to the Eucharist, building one's spirituality by listening to the word of God, which creates faith in Jesus Christ, and intertwining the everyday life with the Eucharist, which is a result of unification with Christ the Servant. While the factors deforming the authentic Eucharistic spirituality are: ignorance in understanding and experiencing the Eucharist, improper ecumenical initiatives, linked to the Eucharist and lack of connection between the Eucharist and everyday life. From the Pope's Benedict XVI teachings, it is clear that Christian spirituality should be, to its fullest meaning, an Eucharistic spirituality.
References
Benedykt XVI. Posynodalna adhortacja apostolska Sacramentum Caritatis. Kraków: Wydawnictwo Księży Sercanów, 2007.
Benedykt XVI. Posynodalna adhortacja apostolska Verbum Domini. Poznań: Pallottinum, 2010.
Cervera, Jesus Castellano. "Liturgia e spiritualità". W Scientia liturgica. Manuale di Liturgia. Liturgia fondamentale. T. 2, red. Anscar J. Chupungco, 63-82. Casale Monferrato: Edizioni Piemme, 1998.
Durrwell, François-Xawier. L'eucaristia sacramento del mistero pasquale. Roma: Edizioni Paoline, 1983.
Jan Paweł II. "List do kapłanów `Tajemnica i kult Eucharystii'". W Listy na Wielki Czwartek (1979-2005), 35-64. Kraków: Wydawnictwo OO. Franciszkanów "Bratni Zew", 2005.
Katechizm Kościoła Katolickiego. Poznań: Pallottinum, 1994.
Kobyliński, Andrzej "Etyczne aspekty współczesnej pentekostalizacji chrześcijaństwa", Studia Philosophiae Christianae" 3(2014):93-130.
Kongregacja Nauki Wiary. "Instrukcja na temat modlitwy w celu osiągnięcia uzdrowienia od Boga". Anamnesis 4(2000): 34-44.
Kongregacja ds. Kultu Bożego i Dyscypliny Sakramentów. Instrukcja Redemptionis Sacramentum. Poznań: Pallottinum, 2004.
Kwiatkowski, Dariusz. "Elementy pentekostalne w kulcie Eucharystii − szansa czy zagrożenie?". W Studia Liturgiczne. Eucharystia − tajemnica celebrowana, t. 14, red. Waldemar Pałęcki, Andrzej Megger, 37-55. Lublin: Towarzystwo Naukowe KUL; Katolicki Uniwersytet Lubelski Jana Pawła II, 2018.
Marini, Piero. Liturgia e bellezza. Nobilis pulchritudo. Città del Vaticano: Libreria Editrice Vaticana, 2005.
Mszał Rzymski dla diecezji polskich. Poznań: Pallottinum, 1986.
Przybylak, Maciej. "Ekumeniczne nieautoryzowane modlitwy eucharystyczne". Liturgia Sacra 20(2014): 43-52.
Ratzinger, Joseph. Duch liturgii. Poznań: Christianitas, 2002.
"Rozmowa Aliny Petrowej-Wasilewicz (KAI) z o. Jordanem Śliwińskim OFCap, znanym duszpasterzem i założycielem Szkoły dla spowiedników" [dostęp: 8.01.2021], https:// stacja7.pl/ wiara/spowiedz-furtkowa-skuteczna-czy-niepotrzebna.
Sobór Watykański II. "Dekret o posłudze i życiu prezbiterów `Presbyterorum Ordinis'". W Sobór Watykański II. Konstytucje, dekrety, deklaracje, 478-508. Poznań: Pallottinum, 2002.
Sobór Watykański II, "Konstytucja o liturgii świętej `Sacrosanctum Concilium'". W Sobór Watykański II. Konstytucje, dekrety, deklaracje, 48-78. Poznań: Pallottinum, 2002.
Stefański, Jerzy. Modlitwy Eucharystyczne w posoborowej reformie liturgicznej. Gniezno: Prymasowskie Wydawnictwo GAUDENTINUM, 2002.
Waleszczyńska, Magdalena. "Sekty i demony w kościołach katolickich", [dostęp: 8.01.2021], http://wrodzinie.pl/sekty-i-demony-w-kosciolach-katolickich.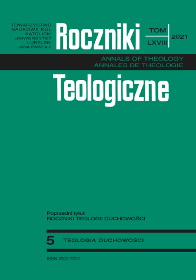 Copyright (c) 2021 Roczniki Teologiczne
This work is licensed under a Creative Commons Attribution-NonCommercial-NoDerivatives 4.0 International License.