The Contemplative Dimension of the Liturgy
Valery Bitar

Pontifical Institute of Spirituality Teresianum, Rome, Italy
Keywords:
liturgy, contemplation, baptism, mystery, celebration, Church
Abstract
The relationship between liturgy and contemplation is fundamental to Christian living. Of its very nature, contemplation is concerns the mystery, because its object is the mysteries of salvation proclaimed in the Word of God, fulfilled in the person of Christ, and celebrated in the liturgy. Authentic contemplation has to be nourished by the Word proclaimed and by the celebration of the mysteries of salvation. Moreover, all liturgy is ordered towards contemplation as to its proper perfection − not so as to stop being liturgy, but to become contemplative liturgy. Our article seeks to highlight the inseparable bond between these two components of Christian existence, a bond guarantees both the authenticity of contemplation and the fruitfulness of participation in the liturgical celebration.
References
Augé, Matias. Spiritualità liturgica. «Offrite i vostri corpi come sacrificio vivente, santo e gradito a Dio». Cinisello Balsamo: San Paolo, 1998.
Brock, Sebastian P. L'occhio luminoso. La visione spirituale di sant'Efrem. Tradotto da Maria Campatelli. Roma: Lipa, 1999.
Cassingena-Trévedy, François. Les Pères de l'Église et la liturgie. Paris: Desclée de Brouwer, 2009.
Castellano, Jesús. Liturgia y vida espiritual. Teología, celebración, experiencia. Barcelona: Centre de Pastoral Litúrgica, 2006.
Corbon, Jean. Liturgia alla sorgente. Tradotto dal monastero Uspenskij di Roma. Magnano: Edizioni Qiqajon, 2003.
Daniélou, Jean. Platonisme et théologie mystique. Essai sur la doctrine spirituelle de saint Grégoire de Nysse. Paris: Éditions Montaigne, 1944.
Daniélou, Jean. "Le symbolisme des rites baptismaux." Dieu Vivant 1(1945): 17-43.
Duggan, Robert. "Liturgical spirituality and liturgical reform." Spiritual Life 27(Spring 1981), 1: 46-53.
Fernandez Rodriguez, Pedro. "Contemplación y Liturgia." Ciencia Tomista 95(Julio-Septiembre 1968), 304: 483-505.
Fiori, Emiliano. "Mystique et liturgie. Entre Denys l'Aréopagite e le livre de Hiérothée: aux origines de la mystagogie syro-occidentale." In Les mystiques syriaques, édité par Alain Desreumaux, 27-44. Paris: Geuthner, 2011.
Gregorio di Nissa, Omelie sul Cantico dei cantici. Tradotto da Claudio Moreschini. Roma: Città Nuova Editrice, 1988.
Grelot, Pierre, Emmanuel Lanne, Pierre-Marie Gy, Niels Krogh Rassumen, Boris Bobrinskoy, Joseph Gelineau, Paul Grammont, et Irénée-H. Dalmais. Liturgie et vie spirituelle. Paris: Éditions Beauchesne, 1977.
Grillo, Andrea. Eucaristia. Azione rituale, forme storiche, essenza sistematica. Brescia: Queriniana, 2019.
Guardini, Romano. Lo spirito della liturgia. I santi segni. Tradotto da Mario Bendiscioli. Brescia: Morcelliana, 2007(1)1.
Maritain, Jacques, et Raïssa Maritain. Liturgie et contemplation. Bruges: Desclée de Brouwer, 1959.
Muroni, Pietro Angelo. Il Mistero di Cristo nel tempo e nello spazio. La celebrazione cristiana. Roma: Urbaniana University Press, 2014.
Neunheuser, Burkhard. "Spiritualità liturgica". In Liturgia, editto da Domenico Sartore, Achille Maria Triacca, e Carlo Cibien, 1915-36. Cinisello Balsamo: San Paolo, 2001.
Origene, La preghiera. Tradotto da Giuseppe Del Ton. Roma: Arnoldo Mondadori Editore, 1984.
Pacomio, Luciano, Giacomo Grasso, Mariano Magrassi, e Secondo Mazzarello. Liturgia e spiritualità. Torino: Marietti, 1981.
Paolo VI. "Omelia nella 9a sessione pubblica. 7 dicembre 1965." Enchiridion Vaticanum 1(1962-1965): 292-311.
Pseudo-Clemente. "Omelia dello Pseudo-Clemente". In I Padri apostolici, editto e tradotto da Antonio Quacquarelli, 215-34. Roma: Città Nuova Editrice, 1981(3).
Ratzinger, Joseph. "Lo spirito della liturgia". In Teologia della liturgia, editto da Edmondo Caruana, e Pierluca Azzaro, 25-217. Tradotto da Ingrid Stampa. Città del Vaticano: Libreria Editrice Vaticana, 2010.
Régamey, Pie-Raymond. "L'orientation contemplative de la prière liturgique." La Vie Spirituelle 102 (Mai 1960): 461, 469-93.
Rosso, Stefano. Un popolo di sacerdoti. Introduzione alla liturgia. Leumann: Elledici, 2007(2).
Rupnik, Marco Ivan. L'arte della vita. Il quotidiano nella bellezza. Roma: Lipa, 2011.
Schmemann, Alexander. Per la vita del mondo. Il mondo come sacramento. Tradotto da Maria Campatelli. Roma: Lipa, 2012.
Špidlík, Tomáš, e Innocenzo Gargano. La spiritualità dei Padri greci e orientali. Roma: Borla, 1983.
Terrin, Aldo Natale, ed. Liturgia Soglia dell'esperienza di Dio? Padova: Edizioni Messaggero, 1982.
Turoldo, David Maria. Il fuoco di Elia profeta. Cinisello Balsamo: San Paolo, 2016.
Vagaggini, Cipriano. "Contemplazione nella Liturgia e Contemplazione fuori della Liturgia." Rivista di ascetica e mistica 7(Gennaio-Febbraio 1962), 1: 8-34.
Vagaggini, Cipriano. Il senso teologico della liturgia. Roma: Edizioni Paoline, 1965(4).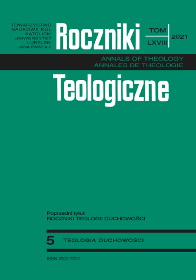 Copyright (c) 2021 Roczniki Teologiczne
This work is licensed under a Creative Commons Attribution-NonCommercial-NoDerivatives 4.0 International License.