"God Made Him Who Had No Sin to Be Sin for Us" (2 Cor 5:21a): Understanding of Paul's Statement in the History of Exegesis
Keywords:
2nd Epistle to the Corinthians, Sin, Soteriology, Death of Jesus, History of exegesis
Abstract
The article aims to answer the question of how in the history of exegesis the statement of the Apostle Paul from 2 Cor 5:21a ("God made Christ a sin") was interpreted. The article consists of several parts examining the issue chronologically. At the beginning the interpretation of 2 Cor. 5:21a by theologians of the Patristic era (esp. Origen, Cyril of Alexandria, Gregory of Nazianzus; Gregory of Nyssa, John Chrysostom, and Augustine of Hippo) was presented. Then, the interpretation by medieval theologians (esp. Anselm of Canterbury) was discussed. In the third stage the understanding of 2 Cor 5:21a by Martin Luther, Jan Calvin, and other theologians of the Reformation era has been examined. The last step is the presentation of the interpretation of 2 Cor 5:21a during the modern era. It has been noticed that contemporary exegetes refer to the results of the theologians who lived before. In the interpretation of 2 Cor 5:21a, the three most important tendencies can be distinguished. First of them sees here a reference to the incarnation of the Son of God, the second one—a reference to His death understood as a sacrifice for sin, and the third trend understands making Jesus sin in relation to the reality of sin that Jesus Christ faced.
References
Aletti Jean-Noël: "God made Christ to be Sin" (2 Corinthians 5:21): Reflections on a Pauline Paradox, w: The Redemption. An Interdisciplinary Symposium on Christ as Redeemer, red. Stephen T. Davis, Daniel Kendall, Gerald O'Collins, Oxford: Oxford University Press 2004, s. 101-120.
Bachmann Philipp: Der zweite Brief des Paulus an die Korinther (KNT 8), Leipzig: A. Deichert 1922.
Barrett Charles K.: The Second Epistle to the Corinthians, London: Continuum 1973.
Bell Richard H.: Sacrifice and Christology in Paul, "The Journal of Theological Studies" 53 (2002), s. 1-27.
Bieringer Reimund: Sünde und Gerechtigkeit Gottes in Korinther 5,21, w: Reimund Bieringer, Jan Lambrecht, Studies on 2 Corinthians, (BETL 112), Leuven: Leuven University Press 1994, s. 461-513.
Bird Michael F.: Incorporated Righteousness: A Response to Recent Evangelical Discussion concerning the Imputation of Christ's Righteousness in Justification, "Journal of the Evangelical Theological Society" 47 (2004), no. 2, s. 253-275.
Branick Vincent P.: The Sinful Flesh of the Son of God (Rom 8:3): A Key Image of Pauline Theology, "Catholic Biblical Quarterly" 47 (1985), s. 246-262.
Breytenbach Cilliers: Versöhnung, Stellvertretung und Sühne. Semantische und traditionsgeschichtliche Bemerkungen am Beispiel der paulinischen Briefe, "New Testament Studies" 39 (1993), s. 59-79.
Collins Raymond F.: Second Corinthians, (PCNT), Grand Rapids, MI: Baker Academic 2013.
Garland David E.: 2 Corinthians, (NAC 29), Nashville: Broadman & Holman Publishers 1999.
Harris Murray J.: The Second Epistle to the Corinthians: a Commentary on the Greek Text, (NIGTC), Grand Rapids, MI: W.B. Eerdmans 2005.
Heinrici Carl Friedrich Georg: Das zweite Sendschreiben des Apostels Paulus an die Korinther, Berlin: W. Hertz 1887.
Hofius Otfried: Paulusstudien, (WUNT 51), Tübingen: Mohr Siebeck 19942.
Hooker Morna D.: Interchange in Christ, "Journal of Theological Studies" 22(1971), s. 349-361.
Kowalski Marcin: Rola słowa Bożego w procesie pojednania człowieka z Bogiem w świetle 2 Kor 5,16-21, w: Moc słowa Pańskiego. Adhortacja apostolska "Verbum Domini" w refleksji biblijno-teologicznej, (ABL 8), red. Bogusław Migut, Andrzej Piwowar, Lublin: Wydawnictwo KUL 2012, s. 79-100.
Kręcidło Janusz: Dlaczego Bóg uczynił Chrystusa grzechem (2 Kor 5,21)?, "Ruch Biblijny i Liturgiczny" 60 (2007), nr 4, s. 273-286.
Kruse Colin G.: 2 Corinthians: An Introduction and Commentary, (TNTC 8), Nottingham: Inver-Varsity Press 2015.
Matera Frank J.: II Corinthians: A Commentary, (NTL), Louisville, KY: Westminster John Knox Press 2013.
McLean Bradley H.: The Cursed Christ. Mediterranean Expulsion Rituals and Pauline Soteriology, (LNTS 126), Sheffield: Sheffield Academic Press 1996.
Minor Mitzi L.: 2 Corinthians, Macon, GA: Smyth & Helwys Publishing Inc 2009.
Morris Leon L.: The Cross in the New Testament, Grand Rapids, MI–Cambridge: W.B. Eerdmans 1965.
Plummer Alfred: A Critical and Exegetical Commentary on the Second Epistle of St. Paul to the Corinthians (ICC), New York: T & T Clark 1915.
Ritschl Albrecht: Die christliche Lehre von Rechtfertigung und Versöhnung, t. 2: Der biblische Stoff der Lehre, Bonn: A. Markus 1889.
Sabourin Léopold: Christ made "sin" (2 Cor 5:21): Sacrifice and Redemption in the History of a Formula, w: Stanislas Lyonnet, Léopold Sabourin, Sin, Redemption and Sacrifice. A Biblical and Patristic Study, (AnBib 48), Roma: Biblical Institute Press 1970, s. 187-286.
Sabourin Léopold: Note sur 2 Cor. 5,21, Le Christ fait péché, "Sciences ecclésiastiques" 11 (1959), s. 419-424.
Stuhlmacher Peter: Gerechtigkeit Gottes bei Paulus, (FRLANT 87), Göttingen: Vandenhoeck & Ruprecht 19662.
Thrall Margaret Eleanor: A Critical and Exegetical Commentary on the Second Epistle of the Corinthians (ICC), London–New York: T & T Clark International 2004.
Toney Carl N., Martin Ralph P.: 1-2 Corinthians (CBC 15), Carol Stream, IL: Tyndale House Publishers 2009.
Whiteley D.E.H.: St. Paul's Thought on the Atonement, "The Journal of Theological Studies" 8(1957), s. 240-255.
Wilckens Ulrich: Der Brief an die Römer (EKK SonAus), Neukirchen-Vluyn: Neukirchener/ Patmos 2010.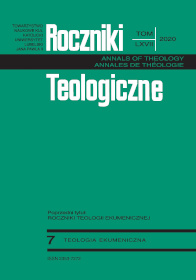 Copyright (c) 2020 Roczniki Teologiczne
This work is licensed under a Creative Commons Attribution-NonCommercial-NoDerivatives 4.0 International License.