Sulzer on the Makeup and Fate of Soul
Keywords:
Sulzer, the soul, virtue, eschatology
Abstract
Sulzer, a pastor and also a member of the Berlin Academy of Sciences, presented the problem of the immortality of the soul in a naturalist setting. He claimed that the body is indispensable for the soul for its full functioning since without the body, the soul, although perfect, lacks the sensory material coming from the senses and also lacks self-awareness. The soul is one kind of elementary particles with which the creation is filled. In particular, the body, requires the seed which has the program of the orderly development of the body. Since the soul is immortal, virtuous life is necessary for its happy state after the death of the body and the incorporation in a new body.
References
Briefe der Schweizer Bodmer, Sulzer, Geßner, edited by Wilhelm Körte. Zürich: bei Heinrich Geßner, 1804.
Gross, Karl Josef. Sulzers Allgemeine theorie der schönen Künste, Berlin: Ebering, 1905.
Heym, Ludwig Maximilian. Darstellung und Kritik der ästhetischen Ansichten Johann Georg Sulzers. Leipzig: Oswald Schmidt, 1894.
Holzhey, Helmut. "Die Berliner Popularphilosophie. Mendelssohn und Sulzer über die Unsterblichkeit der Seele." In Schweizer im Berlin des 18. Jahrhunderts, edited by Martin Fontius and Helmut Holzhey, 201–215. Berlin: Akademie Verlag, 1996.
Leo, Johannes. Johann George Sulzer und die Entstehung seiner Allgemeinen Theorie der schönen Künste. Ein Beitrag zur Kenntnis der Aufklärungszeit. Berlin: Kommissionsverlag von Ernst Frensdorff 1907.
Lequan, Mai. "Esthétique et morale selon Kant et Sulzer: la Théorie générale des beaux-arts et la Critique de la faculté de juger." In L'esthétique de Johann Georg Sulzer (1720-1779), edited by Bernard Deloche, 147–212. Lyon: Université Jean-Moulin Lyon 3, 2007.
Rose, Fritz. "Johann Georg Sulzer als Ästhetiker und sein Verhältnis zu der ästhetischen Theorie und Kritik der Schweizer." Archiv für die gesamte Psychologie 10 (1907): 197–262.
Sulzer, Johann Georg. "Anmerkungen." In David Hume. Philosophische Versuche über die menschliche Erkenntniß. Hamburg: Georg Christian Grund und Adam Heinrich Holle, 1755.
Sulzer, Johann Georg. Allgemeine Theorie der schönen Künste. Vols. 1-2. Leipzig: M.G. Weidemanns Erben und Reich, 1771-1774.
Sulzer, Johann Georg. Gedanken von dem vorzüglichen Werth der epischen Gedichte des Herrn Bodmers. Berlin: [s.d.], 1754.
Sulzer, Johann Georg. Unterredungen über die Schönheit der Natur. Berlin: Haude und Spener 17702 [1750].
Sulzer, Johann Georg. Vermischte philosophische Schriften. Vols. 1-2. Leipzig: Weidmanns Erbe und Reich, 1781-1782 [1773].
Sulzer, Johann Georg. Versuch einiger moralischen Betrachtungen über die Werke der Natur. Berlin: Ambrosius Haude, 1745.
Sulzer, Johann Georg. Versuch von der Erziehung und Unterweisung der Kinder. Zürich: Conrad Orell und Comp., 1748.
Thiel, Udo. "Sulzer über Bewusstsein im Kontext." In Johann Georg Sulzer (1720–1779). Aufklärung zwischen Christian Wolff und David Hume, edited by Frank Grunert and Gideon Stiening. Berlin: Akademie Verlag, 2011.
Wili, Hans. Johann Georg Sulzer: Persönlichkeit und Kunstphilosophie. St. Gallen: Buchdrukerei Ostschweiz, [1954].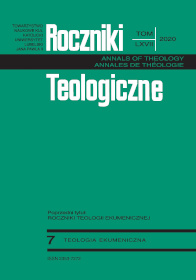 Copyright (c) 2020 Roczniki Teologiczne
This work is licensed under a Creative Commons Attribution-NonCommercial-NoDerivatives 4.0 International License.