Communion-Ecclesial Mysticism According to John D. Zizioulas
Keywords:
Church, communion, sacraments, mysticism, spirituality, asceticism, monasticism
Abstract
The concept of "mysticism" was referred to the entire Church in the primitive Church, pointing to experiences shared by all its members, the sacraments, the liturgy and a special way of life. Every member of the Church was a mysticist. The Church did not know the opposition between office and spirit, institution and mysticism. Ecclesiology—including the institutional aspect—was not only connected with mystical experience, but also served to introduce in the mystery of Christianity. That is why ecclesial mysticism has its own characteristics and refers to the Church as the "Body of Christ," the sacraments—especially baptism and the Eucharist, the "word" in relation to the sacrament, the exercise of the Church office and the practice of asceticism and monastic life. The mysticism of communion, however, requires from Christians not only proper theological reflection, but above all communal life and the search for personal holiness, which is to serve to the entire Church.
References
Allmen Jean Jacques von: Célébrer le salut: Doctrine et pratique du culte chrétien, Paris: Cerf 1984.
Allmen Jean Jacques von: Prophétisme sacramentel, Neuchâtel: Delachaux & Niestlé 1964.
Evdokimov Paul: Prawosławna wizja teologii moralnej. Bóg w życiu ludzi, tłum. Wiesław Szymona, Kraków: Homo Dei 2012.
Evdokimov Paul: Prawosławie, tłum. Jerzy Klinger, Warszawa: Instytut Wydawniczy Pax 2003.
Leśniewski Krzysztof: "Kim jest człowiek, że o nim pamiętasz…?" Podstawowe idee antropologii prawosławnej, Lublin: Prawosławna Diecezja Lubelsko-Chełmska 2015.
Lubac Henri de: Corpus Mysticum: L'Eucharistie et l'Eglise au Moyen Age, Paris: Montaigne 1944.
Małecki Roman: Kościół jako wspólnota. Dogmatyczno-ekumeniczne studium eklezjologii Johna Zizioulasa, Lublin: Redakcja Wydawnictw KUL 2000.
Mersch Émile: Le Corps Mystique du Christ, Paris: André Blot 1936.
Tenace Michelina: Powiedzieć człowiek, cz. II: Od obrazu Boga do podobieństwa, Zbawienie jako przebóstwienie, tłum. Andrzej Wojnowski, Kraków: Salvator 2015.
Wheeler Robinson H[enry]: The Hebrew Conception of Corporate Personality, Paris: [b.d.] 1936.
Zizioulas John D.: Being as Communion. Studies in Personhood and the Church, New York: St. Vladimir's Seminary Press 1985.
Zizioulas John D.: Communion and Otherness. Further Studies in Personhood and the Church, London–New York: Bloomsbury Academic 2006.
Zizioulas John D.: Lectures in Christian Dogmatics, London–New York: Bloomsbury Academic 2009.
Zizioulas John D.: The Eucharistic Communion and the World, London–New York: Bloomsbury Academic 2011.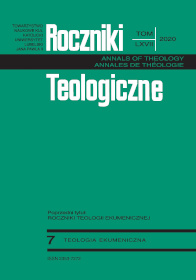 Copyright (c) 2020 Roczniki Teologiczne
This work is licensed under a Creative Commons Attribution-NonCommercial-NoDerivatives 4.0 International License.