Joseph Ratzinger's Idea of Ecumenical Dialogue in Truth: Inspirations, Questions, and Problems
Keywords:
ecumenism, ecumenical dialogue, Joseph Ratzinger, truth, fundamental theology, Christianity
Abstract
Without doubt Joseph Ratzinger is one of the most important participants of ecumenical dialogue. His theology has a practical impact on that dialogue not only because of his position in the Catholic Church. He has devoted many of his works to ecumenism. This paper is a result of the studies of all his works available in Polish since 2018. During the research it became clear that Ratzinger has offered an original idea of ecumenical dialogue. In this article it is called 'ecumenical dialogue in truth' and is described in the first part. Ratzinger insists to recognize in truth the causes of divisions, to accept that divisions among Christians are somehow allowed by the Lord, to see the true and authentic fidelity to the Lord at the bottom of divisions, and to 'be humble in adopting realistic intermediate goals'. He encourages us to recognize true Christianity in the authentic riches developed by various Traditions over the centuries. The second part of the article is dedicated to new inspirations, questions and some problems which followed these ideas in the field of fundamental theology. Ratzinger touches on the most important problems in fundamental theology, like authentic Christianity, Christian identity, the Church, and credibility. His theology demands reshaping fundamental theology: its main presuppositions, tasks, attitude, terminology and methods.
References
Corkery, James. Joseph Ratzinger's Theological Ideas. Wise Cautions and Legitimate Hopes, New York–Mahwah: Paulist Press, 2009.
Ferdek, Bogdan. "Modele ekumenizmu według Josepha Ratzingera". Studia Salvatoriana Polonica 1 (2007): 61–76.
Jaskóła, Piotr. "Jedność Kościoła i Kościołów według J. Ratzingera – Benedykta XVI". In W kręgu teologii Josepha Ratzingera – Benedykta XVI. Wykłady otwarte w zamiejscowym ośrodku Wydziału Teologicznego Uniwersytetu Opolskiego (2006/2007), ed. by Kazimierz Wolsza, 39–51. Opole: Redakcja Wydawnictw Wydziału Teologicznego Uniwersytetu Opolskiego, 2008.
Kimsza, Radosław. "Ekumenizm według papieża Benedykta XVI". Studia Koszalińsko-Kołobrzeskie no 13 (2008): 59–69.
Michalik, Andrzej. Zrozumieć chrześcijaństwo. Istota chrześcijaństwa według Josepha Ratzingera. Tarnów: Wydawnictwo Biblos, 2008.
Ratzinger, Joseph. Opera Omnia. Vol. I-XIII, ed. by Krzysztof Góźdź, Marzena Górecka, Lublin: Wydawnictwo KUL, 2012–2018.
Ratzinger, Joseph. Prawda w teologii. Translated by Magdalena Mijalska. Kraków: Wydawnictwo M, 2005.
"Wielość wyznań nie relatywizuje wymogu prawdy (wywiad z kard. Josephem Ratzingerem [rozmawiał Christian Greger])". In Kongregacja Nauki Wiary. Deklaracja ,,Dominus Iesus". Tekst i komentarze. Translated by Janusz Królikowski, 186–203. Poznań: Pallottinum, 2006.
Teologia fundamentalna w twórczości Josepha Ratzingera, ed. by Krzysztof Kaucha, Jacenty Mastej. Lublin: Wydawnictwo KUL, 2017.
Wójtowicz, Wojciech. La Chiesa come "communio" nell'ecclesiologia di Joseph Ratzinger. Roma–Koszalin: Pontificia Universitá Lateranense, Casa Editrice Feniks, 2010.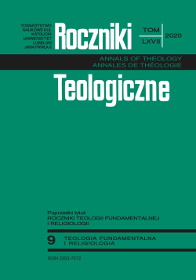 Copyright (c) 2020 Roczniki Teologiczne
This work is licensed under a Creative Commons Attribution-NonCommercial-NoDerivatives 4.0 International License.