Secularity Holiness and Theological Character of Secularity
Vicente Bosch

Pontifical University of the Holy Cross, Rome
Keywords:
layman; secularity; God's people; work; world; mission; sanctification; society
Abstract
What spirituality do lay people need today? There is a great need today to understand the theological meaning of the "secular character" – the characteristic "color" of lay people. The layman is a Christian called to unite with God, to holiness; someone who lives in the world and its structures, and from there is called to find God in ordinary life – family, work, social relations. If the mission of the Church is – along with the salvation of souls – to sanctify the world, one cannot continue to ignore the theological and apostolic nature of the daily work of lay people in the middle of the world. It is sanctified by God and sanctifying. It is therefore necessary to appreciate secularity – recognition of lay vocation and mission in the Church. The teaching of the Church also reminds that it is necessary to raise the awareness of pastors so that they can show lay faithful their call to renew the world in Christ.
References
Álvaro del Portillo, beato, Fieles y laicos en la Iglesia, Eunsa, Pamplona 19913.
Belda, M., Escudero, J., Illanes, J.L., O'Callaghan, P. (eds.), Santidad y mundo, Eunsa, Pamplona 1996.
Bosch, V., Christifideles laici y el beato Álvaro del Portillo, "Scripta Theologica" 47(2015), p. 333 [= versión polaca de este estudio: Christifideles laici i bł. Álvaro del Portillo, w: P. Roszak, P.P. Orlowski (red.), Radość służby Bp. Álvaro del Portillo (1914-1994), Toruń 2016, 101-132].
Bosch, V., La vocación cristiana laical: renovar el mundo con Cristo, "Scripta Theologica" 50 (2018), pp. 422-423.
Bosch, V., Santificar el mundo desde dentro. Curso de espiritualidad laical, BAC, Madrid 2017.
Concilio Vaticano II, Const. Lumen gentium (21.11.1964).
Concilio Vaticano II, Decr. Apostolicam actuositatem (18.11.1965).
Francisco, Carta al Card. Ouellet, Presidente de la Pontificia Comisión para América Latina (19.03.2016).
Josemaría Escrivá de Balaguer, san, Conversaciones con Mons. Escrivá de Balaguer, nn. 34/a y 59/b, ed. crítico-histórica preparada por J.L. Illanes y A. Méndiz, Rialp, Madrid 2012.
Juan Pablo II, san, Carta ap. Novo millennio ineunte (6.01.2001).
Juan Pablo II, san, Ex. ap. Christifideles laici (30.12.1988).
Ocáriz, F., Vocación a la santidad en Cristo y en la Iglesia, en M. Belda, J. Escudero, J.L. Illanes, P. O'Callaghan (eds.), Santidad y mundo, Eunsa, Pamplona 1996.
Pablo VI, san, Discurso a los representantes de los institutos seculares sacerdotales y laicales (2.02.1972).
Sínodo de los Obispos, Los jóvenes, la fe y el discernimiento vocacional. Documento preparatorio. Introducción, Libreria Editrice Vaticana, Città del Vaticano 2017.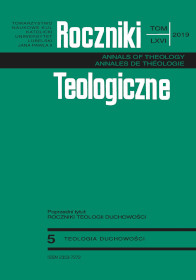 Copyright (c) 2019 Roczniki Teologiczne
This work is licensed under a Creative Commons Attribution-NonCommercial-NoDerivatives 4.0 International License.