Liturgical Music in the Corpus Christi Church in Cracow in the 2nd Half of the 17th Century in Light of Expenses of the Sacristy (1616-1668)
Czesław Grajewski

Cardinal Stefan Wyszyński University in Warsaw
Keywords:
liturgical music, regular canons, Cracow, monastery
Abstract
In the archives of the Corpus Christi Church in Cracow there is a ledger (Expensa pecuniae) that was maintained by the sacristans during the years 1616-1668. The author of this paper analyzed the entries which reflect music-related expenses. The monks paid the singers or instrumentalists for enhancing the liturgy. The paper refers to the period after the Swedish invasion in the 2nd half of the 17th century, till 1668. The document proves a high-level musical culture cultivated in the monastery in Cracow.
References
Bieniarzówna Jadwiga, Kraków w wiekach XVI-XVIII, w: J.M. Małecki, Dzieje Krakowa, t. 2, Kraków 1984.
Expensa pecuniae thesaurii sacrarii Ecclesiae S[anciti]S[simi] Corporis Christi per me P[atrem] Joannem Gelasium Sacristianum adnotata, 1616-1676, Archiwum Klasztoru Bożego Ciała, ms. b.s.
Gajda Zdzisław, Muzyczne starania Jacka Augustyna Łopackiego, "Nasza Przeszłość" 36(1971), s. 225-230.
Grajewski Czesław, Wydatki zakrystii krakowskiego kościoła Bożego Ciała (I poł. XVII w.) jako świadectwo kultury muzycznej Kanoników Regularnych Laterańskich, "Roczniki Teologiczne" 65(2018), z. 13 [Muzykologia], s. 217-237.
Kątny Łukasz, Kultura muzyczna Kanoników Regularnych Laterańskich Prepozytury Bożego Ciała i wybranych klasztorów kongregacji krakowskiej w latach 1405-1795, Warszawa 2016 (praca doktorska, Uniwersytet Kardynała Stefana Wyszyńskiego w Warszawie).
Krukowski Jan, Szkolnictwo parafialne Krakowa w XVII wieku, Kraków 2001.
Łatak Kazimierz, Kultura książki w wolbromskim klasztorze kanoników regularnych laterańskich w czasach nowożytnych, "Echa Przeszłości" 11(2010), s. 69-90.
Łatak Kazimierz, Pęgier Małgorzata, Kronika Stefana Ranatowicza, Łomianki 2017.
Pęgier Małgorzata, Żywoty świętych polskich w relacji Kroniki księdza Stefana Ranatowicza CRL (1617-1694), "Echa Przeszłości" 15(2014), s. 53-65.
Ranatowicz Stefan, Znaki miłości Bożej przeciwko pobożnemu kapłanowi Stanisławowi Kazimierczykowi…, Archiwum Klasztoru Bożego Ciała, mps., b.s.
Ryłko Stefan, Droga do kanonizacji bł. Stanisława Sołtysa zwanego Kazimierczykiem, Kraków 1997.
Stolot Franciszek, Nie wykorzystane źródło do dziejów sztuki Krakowa w XVII i XVIII wieku. Księga wydatków kościoła Bożego Ciała, "Rocznik Krakowski" 44(1973), s. 63-96.
Walter-Mazur Magdalena, Muzyka jako element klasztornych uroczystości w świetle XVIII-wiecznych archiwaliów benedyktynek kongregacji chełmińskiej, "Hereditas Monasteriorum" 2(2013), s. 57-80.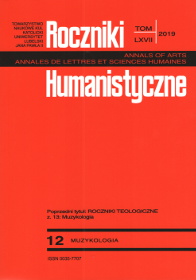 Copyright (c) 2019 Roczniki Humanistyczne
This work is licensed under a Creative Commons Attribution-NonCommercial-NoDerivatives 4.0 International License.