Dutch traces in Poland in Polish cultural memory: The case Gdańsk
Anna Sikora-Sabat

Adam Mickiewicz University in Poznań
Keywords:
Dutch culture; cultural memory; image; representation; texts referring to Dutch culture; carriers; media
Abstract
My research is based on the assumption that the memory is a travelling post-concept, not limited to one field of science and undergoing a permanent transformation (Bal 2002). This, on the other hand, makes this term hard to define and therefore it should be considered more like a conceptual project, a collection of terms, images, narratives. In Polish cultural memory such set of pictures and representations of Dutch culture exists. For the purpose of my research I divided them into two groups: carriers and media. The term "carriers" refers to material objects, things and actions, while media is connected to broadly defined processes, mechanisms of memory as well as institutions and organizations (Kula 2002)
In the following publication, basing on example of the city of Gdansk, I will present selected media, represented mainly by places and spaces connected with Dutch culture, as well as carriers, embodied by the texts on mentioned places
References
Assmann, Aleida. 2008. 'Transformations between History and Memory,' Social Research 75, 1: 49–72.
Assmann, Jan &, John Czaplicka. 1995. 'Collective Memory and Cultural Identity,' New German Critique 65: 125–133.
Assman, Jan. 2009. 'Kultura pamięci,' in: Magdalena Saryusz-Wolska (ed.). Pamięć zbiorowa i kulturowa: współczesna perspektywa niemiecka. Kraków: Universitas, 59-99.
Bal, Mieke. 2012. Wędrujące pojęcia w naukach humanistycznych. Krótki przewodnik. Przeł. Marta Bucholc. Warszawa: Narodowe Centrum Kultury.
Confino, Alon. 1997. 'Collective memory and Cultural History: Problems of Method,' American Historical Review 102: 1386–1403.
Erll, Astrid. 2008. 'Cultural Memory Studies: An Introduction.' In: Astrid Erll & Ansgar Nünning (ed.). Media and Cultural Memory, 1–18. Berlin, New York: Walter de Gruyter.
Gillis, John R. (ed.) 1996. Commemorations. The Politics of National Identity. Princeton: Princeton University Press.
Halbwachs, Maurice. 1991. Het collectief geheugen, vertaald door Mark Elchardus (red.). Leuven: Acco.
Halbwachs, Maurice. 2008. Społeczne ramy pamięci. Warszawa: PWN.
Kula, Marcin. 2002. Nośniki pamięci historycznej. Warszawa: DiG.
Lübbe, Hermann. 1990. 'Zeit-Verhältnisse: Über die veränderte Gegenwart von Zukunft und Vergangenheit.' In Wolfgang Zacharias (ed.), Zeitphänomen Musealisierung. Das Verschwinden der Gegenwart und die Konstruktion der Erinnerung, 40–50. Neuss: Klartext.
Nora, Pierre & Lawrence Kritzman (ed.). 1996. Realms of memory: Rethinking the French past. Vol. 1: Conflicts and divisions. New York: Columbia University Press
Rigney, Ann. 2012.'Verhalen' en 'Teksten en cultuurhistorische context.' In Kiele Brillenburg Wurth & Ann Rigney (ed.). Het leven van teksten, een inleiding tot de literatuurwetenschap, 157–195 en 294–333 Amsterdam: Amsterdam University Press
Saryusz-Wolska, Magdalena (ed.). 2009. Pamięć zbiorowa i kulturowa: współczesna perspektywa niemiecka. Kraków: Universitas.
Smith, Laurajane. 2006. Uses of Heritage. London & New York: Routledge.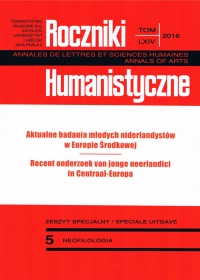 Copyright (c) 2016 Roczniki Humanistyczne
This work is licensed under a Creative Commons Attribution-NonCommercial-NoDerivatives 4.0 International License.