The 'travels' of Ruusbroec to Poland: On translations of the work of John of Ruusbroec (1293–1381) into Polish
Małgorzata Dowlaszewicz

University of Wrocław
Keywords:
mediator; Ruusbroec; translation; publishing house; mysticism
Abstract
The treaties of Jan van Ruusbroec have been translated several times into Polish. The first known translation was published in 1874 and the last one in 2006. This article analyses the mediators responsible for the Polish editions — translators and publishing houses. The article seeks to answer the questions of why they chose to bring the thoughts of this medieval Flemish mystic to Poland, what general choices they made (the source text, the presentation) and what the reception of it was. It appears that most of the translations were prepared and published in a conservative catholic environment. This was the probable reason for little interest in the works of Ruusbroec outside this circle. Between 2000 and 2006, the complete works were translated using the modern Dutch edition of the treaties as the source text. This Polish publication consisting of four parts does not only provide the translation of the works of Ruusbroec but it also gives a comprehensive analysis of his life and presence in the world mystic literature. It could be a start to a wave of new interest in those great medieval writings
References
Bedeker, Laetita, & Ilse Feinauer. 2006. 'The translator as cultural mediator' Southern African Linguistics and Applied Language Studies 24: 133–141.
Borowski, Andrzej. 2007. Iter Polono-Belgo-Ollandicum: Cultural and literary relationships between the Commonwealth of Poland and the Netherlands in the 16th and 17th centuries. Kraków: Księgarna Akademicka.
D'hulst Lieven, Maud Gonne, Tessa Lobbes, Reine Meylaerts & Tom Verschaffel. 2014. 'Towards a multipolar model of cultural mediators within multicultural spaces. Cultural mediators in Belgium (1830–1945).' Belgisch Tijdschrift voor Filologie en Geschiedenis/ Revue Belge de Philologie et d'Histoire 92 (4): 1255–1275.
Engelbrecht, Wilken. 2013. 'Een boegbeeld van de morele sanering — Jo van Ammers-Küller.' In: Kris van Heuckelom, Dieter De Bruyn & Carl De Strycker (eds.). Van Eeden tot heden. Literaire dwarsverbanden tussen Midden-Europa en de Lage Landen. Lage Landen Studies 5, 155–185. Gent: Academia Press.
Engelbrecht, Wilken. 2016. 'The Marvellous Doctor — Czech and Polish Reception of Ruusbroec.' In Marcin Tkaczyk, Marzena Krupa & Krzysztof Jaworski (eds.). Veritas in caritate. Księga pamiątkowa ku czci Księdza Profesora Andrzeja Szostka MIC, 103–111. Lublin: Wydawnictwo KUL.
German, Franciszek. 1986. 'Przewłocki Walerian (1828-1895).' In Polski Słownik Biograficzny 29, Warszawa: Polska Akademia Umiejętności, 28–30.
Helsztyński, Stanisław. 1933. Każdy (Everyman) : średniowieczny moralitet angielski. Biblioteka Dramatyczna Drogi nr. 4, Warszawa.
Iwaszkiewicz, J. (1984). "Kwidam." In Jarosław Iwaszkiewicz. Dramaty. Tom II. In de reeks "Jarosław Iwaszkiewicz Dzieła." Warszawa: Czytelnik.
Jongen, Ludo, & Małgorzata Dowlaszewicz (eds.). 2012. Jacob van Maerlant: Vier viervoeters/ Cztery czworonogi. Lublin: KUL.
Kasprowicz, Jan (vert.). 1907. Siostra Beatryks: w trzech aktach (Maurycy Maeterlinck). Lwów, Warszawa: Nakładem Towarzystwa Wydawniczego E. Wende i Spółka.
Kieniewicz, Stefan. 1964-1965. 'Kalinka Walerian (1826–1886)'. In Polski Słownik Biograficzny 11. Warszawa: Polska Akademia Umiejętności, 449–452.
Lobbes, Tessa & Reine Meylaerts. 2015. 'Cultural mediators and the circulation of cultural identities in interwar bilingual Belgium. The case of Gaston Pulings (1885–1941).' Orbis Litterarum 70 (5): 405–436.
Maeterlinck, Maurice. 1901. 'Soeur Béatrice. Miracle en trois actes.' In Maurice Maeterlinck. Théâtre III, 177–225. Bruxelles, Paris: P. Lacomblez & Per Lamm.
Mertens, Th. 1993. 'Gescreven waerheit blivet staen. De receptie van Ruusbroecs werken.' In Egbert P. Bos & Geert Warnar (eds.). Een claer verlicht man: over het leven en werk van Jan van Ruusbroec (1293–1381), 73–82. Hilversum: Verloren.
Meylaerts, Reine, Maud Gonne, Diana Roig Sanz & Tessa Lobbes. 2016. 'Cultural mediators in cultural history: what do we learn from studying mediator's complex transfer activities in interwar Belgium.' In Elke Brems, Orzsolya Réthelyi & Ton van Kalmthout (eds.). The Circulation of Dutch Literature. Leuven: Leuven University Press, in print.
Meylaerts, Reine. 2011. 'Intercultural mediators in multilingual cultures: blessing or curse?' In Lieven D'Hulst & Reine Meylaerts (eds.), La traduction dans les cultures plurilingues, 61–72. Arras: Artois Presses Université.
Oczko, Piotr, & Włodzimierz Szturc. 1998. Cudowna Historia Maryjki Z Nijmegen, Która Przez Siedem Lat Miała Do Czynienia Z Diabłem: Anonimowy Mirakl Niderlandzki Z XV Wieku. Kraków: Script.
Przewłocki, Walerian. 1881. Listy z podróży za-atlantyckiej. Chicago: Sp. Wydawnictwo Polskie.
Radoński, Karol M. 1947. Święci i błogosławieni Kościoła katolickiego: Encyklopedia hagiograficzna. Warszawa: Księgarnia św. Wojciecha.
Ruysbrock, Jan van, & Maria Lew-Dylewski. 2000-2006. Dzieła. Kraków: Wydawnictwo Karmelitów Bosych.
Ruysbroeck, Jan van, & X. W. P. (= Walerian Przewłocki). 1874. Rusbrock przedziwny. Lwów: Drukarnia Ludowa (= Seyfarth & Czajkowski).
Ruysbroeck, Jan & Piotr R. Sulikowski. 2000. Ozdoba duchowego wesela. Kraków: Znak.
Ruysbroeck, Jan & Anna Szottowa. 1938. Myśli błogosławionego Jana Ruysbroecka. Poznań: Księgarnia św. Wojciecha.
Stracke, Desideer A., Jean B. Poukens, Léonce Reypens, Marcellus Schurmans, & Jozef Mierlo (ed.). 1944–1948. Jan van Ruusbroec. Werken. Naar het standaardhandschrift van Groenendaal uitgegeven. Tielt: Lannoo.
Warnar, Geert. 2003. 'Ruusbroec in het middelpunt, maar waarvan? De mysticus en de Middelnederlandse letterkunde.' Queeste. Tijdschrift over Middeleeuwse Letterkunde 10 (2003), 1: 15-26.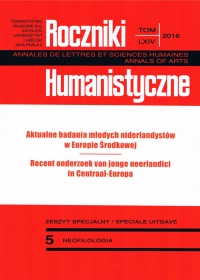 Copyright (c) 2016 Roczniki Humanistyczne
This work is licensed under a Creative Commons Attribution-NonCommercial-NoDerivatives 4.0 International License.