Evaluation of legal translation between less spoken languages: Quality criteria for legal translation. Part of the research project TransIus
Milan Potočar

Comenius University in Bratislava
Keywords:
legal translation; criteria of legal translation; evaluation models; legal terminology; translation of languages of lesser diffusion
Abstract
The paper presents the research within the project TransIus — From conventions to norms in the legal discourse, a cooperation between Matej Bel University in Banská Bystrica and Comenius University in Bratislava. The research aims a permanent improving of quality of legal text translations, combined with elimination of terminological disunity of legal language. Especially in combinations with smaller languages (in the case of this project Dutch & Slovak), the interpreters face unclear situations, caused by cultural differences, a low amount of speakers and discrepancies between both legal systems. Terminological research possibilities in such situation are very restricted. Thus, the TransIus project has also an interdisciplinary character, co-operation with experts-lawyers is one of the elementary pillars of the project team work. The article explains the main features and specifics of legal translation between these languages. It makes a choice from existing evaluation models of various authors as the most applicable for the researched situation of legal translation between languages of lesser diffusion. This model is demonstrated by means of an example of problematic translation of governmental terminology and possible problems of the further research are described.
References
Eyckmans, Johan, Philippe Anckaert, & Winibert Segers. 2009. 'The Perks of norm-referenced translation evaluation'. In Claudia V. Angelelli & H.E. Jacobson (ed.). Testing and assessment in Translation and Interpreting Studies. 73-94. Amsterdam & Philadelphia: Benjamins.
Hansen, Gyde. 2006. Erfolgreich Übersetzen. Entdecken und Beheben von Störquellen. Tübingen: Narr.
Hönig, Hans G. 1987. 'Wer macht die Fehler?'. In Albrecht Jörn (ed.). Translation und interkulturelle Kommunikation, 37-46. Frankfurt am Main: Peter Lang.
House, Juliane. 1981. A Model for Translation Quality Assessment. Tübingen: Narr.
House, Juliane. 1997. Translation Quality Assessment. A Model Revisited. Tübingen: Narr.
Matejková, Lucia. 2013. 'Kvantitatívna analýza slovenského trhu s prekladmi a tlmočením vykonanými prekladateľmi a tlmočníkmi zapísanými v zozname Ministerstva spravodlivosti SR'. In Zuzana Guldanová (ed.). Kontexty súdneho tlmočenia a preklad 3, 68–77. Bratislava: Univerzita Komenského v Bratislave.
Mariana, Valerie, Troy Cox & Alan Melby. 2015. 'The Multidimensional Quality Metrics (MQM) Framework: a new framework for translation quality assessment.' Jostrans — The Journal of Specialised Translation. 23: 137-161. Toegankelijk op: /www.jostrans.org/ ,7.4.2016.
Nord, Christiane. 1995. Textanalyse und Übersetzen. Heidelberg: Julius Gross.
Nord, Christiane. 2006. 'Translationsqualität aus funktionaler Sicht'. In Larisa Schippel (ed.), Übersetzungsqualität: Kritik – Kriterien - Bewertungshandeln. 11-32. Berlin: Frank & Timme.
Potočár, Milan. 2015. 'Kritéria kvality prekladu – prezentácia výskumného projektu dizertačnej práce'. In Alena Ďuricová (ed.), Od textu k prekladu X. 127–140. Praha: Jednota tlumočníků a překladatelů.
Rakšányiová, Jana. 2005. 'Preklad ako interkultúrna komunikácia'. In Preklad ako interkulltúrna komunikácia, 9–75. Bratislava: AnaPress.
Rakšányiová, Jana. 2010. 'Ako objetívne evaluovať preklad alebo hľadanie kritérií hodnotenia prekladu'. In Jaroslav Stahl (ed.), Translatologicke reflexie, 23–32. Bratislava: Iris.
Rakšányiová, Jana. 2009. Rozvoj prekladateľskej kompetencie v oblasti odborných textov. Bratislava: Nakladateľstvo STU v Bratislave.
Reiss, Katharina. 1971. Möglichkeiten und Grenzen der Übersetzungskritik. München: Hueber.
Reiss, Katharina & Hans Vermeer. 1984. Grundlegung einer allgemeinen Translationstheorie. Tübingen: Niemeyer.
Segers, Winibert & Chris Van den Poel. 2007. Vertalingen objectief evalueren. Matrices en ijkpunten. Leuven & Voorburg: Acco.
Segers, Winibert. 2016. Hendrik Kockaert en Winibert Segers bedenken vertaalevaluatietool TranslationQ. In [Redactioneel], Nieuwsbrief februari 2016. Toegankelijk op: /www.arts. kuleuven.be/, 7.4.2016.
Segers, Winibert & Hendrik Kockaert. 2012. 'L'assurance qualité des traductions: items sélectionnés et évaluation assistée par ordinateur'. Translators' Journal, 57, 1: 159–176.
Schmitt, Peter Axel. 1997. 'Evaluierung von Fachübersetzungen'. In Gert Wotjak & Heide Schmidt (eds.), Modelle der Translation – Models of Translation, 301–332. Frankfurt am Main: Vervuert.
Štefková, Markéta. 2013a. 'Aktuálne výzvy výskumu súdneho prekladu v slovenskom kontexte. Prezentácia projektu TRANSIUS – Od konvencií k normám prekladu v právnom diskurze'. In Zuzana Guldanová (ed.). Kontexty súdneho tlmočenia a preklad 2, 124–134. Bratislava: Univerzita Komenského v Bratislave.
Štefková, Markéta. 2013b. Právny text v preklade. Translatologické aspekty právnej komunikácie v málo rozšírených jazykoch. Bratislava: Iura Edition.
Štefková, Markéta & Lucia Matejková. 2015. 'Štatistický výskum postavenia málo rozšírených jazykov v oblasti právneho prekladu na Slovensku a v Česku'. In Jana Rakšányiová (ed.), Úradný prekladateľ v slovenskom a európskom sociálnom priestore, 80–116. Bratislava: Vydavateľstvo Univerzity Komenského v Bratislave.
Stolze, Radegundis.1999. Die Fachübersetzungen. Eine Einführung. Tübingen: Gunter Narr Verlag.
Van Deemter, Roelof & Hilary Mawell-Hyslop & Brooke Townsley B. 2014. 'Principles of testing'. In Cynthia Giambruno (ed.), Assessing legal interpreter quality through testing and certification the qualitas project. Alicante: Imprenta Kadmos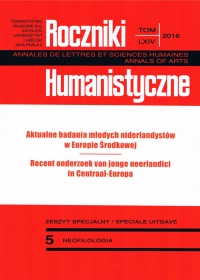 Copyright (c) 2016 Roczniki Humanistyczne
This work is licensed under a Creative Commons Attribution-NonCommercial-NoDerivatives 4.0 International License.