From wafel to vafla: A mapping of Dutch loanwords in Bulgarian
Kaloyan Velikov

St. Cyril and Method University of Veliko Tarnovo
Keywords:
Dutch; Bulgarian; loanwords; language contact; ways of borrowing
Abstract
The number of Dutch loanwords in Bulgarian is relatively large, although due to historical developments and the large geographical distance the two language regions had little direct contact throughout the centuries. Most Dutch words are mostly borrowed via a written language contact, through another language (i.e. Russian, French, German and/or English), sometimes after a long 'journey' until they eventually end up in Bulgarian. By means of these languages words from Afrikaans and other non-European languages have also reached Europe and Bulgarian in particular with the help of Dutch as a conduit. The Dutch loanwords in Bulgarian belong not only to the sphere of shipping, as one has argued until recently, but almost to all the twenty-two word fields "the order in which the man and mankind learns the world and learned know" (2001, 78) described by Van der Sijs, illustrating the wide range of Dutch loans.
References
Detrez, Raymond. 1977. '0Niderlandski zaemki v bălgarskiia ezik. Prinos kăm istoriiata na bălgarskata leksika.' Slavica Gandensia 4: 121–174.
Hyrkännen, Jukka. 1980. Seefahrt- und Fischereiterminologie nicht-slavischen Ursprungs im bulgarischen Schwarzmeergebiet. Helsinki: Suomalainen Tiedeakatemia.
Kowalska-Szubert, Agata. 2013. Polder, lakmus en kordzik. Nederlandse lexicale ontleningen in het hedendaags Pools. Wroclaw: Wydawnictwo Uniwersytetu Wrocławskiego.
Nikolova, Tsenka. 2000. 'Nederlandse woorden in het hedendaags Bulgaars." In Paul van den Heuvel (ed.). Interculturaliteit. Interculturele aspecten van de Neerlandistiek in Midden- en Oost-Europa, 114–121. Bratislava: Stimul
Parashekvov, Boris. 1981. 'Nemski, niderlandski i skandinavski zaemki v bălgarskiia ezik.' Săpostavitelno ezikoznanie 6 (3-5): 181–189.
Sijs, Nicoline van der. 1996. Leenwoordenboek. De invloed van andere talen op het Nederlands. Den Haag: Sdu Utgevers & Antwerpen: Standaard Uitgeverij.
Sijs, Nicoline van der. 2001. Chronologisch woordenboek van het Nederlands: De ouderdom en herkomst van onze woorden en betekenissen. Amsterdam & Antwerpen: Uitgeverij L.J. Veen.
Sijs, Nicoline van der. 2010. Nederlandse woorden wereldwijd. Den Haag: Sdu Utgevers.
Sijs, Nicoline van der. 2015. Uitleenwoordenbank, op www.meertens.knaw.nl/ uitleenwoordenbank/ (gehost door het Meertens Instituut).
Vankov, Lyubomir. 1972. 'Rannite zaemki ot angliiski ezik v bălgarski.' Annuaire de l'université de Sofia 65 (1): 295–324.
Velikov, Kaloyan. 2014. 'Niderlandski zaemki v bălgarskiia ezik izvăn morskata tematika i trudnosti pri etimologiziraneto im.' In Web-conference 'Obštuvane bez granici'. Veliko Tarnovo, 137–143.
Vesselinov, Dimitar , & Anna Angelova. 2015. Rečnik na frenskite dumi v bălgarskiia ezik I. Sofia: Univ. izdat.
Vătov, Vărban. 1998. Leksikologiia na bălgarskiia ezik. Veliko Tarnovo: Abagar.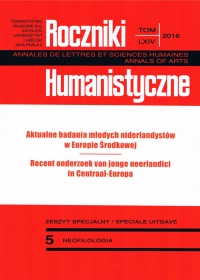 Copyright (c) 2016 Roczniki Humanistyczne
This work is licensed under a Creative Commons Attribution-NonCommercial-NoDerivatives 4.0 International License.