Pseudo-Dioskoridesa wiedza o roślinach
Keywords:
Pseudo-Dioscorides; plants; herbals; ancient medicine; ancient botany
Abstract
[Abstrakt tylko w j. hiszpańskim / Abstract only in Spanish]
Las noticias de Pseudo Dioscórides sobre las plantas
El artículo examina las noticias sobre las plantas incluidas en el De herbis femininis, uno de los herbarios más populares de la alta edad media. Transmitiendo a su lector informaciones necesarias a que halle e identifique plantas medicinales y sepa usarlas para curar numerosas enfermedades de distintos órganos, el desconocido autor del tratado, al que se suele llamar Pseudo Dioscórides, no sólo se ocupa de sus numerosas virtudes medicinales, sino también describe su constitución, hábitat, señala distintas especies, menciona sus nombres sinonímicos y a veces incluso trata de establecer su etimología. Con lo qual parece evidente que el analizado herbario proporciona datos de carácter farmacológico y botánico a la vez.
References
Amigues S.: Les "fiancées du soleil", [w:] Études de botanique antique, Paris: Diffusion de Boccard 2002, s. 379-393.
André J.: L'alimentation et la cuisine à Rome, Paris: Klincksieck 1961.
André J.: Les noms des plantes dans la Rome antique, Paris: Klincksieck 1985.
André J.: Lexique des termes de botanique en latin, Paris: Klincksieck 1956.
André J.: Phytonymes grecs et acuité visuelle, "Revue de philologie, de littérature et d'histoire ancienne" 59 (1985), s. 181-187.
André J.: Sur quelques noms latins de maladies, "Revue de philologie, de littérature et d'histoire anciennes" 61 (1987), s. 7-12.
Conde M.: Introducción a los tratados médicos latinos, Madrid: Gredos 1996.
Erhardt-Siebold E. von: The heliotrope tradition, "Osiris" 3 (1937), s. 22-46.
Ferraces Rodríguez A.: La transmisión del "De materia médica" en latín: de Dioscórides a Isidoro de Sevilla y algunos tratados de botánica, Santiago de Compostela: Servizo de Publicacións da Universidade de Santiago de Compostela 1996.
Gaide F.: La jusquiame dans l'Antiquité Romaine. Réflexions méthodologiques sur la lecture et l'appréciation des textes médicaux latins, "Cahiers d'histoire des techniques" 3 (1995), s. 115-126.
Gourevitch D.: Le mal d'être femme, Paris: Les Belles Lettres 1984.
Grmek M.: Historia chorób u zarania cywilizacji zachodniej, tł. z francuskiego A. B. Matusiak, Warszawa: W.A.B. 2002.
Halloway S. W. F.: The year 1000: Pharmacy at the turn of the first millennium, "Pharmaceutical Journal" 264 (2000), s. 32-34.
Kästner H.: Kritisches und Exegetisches zu Pseudo-Dioskoridis de herbis femininis, Regensburg 1896.
Nowiński M.: Dzieje upraw i roślin leczniczych, Warszawa: Państwowe Wydawnictwo Rolnicze i Leśne 1985.
Podbielkowski Z.: Słownik roślin użytkowych: polski, łaciński, angielski, francuski, niemiecki, rosyjski, wyd. 5, Warszawa: Państwowe Wydawnictwo Rolnicze i Leśne 1985.
Riddle J. M.: Theory and practice in medieval medicine, "Viator" 5 (1974), s. 157-184.
Riddle J. M.: Quid pro quo? Studies in the History of Drugs, Hampshire 1992.
Sigerist H. E.: Materia Medica in the Middle Ages. A Review, "Bulletin of the History of Medicine" 7 (1939), s. 417-423.
Singer C.: The Herbal in Antiquity and its Transmission to Later Ages, "The Journal of Hellenic Studies" 47 (1927), s. 1-52.
Stannard J., Herbal medecine [sic!] and herbal magic in Pliny's time, "Helmantica" 37 (1986), s. 95-106.
Stannard J., Medieval Reception of Classical Plant Names, "Revue de synthèse" 49-52 (1968), s. 153-162.
Stannard J., The Herbal as a Medical Document, "Bulletin of the History of Medicine" 43 (1969), s. 212-220.
Szejnach W.: Zaczątki pediatrii w Grecji i Rzymie, "Meander" 7 (1952), s. 43-51.
Treben M.: Apteka Pana Boga, tł. z niemieckiego O. Olszowska, Warszawa: Natur-Produkt TOM MARK 1992.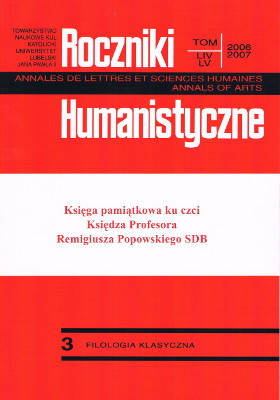 Copyright (c) 2007 Roczniki Humanistyczne
This work is licensed under a Creative Commons Attribution-NonCommercial-NoDerivatives 4.0 International License.