The Transformation of Jewish Musical Traditions and the Evolution of Jewish Musical Institutions Based on the Example of Pre-War Galicia
Keywords:
chazzan, klezmer, Jewish musician, Jewish music society, Galician Jews
Abstract
In this article, the transformation of Jewish musical traditions are traced in relation to those of traditional Jewish musical institutions operating in the 50 years before the outbreak of World War II in Galicia. The basis for this study is primarily source material from the interwar period. The author discusses the roles and functions of traditional Jewish musicians such as the chazzan (cantor), the folk singer and the folk instrumentalist (klezmer), as well as showing their new roles and ways of functioning on the eve of the outbreak of World War II. Afterwards, the impact of these institutional transformations on the musical repertoire of Galician Jews is presented.
This text sketches out the continuum of the Jewish musical tradition from the end of the 19th century to the second half of the 20th century and describes the smooth transition between the so-called folk music and contemporary Jewish art and popular music. At the centre of all of these changes stands the human being – the creator, performer and recipient of the arts of chazzanut, folk songs and instrumental music, and the main cause of the changes occurring within this "human-organised sound".
References
Amitay, Mordekhai. Kehilat Rohatin we-haswiwa. Ir be-hajeha uwe-khiljona. Irgun Jocej Rohatin be-Israel [1962], 140.
Anthology of Yiddish Folksongs, red. Sinai Leichter, t. 5, The Hebrew University Magnes Press, 2000.
"Arutz Sheva meets Lemmer brothers". YouTube, dodany przez Israel National News – Arutz Sheva, 28.05.2019, youtu.be/UkAIwsSJU54. Dostęp 31.03.2022.
Blacking, John. How musical is man? Washington University Press, 2000.
Bohlman, Philip. Jewish Music and Modernity. Oxford University Press, 2008.
Braun, Joachim. On Jewish Music: Past and Present. Peter Lang, 2006.
Chaniecki, Zbigniew. Organizacje zawodowe muzyków na ziemiach polskich do końca XVIII wieku. Polskie Wydawnictwo Muzyczne, 1980.
Cygan, Jacek. Klezmer – opowieść o życiu Leopolda Kozłowskiego-Kleinmanna. Wydawnictwo Austeria, 2009.
Davidson, Charles. Immunim Benusach Hatefillah I. A study Text and Workbook for the Jewish Prayer Modes. Ashbourne Music Publishing, 1985.
Drobner, Mieczysław, i Tadeusz Przybylski, redaktorzy. Kraków muzyczny 1918-1939. Wydawnictwo Literackie, 1980.
Feldman, Walter Zev. Klezmer: Music, History, and Memory. Oxford University Press, 2016.
Friedmann, Jonathan. "Sulzerism, Sulzermania, and the Shaping of the American Cantorate". America Jewish History, vol. 101 no. 2, 2017, ss. 287-306.
Friedmann, Jonathan. Synagogue Song: An Introduction to Concepts, Theories and Customs. McFarland, 2014.
Horowitz, Joshua. "The Main Klezmer Modes". Klezmer Shack, www.klezmershack.com/articles/ horowitz/horowitz.klezmodes.html. Dostęp 31.03.2022.
Gliński, Mikołaj. "Polska piosenka pochodzenia żydowskiego". Culture.pl, culture.pl/pl/artykul/ polska-piosenka-pochodzenia-zydowskiego. Dostęp 31.03.2022.
Goldberg, Halina. "Przynależność przez muzykę: wkład Żydów w kształtowanie się muzycznej polskości". Muzykalia XI/ Judaica 3, 2011, demusica.edu.pl/wp-content/uploads/ 2019/07/goldberg_muzykalia_11_judaica3.pdf. Dostęp 31.03.2022.
Goldberg, Halina. "Na skrzydłach estetycznego piękna ku świetlanym sferom Nieskończoności". Muzyka i żydowscy reformatorzy w XIX-wiecznej Warszawie". Studia Chopinowskie, nr 5, 2020, studiachopinowskie.pl/pages/issue/119/8. Dostęp 31.03.2022.
Hobn mir a nigndl. We have a little Tune. The Songs of the Yiddish "Troubadour" Nokhem Sternheim, red. Flam, Gila and Dov Noy, The Jewish Music Research Centre, The Hebrew University of Jerusalem, 2000.
Idelssohn, Abraham Zvi. Jewish Music in Its Historical Development. Henry Holt and Company, 1929.
Jakubczyk-Ślęczka, Sylwia. "Jewish Music Organizations in Interwar Galicia". Polin. Studies in Polish Jewry: Jews and Music-Making in the Polish Lands, red. François Guesnet, Benjamin Matis, Antony Polonsky, The Littman Library of Jewish Civilization in association with Liverpool University Press, 2020, ss. 343-370.
Jakubczyk-Ślęczka, Sylwia. "Reforma żydowskiej muzyki liturgicznej w Galicji na przełomie XIX i XX wieku". Studia Judaica, 2, 2019, ss. 235-265.
Jakubczyk-Ślęczka, Sylwia. "Reguła kol isza a role kobiet w życiu muzycznym Żydów galicyjskich w okresie międzywojennym". Musica Galiciana, red. Grzegorz Oliwa, Kinga Fink, t. 16, Wydawnictwo Uniwersytetu Rzeszowskiego, 2019.
Jakubczyk-Ślęczka, Sylwia. "Za kulisami sceny koncertowej – polityka kulturalna Żydowskiego Towarzystwa Muzycznego w Krakowie". Żydzi krakowscy – nowe kierunki badań, red. Alicja Maślak-Maciejewska, Wydawnictwo Austeria, 2021, ss. 133-182.
Jakubczyk-Ślęczka, Sylwia. Życie muzyczne społeczności żydowskiej na terenach dawnej Galicji w okresie międzywojennym. Praca doktorska [maszynopis], Uniwersytet Jagielloński, 2017.
Jankowski, Tomasz, i Katarzyna Zimek. Tango hebrajskie w międzywojennej Polsce. Muzeum Historii Żydów Polskich "Polin", 2019.
Karpiński, Krzysztof. Był jazz. Krzyk jazz-bandu w międzywojennej Polsce. Wydawnictwo Literackie, 2014.
Keit, M. "Impression and scenes from Mielec" ("Wrażenia i obrazy z Mielca"). Sefer zikaron le-kehilat Mielec: sipur haszmandat hakehila ha-jehudit (Księga Pamięci gminy mieleckiej: zagłada społeczności żydowskiej), Mielec Yizkor Book Committee, Nowy Jork 1979, www.jewishgen.org/yizkor/mielec/mie001.html#IMPRESSION. Dostęp 31.03.2022.
"Klezmer – Leopold Kozłowski". YouTube, zamieszczony przez Bartek Solik, 30.04.2013, youtu.be/kLvCDldhmoE. Dostęp 31.03.2022.
Knapp, Alexander. "Jewish Music: V. Art and popular music in surrounding cultures. III. Emancipation to World War II". Grove Music Online, red. Stanley Sadie, 2001, doi.org/10.1093/ gmo/9781561592630.article.41322. Dostęp 31.03.2022.
Koskoff, Ellen. "The Sound of a Woman's Voice: Gender and Music in a New York Hasidic Community". Women and Music in Cross-Cultural Perspective, red. Ellen Koskoff, University of Illinois Press, 1987, ss. 213-223.
Maślak-Maciejewska, Alicja. Modlili się w Templu. Krakowscy Żydzi postępowi w XIX wieku. Studium społeczno-religijne. Wydawnictwo Uniwersytetu Jagiellońskiego, 2018.
Matis, Benjamin. "An Annotated Translation of Pinchas Szerman's Polishe Khazones in Fargangenheit un Tzukunft [The Polish Cantorate in the Past and the Future], 1924". Scripta Judaica Cracoviensia, vol. 14, 2014, ss. 99-109.
Orenstein, Cwi. "Chortkov and the Jewish music". Memorial Book of Czortkow, red. Yeshayahu Austri-Dunn, Irgun Yotzey in Israel, 1967.
Piekarski, Michał. Muzyka we Lwowie. Od Mozarta do Majerskiego. Kompozytorzy, muzycy, instytucje. Wydawnictwo Akademickie Sedno, 2018.
Plohn, Alfred. "Muzyka we Lwowie a Żydzi". Muzykalia XIII/Judaica 4, z. 13, 2012, demusica. edu.pl/wp-content/uploads/2019/07/plohn_muzykalia_13_judaica_4.pdf. Dostęp 31.03.2022.
Strom, Yale. The Book of Klezmer: the History, the Music, the Folklore. A Cappella, 2002.
Vries, Simon Philippe de. Obrzędy i symbole Żydów. Wydawnictwo WAM, 2004.
Wejngarten, Jakow i Elieser Schindler. Find lider mit notn [פינף לידער מיט נאטן]. Verlag "Grininke Bojmelech", 1936.
Wohlberg, Max. "The Music of the Synagogue as a Source of the Yiddish Folksong". Musica Judaica, 14, 1999, ss. 33-61.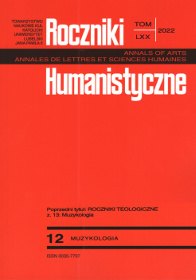 Copyright (c) 2022 Roczniki Humanistyczne
This work is licensed under a Creative Commons Attribution-NonCommercial-NoDerivatives 4.0 International License.