The Three Female Storytellers of Le Nouveau Décaméron
Keywords:
Jeanne Thilda, Judith Gautier, Georges de Peyrebrune, Le Nouveau Décaméron, female storyteller, female desire, male initiation
Abstract
This article is a modest comparative study of the tales by the only three women of letters who contributed to Le Nouveau Décaméron: Jeanne Thilda, Georges de Peyrebrune and Judith Gautier. We trace briefly the career and literary path of each of these authors, who all who knew one other. The structure of these short stories is studied in order to reveal how these women took hold of the narrative constraints related to gender, including the spatio-temporal framework, whilst our analysis focuses on showing how men and women are represented in the face of love. It is clear that, underneath their apparent modernity, these tales are of one with traditional tales, since the traditional roles of the sexes are still observed. Subject to morality, ready for all sacrifices, the woman denies her desire, and if she claims to be in love, it is for purely physiological reasons.
References
Bricout, Bernadette. « Conte ». Dictionnaire des genres et des notions littéraires. Albin Michel, 2001, pp. 152-162. « Encyclopædia universalis ».
Cretin, Nadine. « Carnaval ». Inventaire des fêtes de France d'hier et d'aujourd'hui. Larousse, 2003, pp. 72-74.
Gautier, Judith. « L'Auberge des roseaux en fleur ». Le Nouveau Décaméron, Huitième journée, « Le Temps d'aimer ». Paris, E. Dentu Éditeur, 1886, pp. 124-155.
Knapp, Bettina. Judith Gautier, une intellectuelle française libertaire. Éditions L'Harmattan, 2007.
Le Nouveau Décaméron. Paris, E. Dentu Éditeur, 1884, 10 vol.
Peyrebrune, Georges de. « Mater ! ». Le Nouveau Décaméron, Sixième journée, « Les plus tristes ». Paris, E. Dentu Éditeur, 1886, pp. 95-108.
Sanchez, Nelly. « Biographie de Jeanne Thilda ». Les Commérages de Tybalt, tybalt. pagesperso-orange.fr/LesGendelettres/biographies/Thilda.htm. Page consultée le 10 mai 2021.
Sanchez, Nelly. Georges de Peyrebrune : de la Société des gens de lettres au jury du prix Vie Heureuse. Classiques Garnier, 2016. Coll. « Correspondances et Mémoires ».
Shi, Yichao. « La formation de Judith Gautier au chinois et à la culture chinoise (1863-1905) ». Revue d'Histoire littéraire de la France, n° 120 (3), 2020, pp. 639-650.
Thilda, Jeanne. « Une bonne fortune ». Le Nouveau Décaméron, Troisième journée, « Les Amours mondaines ». Paris, E. Dentu Éditeur, 1885, pp. 69-77.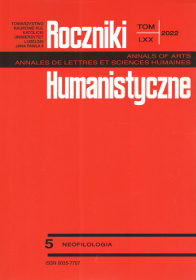 Copyright (c) 2022 Roczniki Humanistyczne
This work is licensed under a Creative Commons Attribution-NonCommercial-NoDerivatives 4.0 International License.