The Transformation of the Musical Parctice of Rzeszowiak Bands from the Perspective of Marcia Herndon's Concept of Change Potential
Keywords:
bands, Rzeszowiacy, transformations, potential for change
Abstract
This article is devoted to the changes in the musical practice of Rzeszowiak (south-eastern Poland) bands, analysed from the perspective of Marcia Herndon's concept of the potential of change. The basic concepts are process, potential, and an internal dynamic equilibrium. The factors determining this equilibrium are cognition, time/motion, patterned sound and context/performance. The research material consists of interviews conducted by associates of the Museum of Folk Culture in Kolbuszowa in 2014-2016 in the Rzeszów region.
References
Bartuszek, Joanna. "Akwarele Stanisława Putiatyckiego". Zwykłe – niezwykłe. Fascynujące kolekcje w zbiorach Państwowego Muzeum Etnograficznego w Warszawie, red. Adam Czyżewski, Państwowe Muzeum Etnograficzne, 2008, ss. 60-63.
Bielawski, Ludwik. "Problem krakowiaka u Chopina". The Book of the First International Musicological Congress Devoted to the Works of Frederick Chopin, red. Zofia Lissa, Państwowe Wydawnictwo Naukowe, 1963, ss. 100-103.
Dahlig, Ewa. Ludowe instrumenty skrzypcowe w Polsce. Instytut Sztuki Polskiej Akademii Nauk, 2001.
Herndon, Marcia. "Toward evaluating musical change through musical potential". Ethnomusicology, nr 31(4), 1987, ss. 455-465.
Kolberg, Oskar. Tarnowskie-Rzeszowskie, Polskie Towarzystwo Ludoznawcze, Ludowa Spółdzielnia Wydawnicza, Polskie Wydawnictwo Muzyczne, 1967.
Linette, Bogusław. "Tradycje muzyki ludowej na Rzeszowszczyźnie". W kręgu badań nad folklorem, red. Alojzy Kopoczek, Krzysztof Ruszel, Wydawnictwo Wyższej Szkoły Pedagogicznej w Rzeszowie, 1995, ss. 18-21.
Merriam, Alan P. The anthropology of music. Northwestern University Press, 1964.
Nowak, Tomasz. "Basy na terenie współczesnego województwa podkarpackiego i problem ich zastępowania przez bęben". VII Festiwal Żywej Muzyki na Strun Dwanaście i Trzy Smyki. Katalog, red. Mateusz Starzec, Miejski Dom Kultury w Kolbuszowej, 2020, ss. 17-31.
Sobieska, Jadwiga. "Folklor muzyczny w Rzeszowskiem i Lubelskiem". Jadwiga i Marian Sobiescy. Polska muzyka ludowa i jej problemy, red. Ludwik Bielawski, Polskie Wydawnictwo Muzyczne, 1973, ss. 302-332.
Witowicz, Agata. "Folklor muzyczny". Folklor Rzeszowiaków – obraz przemian według badań terenowych 2014-2016, red. Katarzyna Barańska i Jolanta Dragan, Muzeum Kultury Ludowej w Kolbuszowej, 2018.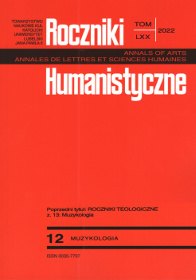 Copyright (c) 2022 Roczniki Humanistyczne
This work is licensed under a Creative Commons Attribution-NonCommercial-NoDerivatives 4.0 International License.