From Dhol-Tasha to Tassa: Tradition and Transformation in Indian Trinidadian Tassa Drumming
Keywords:
South Asia, Caribbean, indentureship, diaspora, traditional music
Abstract
The North Indian dhol-tasha drumming tradition was spread globally by the British indentureship system, which began in the 1830s and sent millions of men, women, and children to work in agricultural and industrial colonies around the world. While distinct dhol-tasha variants emerged in many places where indentured laborers settled, the most vibrant of these is tassa drumming in the southern Caribbean country of Trinidad and Tobago. While maintaining obvious and measurable links with its Indian forebears, tassa has undergone significant transformations in instrument construction, repertoire and performance practice. The essay concludes by arguing that such innovations suggest tassa is not a mere example of cultural survival, but a dynamic art form grounded in a distinct Indian aesthetic yet also thoroughly Caribbean in its diasporic creativity.
References
Averill, Gage. A Day for the Hunter, a Day for the Prey: Popular Music and Power in Haiti. University of Chicago Press, 1997.
Aziz, Ahmed. Studies in Islamic Culture in the Indian Environment. Oxford University Press, 1964.
Ballengee, Christopher L. "From Indian to Indo-Creole: Tassa Drumming, Creolization, and Indo-Caribbean Nationalism in Trinidad and Tobago." Ph.D. Dissertation, Gainesville, University of Florida, 2013.
Boodhoo, Sarita. "The Bhojpuri Marriage Songs of Mauritius and Their Message." Fourth International Conference on Oral Tradition and Its Transmission, ed. Edgard Sienaert, Meg Cowper-Lewis, and Nigel Bell, University of Natal, 1994, pp. 130-141.
Dabydeen, David, and Brinsley Samaroo, editors. India in the Caribbean. Hansib, 1987.
Kartomi, Margaret J. Musical Journeys in Sumatra. University of Illinois Press, 2012.
La Guerre, John, editor. Calcutta to Caroni: The East Indians of Trinidad. Longman, 1974.
Manuel, Peter. Tān-Singing, Chutney, and the Making of Indo-Caribbean Culture. Temple University Press, 2000.
Manuel, Peter. Tales, Tunes, and Tassa Drums: Retention and Invention in Indo-Caribbean Music. University of Illinois Press, 2015.
McDaniel, Lorna. The Big Drum Ritual of Carriacou. University Press of Florida, 1998.
"National Inventory: Intangible Cultural Heritage." Republic of Mauritius Ministry of Arts and Culture National Heritage Fund, 2015.
Niranjana, Tejaswini. Mobilizing India: Women, Music, and Migration between India and Trinidad. Duke University Press, 2006.
Ramnarine, Tina K. Creating Their Own Space: The Development of an Indian-Caribbean Musical Tradition. University of the West Indies Press, 2001.
Sharar, Abdul Halim. Lucknow: The Last Phase of an Oriental Culture. Oxford India Paperbacks, 2012.
Stuempfle, Stephen. The Steelband Movement: The Forging of a National Art in Trinidad and Tobago. University of Pennsylvania Press, 1995.
Vahed, Goolam. "Contesting Indian Islam in KawZulu-Natal: The Muharram Festival in Durban, 2002." The Popular and the Public: Cultural Debates and Struggles over Public Spaces in Modern India, Africa and Europe, ed. Preben Kaarsholm and Isabel Hofmeyr, Seagull Books, 2009, pp. 109-140.
Wolf, Richard K. "Embodiment and Ambivalence: Emotion in South Asian Muharram Drumming." Yearbook for Traditional Music 32, 2000, pp. 81-116.
Wolf, Richard K. "Music in Seasonal and Life-Cycle Rituals." The Garland Encyclopedia of World Music: South Asia, The Indian Subcontinent, vol. 5, ed. Alison Arnold, Garland Publishing, Inc., 2000.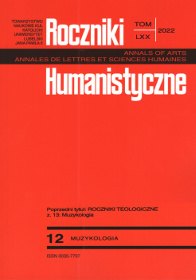 Copyright (c) 2022 Roczniki Humanistyczne
This work is licensed under a Creative Commons Attribution-NonCommercial-NoDerivatives 4.0 International License.