Eurolinguistic Look at Willy Brandt: Promoting Peace Through Overcoming Rhetoric Borders
Keywords:
Willy Brandt, promoting peace, limits of rhetoric, eurolinguistics
Abstract
1969 to 1971 are important years in the end of the Cold War: the beginning and initial successes of Willy Brandt's new foreign policy. By means of government declarations, texts of treaties, records of conversation and TV speeches, this article illustrates that one constituent of Brandt's success lay in his overcoming the traditional limits of rhetoric. His rhetorical style features: (1) the prompt implementation of words into action, (2) an awareness of culture-specific symbolic words, (3) the creation of new positive symbolic words, (4) addressee-specific word variation, and (5) (good) communication with political rulers (and an avoidance of their opponents).
References
Bahr, Egon. "Das musst du erzählen." Erinnerungen an Willy Brandt. Ullstein, 2013.
Falin, Valentin. Politische Erinnerungen. Droemer Knaur, 1995.
Fischer, Frank. "Willy Brandt und die Deutschland- und Außenpolitik 1966-1982". Stand und Perspektiven der Willy-Brandt-Forschung: Werkstattgespräch zur Berliner Ausgabe, hrsg. von Wolfgang Schmid, Bundeskanzler-Willy-Brandt-Stiftung, 2003, S. 53-62.
Fischer, Frank. "Einleitung". Willy Brandt. Berliner Ausgabe, hrsg. von Helga Grebing, Gregor Schöllgen und Heinrich August Winkler, vol. 6, Dietz, 2005, S. 15-92.
Grzega, Joachim. Wort-Waffen abschaffen! Beobachtungen zu Europas gewaltvoller Wortwahl und Ideen für eine friedensstiftende Sprache. epubli, 2019.
Meissner, Lucjan. "Willy Brandts Versöhnungspolitik gegenüber Polen 1970-1972: Ein Erinnerungsbeitrag". Zeitschrift des Verbandes polnischer Germanisten 4/4, 2015, S. 309-318.
Miszczak, Krzysztof. Deklarationen und Realitäten. Die Beziehung zwischen der Bundesrepublik Deutschland und der (Volks-) Republik Polen von der Unterzeichnung des Warschauer Vertrages bis zum Abkommen über gute Nachbarschaft und freundschaftliche Zusammenarbeit (1970-91). tuduv, 1993.
Müller, Albrecht. Brandt aktuell. Treibjagd auf einen Hoffnungsträger. Westend, 2013.
Pautsch, Ilse Dorothee et al. Akten zur Auswärtigen Politik der Bundesrepublik Deutschland. 1970. vol. 1. Oldenbourg, 2001.
Petter, Dirk. Auf dem Weg zur Normalität: Konflikt und Verständigung in den deutsch-französischen Beziehungen der 1970er Jahre. De Gruyter, 2014.
Schmidt, Wolfgang (Hrsg.). Stand und Perspektiven der Willy-Brandt-Forschung. Werkstattgespräch zur Berliner Ausgabe. Bundeskanzler-Willy-Brandt-Stiftung, 2003.
Stokłosa, Katarzyna. Polen und die deutsche Ostpolitik 1945-1990. Vandenhoeck & Ruprecht, 2011.
Stüwe, Klaus, Herausgegeber. Die Großen Regierungserklärungen der deutschen Bundeskanzler von Adenauer bis Schröder. Leske und Budrich, 2002.
Tomala, Mieczysław. Deutschland – von Polen gesehen. Zu den deutsch-polnischen Beziehungen 1945-1990. Schüren, 2000.
URL1 = Kai Riedel. document Archiv. BRD, http://www.documentarchiv.de/brd.html. Abruf am 18.04.2020.
URL2 = Willy-Brandt-Stiftung. Reden, https://willy-brandt.de/willy-brandt/reden-zitate-und-stimmen/reden/. Abruf am 18.04.2020.
URL3 = Konrad-Adenauer-Stiftung. Moskaureise, https://www.konrad-adenauer.de/quellen/moskaureise. Abruf am 18.04.2020.
Zündorf, Benno. Die Ostverträge. Beck, 1979.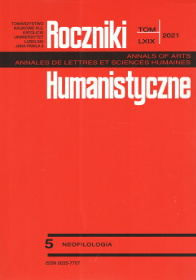 Copyright (c) 2021 Roczniki Humanistyczne
This work is licensed under a Creative Commons Attribution-NonCommercial-NoDerivatives 4.0 International License.