Worldly Man? Odysseus as a Penitent Homo Rationalis in the "Journeys to Hell" by Bolesław Miciński
Keywords:
Odysseus, Bolesław Miciński, homo rationalis, polytropos, classicism
Abstract
The aim of the article is the analysis of Odysseus in Bolesław Miciński's essay Podróże do piekieł ("Journeys to Hell"). The main purpose is to show that the philosopher creates a new Odysseus described by specific epiteton ornans which underlines wisdom not the cunning of Homer's hero. What is more, Miciński builds his vision of Odysseus using psychoanalysis and his own understanding of classicism. He treats these two perspectives as instruments to extract particular features of Odysseus. Miciński is building a new myth of Odysseus, the myth of homo rationalis, perfect ratio which can save the humanistic subjectivity in the XXth century.
References
Abramowiczówna, Zofia. "Wstęp". Homer. Odyseja. Tłum. Lucjan Siemieński, Wydawnictwo Ossolineum, 1981.
Ambrożewicz, Zbigniew. Esej filozoficzny Bolesława Micińskiego jako sposób poszukiwania podstaw realności świata. Wydawnictwo Uniwersytetu Opolskiego, 2003.
Bodkin, Maud, A. "Wzorce archetypowe w poezji tragicznej". Tłum. Przemysław Mroczkowski. Teoria badań literackich za granicą, t. 2, red. Stefania Skwarczyńska, Wydawnictwo Literackie, 1974.
Culler, Jonathan. Teoria literatury. Tłum. Maria Bassaj, Prószyński i S-ka, 2002.
Heidegger, Martin. Bycie i czas. Tłum. Bogdan Baran, Wydawnictwo Naukowe PWN, 2013.
Homer. Odyseja – Homer. Odyssey. Perseus, http://www.perseus.tufts.edu/hopper/text?doc=Perseus%3Atext%3A1999.01.0135%3Abook%3D9%3Acard%3D1. Dostęp 05.05.2020.
Korpanty, Józef. "Zapomniany tłumacz Odysei Homerowej". Przekładaniec, nr 18-19, 2007, ss. 192-197.
Kott, Jan. "Spacer po piekłach". Pion, nr 8, 1938.
Kwiatkowski, Jerzy. Dwudziestolecie międzywojenne. Wydawnictwo Naukowe PWN, 2008.
Loney, Alexander C. "Pompē in the 'Odyssey'". The Epic Journey in Greek and Roman Literature, red. Thomas Biggs i Jessica Blum, Cambridge University Press, 2019, ss. 31-58.
Miciński, Bolesław. "Pamięć". Pisma zebrane, t. 2: Treść i forma. Artykuły i recenzje, red. Paweł Kądziela, Biblioteka "WIĘZI", 2011, ss. 354-355.
Miciński, Bolesław. Pisma. Eseje, artykuły, listy. Wybór i oprac. Anna Micińska, Wydawnictwo Znak, 1970.
Miciński, Bolesław. Podróże do piekieł. Prosto z mostu, 1937.
Montiglio, Silvia. From Villain to Hero. Odysseus in Ancient Thought. The University of Michigan Press, 2011.
Parandowski, Jan. "Wstęp". Homer. Odyseja. Tłum. Jan Parandowski, Czytelnik, 1972.
Rosińska, Zofia. Psychoanalityczne myślenie o sztuce. PWN, 1985.
Ryczek, Wojciech. "Politropia: retoryka Odyseusza". Teksty Drugie, nr 5, 2015, ss. 336-356.
Stawecka, Krystyna. "Dwa polskie przekłady Odysei. Odyseja w tłumaczeniu Parandowskiego i Wittlina". Roczniki Humanistyczne, t. 9, z. 2, 1960, ss. 93-102.
Troczyński, Konstanty. "Uroki pięknego stylu. Przyczynek do dziejów snobizmu". Dziennik Poznański, nr 85, 13 kwietnia 1938. Cytat za: Konstanty Troczyński. Pisma wybrane, oprac. Stanisław Dąbrowski, t. 2, Wydawnictwo Literackie, 1998, s. 7.
Wergiliusz. Eneida – P. Vergili Maronis Aeneidos Liber Primvs. The Latin Library, https://www.thelatinlibrary.com/vergil/aen1.shtml. Dostęp 05.05.2020.
Wróbel, Łukasz. Hylé noesis: Trzy międzywojenne koncepcje literatury stosowanej. Wydawnictwo Naukowe Uniwersytetu Mikołaja Kopernika, 2013.
Wyka, Kazimierz. "Podróże do piekieł". Stara szuflada i inne szkice z lat 1932-1939, oprac. Maciej Urbanowski, Wydawnictwo Literackie, 2000.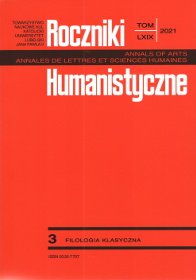 Copyright (c) 2021 Roczniki Humanistyczne
This work is licensed under a Creative Commons Attribution-NonCommercial-NoDerivatives 4.0 International License.