The Great Outbreak of the Small Nation: The Forgotten Karabakh Movement (1988‒1990)
Keywords:
Karabakh Movement, socio-political movement, collapse of the USSR, Armenia, process of social transformation
Abstract
In 1989, breakthrough events took place in Eastern European countries that changed the history of the region. The "round table" in Poland, the fall of the Berlin Wall or the "Velvet Revolution" in Czechoslovakia initiated the processes of liberalization and independence from the USSR. Over the time, these transformations were called "Eastern European Revolutions". They contributed to the final collapse of the Soviet regime and caused the post-Soviet area to undergo significant social, political and economic transformations in the early 1990s.
A year before these events, a great democratic movement began in the smallest Republic of the Soviet Union ‒ Armenia, which undermined the imperial policy of the Soviet authorities. Over the time, it adopted the name of the Karabakh Movement. The rebellion of the Armenian society that broke out in 1988 expressed the need for democratization of the Soviet society and played a significant role in the freedom aspirations of the Armenian people. Despite this, little is known about this movement, which is commonly associated with ethnic antagonisms between Armenia and Azerbaijan. The Karabakh movement remained "unnoticed" in the Soviet era, because the regime media blocked information about the mass occurrences of Armenians. Today, the issue of the Karabakh Movement is uncomfortable for political reasons, especially when we talk about Armenian-Russian relations, because Russia attaches great importance to glorifying USSR history.
The main goal of the article is to reconstruct the activities of the Karabakh Movement in 1988–1990, as well as to attempt to understand its impact on the processes that contributed to the collapse of the Soviet Union in the context of transformations in Eastern Europe.
References
Abrahamyan, Lewon. "Chaos and Cosmos in the Structure of Mass Popular Demonstrations (The Karabakh Movement in the Eyes of an Ethnographer)". Anthropology & Archeology of Eurasia 29, nr 2 (1990): 70-86.
Abrahamian, Lewon. "Typology of Aggressiveness and National Violence in the Former USSR". International Journal on Minority and Group Rights 4 (1997): 263-278.
Aleksejewa, Liudmila. Istoriâ inakomysliâ v SSSR: novejšij period, Moskwa: Moskowskaja Helsinskaja gruppa, 2012 [Aleksejewa, Liudmila. История инакомыслия в СССР: новейший период. Москвa: Московская Хельсинкская группа, 2012].
Brisku, Adrian i Blauvelt Timothy. "Who wanted the TDFR? The making and the breaking of the Transcaucasian Democratic Federative Republic. Caucasus Survey". Academia.edu. https:// www.academia.edu/41714565/Who_wanted_the_TDFR_The_making_and_the_breaking_of_the_Transcaucasian_Democratic_Federative_Republic (dostęp: 1.03.2020).
Edelman, Natan. "'Revolûciâ sverhu' V ROSSII". NAUKA I ŽIZNʹ 1-3 (1989). http://vivovoco.astronet.ru/VV/PAPERS/NYE/REV/REV_1.HTM (dostęp: 28.02.2020) [Edelman, Natan. "'Революция сверху' в России". НАУКА И ЖИЗНЬ 1-3 (1989). http://vivovoco.astronet.ru/VV/PAPERS/NYE/REV/REV_1.HTM (dostęp: 28.02.2020)].
Fitzpatric, Sheila. Everyday Stalinism. Ordinary life in extraordinary times: Soviet Russia in the 1930s. New York–Oxford: Oxford University Press, 1999.
Geukjian, Ohannes. "The Politicization of the Environmental Issue in Armenia and Nagorno- Karabakh's Nationalist Movement in the South Caucasus 1985–1991". Nationalities Papers 35, nr 2 (2007): 233-265.
Galojan, Galust i Chudawerdjan Konstantin Nagornyj Karabah. Istoričeskaâ spravka. Erywań: Izdatel'tvo Akademii Nauk Armânskoj SSR, 1988 [Galojan, Galust i Chudawerdjan Konstantin Нагорный Карабах. Историческая справка. Ереван: Академия Наук Армянской ССР, 1988].
Lyytikäinen, Laura. Performing Political Opposition in Russia. The Case of the Youth Movement Oborona. Helsinki: University of Helsinki, 2014.
Marutyan, Harutyun. "Iconography of Historical Memory and Armenian National Identity at the End of the 1980s". W Representations on the Margins of Europe. Politics and Identities in the Baltic and South Caucasian States, ed. T. Darieva, W. Kaschuba, 89-113. Frankfurt–Chicago: Chicago University Press, 2007.
Marutyan, Harutyun. "The Karabakh Movement or What was Happening in Soviet Armenia 30 Years Ago". EVN Report, 25.02.2018. https://www.evnreport.com/politics/the-karabakh-movement-or-what-was-happening-in-soviet-armenia-30-years-ago (dostęp: 5.03.2020).
Marutyan, Harutyun. "The Slogans, Posters and Language of the Karabakh Movement". EVN Report, 15.04.2018. https://www.evnreport.com/politics/the-slogans-posters-and-language-of-the-karabakh-movement (dostęp: 5.03.2020).
Nieczuja-Ostrowski, Paweł. "Państwo i społeczeństwo wobec wyzwań i przemian współczesności". W Armenia. Dziedzictwo a współczesne kierunki przemian kulturowo-cywilizacyjnych, red. P. Nieczuja-Ostrowski, 60-96. Poznań: Fundacja na rzecz Czystej Energii, 2016.
Nieczuja-Ostrowski, Paweł. "Wystąpienia społeczne w Republice Armenii w latach 1991–2012". Nowa Polityka Wschodnia nr 2 (3) (2012): 109-128.
Olszewski, Paweł. "Konflikt azerbejdżańsko-ormiański o Górski Karabach". W Sąsiedztwo i pogranicze ‒ między konfliktem a współpracą, t. I, red. R. Łoś, J. Regina-Zacharski, 175-201. Łódź: Wydawnictwo Uniwersytetu Łódzkiego, 2012.
Oswald, Ingrid i Voronkov Viktor. "The 'public-private' sphere in Soviet and post-Soviet society. Perception and dynamic of 'public' and 'private' in contemporary Russia". European Societies 6, nr 1 (2004): 97-117.
Panossian, Razmik. "Post-Soviet Armenia". W After Independence. Making and Protecting the Nation in Postcolonial and Postcommunist States, ed. L.W. Barrington, 225-247. Michigan: University of Michigan Press, 2006.
Papazyan, Sabrina. "The Cost of Memorializing. Analyzing Armenian Genocide Memorials and Commemorations in the Republic of Armenia and in the Diaspora". International Journal for History, Culture and Modernity 7 (2019): 55-86.
Pisowicz, Andrzej. "O polskiej transkrypcji wyrazów ormiańskich". Przegląd Orientalistyczny 2 (1979): 158-162.
Porta, Donatella della i Diani Mario. Ruchy społeczne. Wprowadzenie, przeł. A. Sadza. Kraków: Wydawnictwo Uniwersytetu Jagiellońskiego, 2009.
Rokita, Zbigniew. "Historia konfliktu górskokarabaskiego i jego miejsce w polityce zagranicznej Federacji Rosyjskiej". Pisma Humanistyczne 7 (2010): 135-147.
Sargsyan, Ashot. "Kharabachjan szarzman patmutjun 1988‒1989 [Historia ruchu karabaskiego 1988‒1989]". Erywań: Antares, 2018.
Sargsyan, Hamlet. "Naselenie Nagornogo Karabaha za 100 let (1823‒1923 gg.) (Ètnodemografičeskoe issledovanie)". Problemy armenologii nr 76 (2) (2016) [Sargsyan, Hamlet. "Население Нагорного Карабаха за 100 лет (1823‒1923 гг.) (Этнодемографическое исследование)". Проблемы арменоведения nr 76 (2) (2016): 59-81].
Shahmuratian, Samvel. The Sumgait Tragedy. Pogroms against Armenians in Soviet Azerbaijian, vol. I: Eyewitness Accounts, trans. J. Steven. New Rochelle, N.Y., Cambridge, Mass.: Zoryan Institute for Contemporary Armenian Research and Documentation, 1990.
Sherr, James. "Nagorno-Karabakh Between Old and New Geopolitics". W The International Politics of the Armenian-Azerbaijani Conflict. The Original "Frozen Conflict" and European Security, ed. S.E. Cornell, 49-69. New York: Palgrave Macmillan, 2017.
Suny, Ronald Grigor. "Writing Genocide: The Fate of the Ottoman Armenians". W A Question of Genocide. Armenians and Turks at the End of the Ottoman Empire, ed. R.G. Suny, F.M. Gocek, N.M. Naimark, 15-41. Oxford‒Nowy York: Oxford University Press, 2011.
Szmurło, Zbigniew T. "Pierestrojka i tragiczne wydarzenia w Sumgaicie". Studia Gdańskie. Wizje i rzeczywistość 10 (2013): 267-284.
Ulubabyan, Bagrat. Arcachjan gojapajkari taregrutjun [Kronika oporu Artsakh]. Erywań, 1997.
Waal, Thomas de. Black Garden. Armenia and Azerbaijan through Peace and War. New York–London: New York University Press, 2003.
Yamskov, Anatoly. "Ethnic Conflict in the Transcausasus: The Case of Nagorno-Karabakh". Theory and Society 20, nr 5 (1991): 631-660.
Zakharova, Larissa. "Soviet Public Sphere". Politika, 16.05.2017. https://www.politika.io/en/notice/soviet-public-spheres (dostęp: 28.02.2020).
Zdravomyslova, Elena i Voronkov Viktor. "The Informal Public in Soviet Society: Double Morality at Work". Social Research 69, nr 1 (2002): 49-69.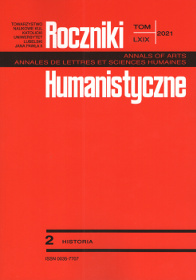 Copyright (c) 2021 Roczniki Humanistyczne
This work is licensed under a Creative Commons Attribution-NonCommercial-NoDerivatives 4.0 International License.