Directors of Vocation – Karol Wojtyła on the Silver Screen
Keywords:
Karol Wojtyła – John Paul II, vocation, priest, movie
Abstract
Several films about John Paul II were shot during his lifetime. Both in feature films and documentary productions, which are a kind of guide to the most important events of the great pontificate, the film-makers tried to depict the history of a man who, through his service, transformed the face of the world by making it better. In this article, efforts are made to study and present the sources of Wojtyła's spiritual power – to talk about his 'home seminary' and the path he had to follow to become a priest. The creators of the worlds presented based their message on archival documents, the testimonies of those people closest to the Pope, as well as on the recollections of John Paul II. Based on such material, the directors showed the viewers the journey of Lolek/Karol towards God, towards his extraordinary intimacy with Him, a path which was, for the Pope, a process of opening himself up to Love – a pilgrimage to the 'sense of existence'.
References
Accattoli, Luigi. Karol Wojtyła. Człowiek końca tysiąclecia. Tłum. Grzegorz Niedźwiedź i Sławomir Klim, Wydawnictwo św. Antoniego, 1999.
Benedykt XVI (Joseph Ratzinger). Jan Paweł II. Mój umiłowany Poprzednik. Tłum. Robert Łobko, Edycja Świętego Pawła, 2007.
Frossard, André. "Nie lękajcie się!" Rozmowy z Janem Pawłem II. Tłum. Anna Turowiczowa, Libreria Editrice Vaticana, 1982.
Frossard, André. Portret Jana Pawła II. Tłum. Maria Tarnowska, Znak, 1990.
Garbicz, Adam, i Marek Lis. Filmowe portrety pontyfikatu. Jan Paweł II w 100 odsłonach. Księgarnia św. Jacka, 2007.
Jan Paweł II. Przekroczyć próg nadziei. Jan Paweł II odpowiada na pytania Vittoria Messoriego. Redakcja Wydawnictw Katolickiego Uniwersytetu Lubelskiego, 1994.
Jan Paweł II. Dar i Tajemnica. W pięćdziesiątą rocznicę moich święceń kapłańskich. Wydawnictwo św. Stanisława BM, 1996.
Jan Paweł II. "Spotkanie z wiernymi – przemówienie (Wadowice, 16 czerwca 1999 roku)". Jan Paweł II. Polska 1999 – przemówienia i homilie, red. Krzysztof Kuźnik, Katolicka Agencja Informacyjna i Wydawnictwo Michalineum, 1999, ss. 241–250.
Lubelski, Tadeusz. "Filmowiec dla poszukiwaczy sensu". Kino, nr 9, 2019, ss. 9–14. Luter, Andrzej. "Papież na ekranie". Akcent, nr 3, 2018, ss. 225–231.
Marczak, Mariola. Niepokój i tęsknota. Kino wobec wartości. O filmach Krzysztofa Zanussiego. Wydawnictwo Uniwersytetu Warmińsko-Mazurskiego, 2011.
Pismo Święte Starego i Nowego Testamentu. Najnowszy przekład z języków oryginalnych z komentarzem, oprac. Zespół Biblistów Polskich z inicjatywy Towarzystwa Świętego Pawła, Częstochowa, 2009.
Ratzinger, Joseph. "Jan Paweł II". Joseph Ratzinger i Franciszek Macharski. Jan Paweł II. 20 lat w historii Kościoła i świata. Tłum. Paweł Soppa, Edycja Świętego Pawła, 1999, ss. 7–31.
Skwarnicki, Marek. "Słowo wstępne". Jan Paweł II. Poezje i dramaty. Wybór i układ Marek Skwarnicki i Jerzy Turowicz, Znak, 1998, ss. 5–10.
Socci, Antonio. Tajemnice Jana Pawła II. Tłum. Jolanta Kornecka-Kaczmarczyk, Dom Wydawniczy Rafael, 2007.
Wojtyła, Karol. "Pieśń o Bogu ukrytym". Karol Wojtyła. Poezje i dramaty. Wybór i układ Marek Skwarnicki i Jerzy Turowicz, Znak, 1998, ss. 17–34.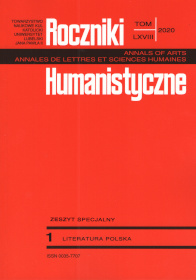 Copyright (c) 2020 Roczniki Humanistyczne
This work is licensed under a Creative Commons Attribution-NonCommercial-NoDerivatives 4.0 International License.