The Theological Roots of the Modern Crisis of Fatherhood, Sexual Differences, and The Family. On the Margins of The Radiance Of Fatherhood by Karol Wojtyła
Keywords:
God the Father, family, love, sexual difference, Church, atheism
Abstract
In no historical era have the topics of sex and gender occupied such space in academic and public debates. Today, an immense number of publications and conferences is devoted to subjects such as sexual differences, the definition of masculinity and femininity, the question whether and to what extent is sex part of nature, and to what extent of culture? These topics, always considered important in the anthropological and ethical fields, benefitted in the public debate from a certain social consensus on obvious and indisputable matters, as did those which were hidden from debate and concerned with that which is private and concerns the secrets of home life. Today, they have lost this double protection. Karol Wojtyła's drama The Radiance of Fatherhood, written in the 1960s, surprisingly anticipates these contemporary discussions and proposes a philosophical and theological perspective appropriate for Western culture in which it is possible to give the right answers to the questions posed. In this perspective, these basic existential realities for every human being – being a son or daughter, mother or father, man or woman, husband or wife – do not only point to the sphere of human biology, nor are they contractual and subject to modifications. Rather, in the symbolic and sacramental interpretation which is proper to human life, they form the spiritual DNA of any human being from which that which is truly human can develop.
References
Beckett, Samuel. "Czekając na Godota". Samuel Beckett. No właśnie co. Dramaty i proza. Przeł. Antoni Libera, PIW, 2010, ss. 9–91.
Blankenhorn, David. Fatherless America: Confronting Our Most Urgent Social Problem. Basic Books, 1995.
Boff, Leonardo. Saint Joseph: The Father of Jesus in a Fatherless Society. Cascade Books, 2009. Cataluccio, Francesco. Niedojrzałość. Choroba naszych czasów. Przeł. Stanisław Kasprzysiak, Znak, 2006.
Gaskins,Tony A. The New Guy Code: Becoming A Man In A Fatherless Society. Soul Writers, 2013.
Grabowski, Marian. "Fenomenologia ojcostwa". Marian Grabowski. Na ścieżkach współczesności, Homo Dei, 2003, ss. 51–58.
Grygiel, Stanisław. Dolce guida e cara. Cantagalli, 2008.
Jan Paweł II. "List do Rodzin z okazji Roku Rodziny 1994 Gratissimam sane".
Jan Paweł II. Mężczyzną i niewiastą stworzył ich. Odkupienie ciała a sakramentalność małżeństwa. red. Stanisław Dziwisz i in., Libreria Editrice Vaticana, 1986.
Kalendarium życia Karola Wojtyły, oprac. Adam Boniecki, Znak, 2000.
Levinas, Emmanuel. Czas i to, co inne. Przeł. Jacek Migasiński, Wydawnictwo KR, 1999. MacIntyre, Alasdair. After Virtue: A Study in Moral Theory. University of Notre Dame Press, 1981.
Martin, Francis. "Nowy feminizm. Podstawy biblijne i niektóre kierunki rozwoju". Kobiety w Chrystusie. W stronę nowego feminizmu. Tłum. Michał Romanek, red. Michele M. Schumacher, Centrum Myśli Jana Pawła II, 2008, ss. 203–238.
Meeker, Meg. Hero: Becoming the Strong Father Your Children Need. Regnery, 2017.
Mehaffie, Sam. Fatherless America and the Church. CreateSpace Independent Publishing Platform, 2014.
Miller, Donald. Father Fiction: Chapters for a Fatherless Generation. Howard Books, 2011. Miller, John W. Biblical Faith and Fathering: Why We Call God "Father". Paulist Press, 1990.
Popenoe, David. Families Without Fathers: Fathers, Marriage and Children in American Society. Routledge, 2009.
Popenoe, David. Life Without Father: Compelling New Evidence That Fatherhood and Marriage Are Indispensable for the Good of Children and Society. Free Press, 1996.
Raeburn, Paul. Do Fathers Matter? What Science Is Telling Us About the Parent We've Overlooked. Scientific American, 2014.
Sartre, Jean Paul. Dramaty. Tłum. Jerzy Lisowski, Jan Kott, PIW, 1956. Serretti, Massimo. L' uomo è persona. Lateran University Press, 2008.
Sowers, John A. Fatherless Generation: Redeeming the Story. Zondervan, 2010.
Strong, Mark E. Church for the Fatherless: A Ministry Model for Society's Most Pressing Problem. InterVarsity Press, 2012.
Taylor, Charles. The Secular Age. Harvard University Press, 2007.
Wojtyła, Karol. Miłość i odpowiedzialność. Towarzystwo Naukowe Katolickiego Uniwersytetu Lubelskiego, 1986.
Wojtyła, Karol. Ocena możliwości zbudowania etyki chrześcijańskiej przy założeniach systemu Maksa Schelera. Towarzystwo Naukowe Katolickiego Uniwersytetu Lubelskiego, 1959.
Wojtyła, Karol. "Osoba i czyn". Karol Wojtyła. Osoba i czyn oraz inne studia antropologiczne, red. Tadeusz Styczeń i in., Towarzystwo Naukowe Katolickiego Uniwersytetu Lubelskiego, 1994, ss. 43–344.
Wojtyła, Karol. "Promieniowanie ojcostwa". Karol Wojtyła. Poezje, dramaty, szkice. Jan Paweł II. Tryptyk rzymski. Wstęp Marek Skwarnicki, Znak, 2007, ss. 447–480.
Wojtyła, Karol. Wykłady lubelskie, Towarzystwo Naukowe Katolickiego Uniwersytetu Lubelskiego, 1986.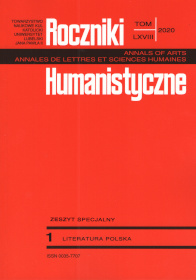 Copyright (c) 2020 Roczniki Humanistyczne
This work is licensed under a Creative Commons Attribution-NonCommercial-NoDerivatives 4.0 International License.