The Radiance of Fatherhood – the Radiance of Theatre. An Outline of the Stage Interpretations of the Dramatic Work of Karol Wojtyła
Keywords:
Karol Wojtyła, The Radiance of Fatherhood, dramaturgy, stage interpretations, professional theatre, amateur theatre
Abstract
This article deals with the history of the stage performances of Karol Wojtyła's play The Radiance of Fatherhood, which is considered by many to be, of all of the author's plays, the one least suitable for performing on stage, starting with the world premiere in 1983 by Andrzej Maria Marczewski, through subsequent versions by the same director, as well as by others, both from professional and alternative theatres, including amateur ones. The vast majority of the stage performances in question were performed in Poland; however, the recently accomplished premieres of the dramatical work in Slovakia (2015) and in the Czech Republic (2019) are also mentioned. The aim of this text is to show the way many theatre artists faced the challenge of dealing with what is undoubtedly the most multidimensional text of Wojtyła's oeuvre, as well as to trace the proposed visual solutions and stage interpretations of the dramatical work.
References
Borkowski, K. M. "Misterium utkane z mgieł". Gość Niedzielny, nr 22, 1997, s. 18.
Cicha, Dominika. "Pod skrzydłami fundacji". Gość Niedzielny (dodatek krakowski), 10.2015, krakow.gosc.pl/doc/2755584.Pod-skrzydlami-fundacji. Dostęp 04.2020.
Teatro Colorato, colorato.sk/shows/view/luce-otcovstva. Dostęp 04.2020.
"Dialogi z Janem Pawłem II". Nasz Głos, nr 11 (140), 2008, s. 42.
Filler, Witold. "Barwy czerwca". Gazeta Krakowska, nr 147, z 24.06.1983. Głogowski, Krzysztof. "Myśli i półtony". Kierunki, nr 28, z 10.07.1983.
Kowalczyk, Janusz R. "Dramaturg trudnych pytań". Rzeczpospolita, z 5.04.2005, encyklopediateatru. pl. Dostęp 04.2020.
M. S. "Nawet Kongres nie usprawiedliwia. Teatralna encyklika". Słowo Polskie, nr 118, z 22.05.1997.
Machowska, Maria. "Prapremiera światowa sztuki Karola Wojtyły na scenie Teatru Rozmaitości w Warszawie". Za i przeciw, nr 29, z 17.07.1983.
Mamys, Katarzyna. "Promieniowanie ojcostwa". Przewodnik Katolicki Archidiecezji Gnieźnieńskiej, 16.03.2003, encyklopediawielkopolan.pl/wp-content/uploads/2015/04/dok2.pdf. Dostęp 04.2020.
Piętka, Włodzimierz. "Na deskach seminaryjnego teatru". Gość Niedzielny (dodatek płocki), 04.2014, plock.gosc.pl/doc/1948466.Na-deskach-seminaryjnego-teatru. Dostęp 04.2020.
"Rozważanie u progu ojcostwa". Kurier Polski, nr 111, z 8.06.1983.
Solski, Zbigniew Władysław. "Zapiski na odwrocie fotografii". Jan Miodek, Zbigniew Władysław Solski, Bolesław Taborski, Jacek Lalak, Bartłomiej Madejski. Album. W przestrzeniach poezji Karola Wojtyły. Biblioteka Uniwersytecka w Wrocławiu, Wrocławskie Towarzystwo Przyjaciół Sztuk Pięknych, 1997, ss. 9–13.
Strzępka, Agnieszka. "Promieniowanie ojcostwa". Niedziela. Tygodnik Katolicki, edycja lubelska, nr 46, 2003, niedziela.pl/artykul/21733/nd/Promieniowanie-ojcostwa. Dostęp 06.2012.
Szczawiński, Józef. "Prapremiera dramatu Karola Wojtyły Promieniowanie ojcostwa". Słowo Powszechne, nr 123, z 23.06.1983.
"Światowa prapremiera". Ekspress Wieczorny, nr 107, z 1–2.06.1983, ss. 1–2.
Tischner, Józef. "Promieniowanie twórczej wzajemności". Program teatralny, Promieniowanie ojcostwa, Teatr Rozmaitości, Warszawa, 1983.
Wiśniewska, Marzena. "Medytacje w Hyde Park". Sztandar Młodych, nr 118, z 17–19.06.1983.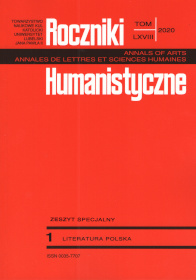 Copyright (c) 2020 Roczniki Humanistyczne
This work is licensed under a Creative Commons Attribution-NonCommercial-NoDerivatives 4.0 International License.