The Vision of Love in the Recently Discovered Text 'Here I Am, Still On This Bank...' by the Young Karol Wojtyła
Keywords:
love, experience, reciprocity, Divine-Thou encounter, mysticism, metaphor
Abstract
The unknown piece entitled 'Here I am, still on this bank' was discovered during research work on the critical edition of the literary works of Karol Wojtyła / John Paul II in the Archive of the Metropolitan Curia in Cracow in late 2016. The text was created most likely between February 1941 (the date of Wojtyła's father's death), and October 1942, when young Karol, a cleric of the clandestine Cracovian Archdiocese Seminary, decided to take up underground studies at the Jagiellonian University's Theological Department. It is the only piece among Karol Wojtyła's works to take on the theme of the internal conflicts of the protagonist between love for a woman and a betrothed's love for God. We can find here the basic foundations of the concept of love, which the Pope would later develop in his philosophy (Love and Responsibility), theology (Theology of the Body) and literary works (e.g. the mystical poems and plays In front of the Jeweller's Shop and The Radiance of Fatherhood).
References
Dybciak, Krzysztof. Karol Wojtyła a literatura. Biblos, 2001.
Frossard, André. "Nie lękajcie się!". Rozmowy z Janem Pawłem II. Przeł. Anna Turowiczowa, Libreria Editrice Vaticana, 1982.
Jan Paweł II. Mężczyzną i niewiastą stworzył ich. Chrystus odwołuje się do "początku". O Jana Pawła II teologii ciała. Jan Paweł II naucza, t. 1, red. Tadeusz Styczeń, Redakcja Wydawnictw KUL,1981.
Karoń-Ostrowska, Anna. Dramat spotkania. Biblioteka Więzi, 2010.
Kotlarczyk, Mieczysław, i Karol Wojtyła. O Teatrze rapsodycznym: 60-lecie powstania Teatru Rapsodycznego. Wstęp i oprac. Jacek Popiel, wybór tekstów Tadeusz Malak i Jacek Popiel, PWST w Krakowie, 2001.
Michałowska, Danuta. [wspomnienia w] Młodzieńcze lata Karola Wojtyły. Wspomnienia, red. Juliusz Kydryński, Oficyna Cracovia, 1990.
Młodzieńcze lata Karola Wojtyły. Wspomnienia, red. Juliusz Kydryński, Oficyna Cracovia, 1990. Sawicki, Stefan. Rozważania o Papieżu i pisarzu. Norbertinum, 2011.
Szymański, Wiesław Paweł. Z mroku korzeni. Calwarianum, 1989.
Św. Jan od Krzyża Doktor Kościoła. Dzieła, Biblioteca Mistica Carmelitana, t. 1–3, Wydawnictwo Karmelitów Bosych, 2010.
Wojtyła, Karol. Aby Chrystus się nami posługiwał. Znak, 1979.
Wojtyła, Karol. Miłość i odpowiedzialność. Towarzystwo Naukowe KUL, 1960.
Wojtyła, Karol. Zagadnienie wiary w dziełach św. Jana od Krzyża, Wydawnictwo Karmelitów Bosych, 1990.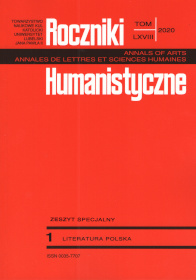 Copyright (c) 2020 Roczniki Humanistyczne
This work is licensed under a Creative Commons Attribution-NonCommercial-NoDerivatives 4.0 International License.