The Performance Practice of Organ-Playing in 17th Century France According to the Anonymous Manuscript Manière de toucher l'orgue (c.1670-1685)
Keywords:
performance practice of organ-playing, French music in the 17th century, French organ music
Abstract
This article concerns the performance practice of organ-playing in 17th century France. The starting point is the anonymous manuscript Manière de toucher l'orgue dans toute la propreté et la délicatesse qui est en usage aujourd'hui à Paris (Organ performance manners regarding the style and its nuances currently practised in Paris), written probably between 1670 and 1685. The greatest value of this manuscript is that it provides important information about the new trends in liturgical organ-playing introduced during the late 17th century in Paris. This article is a development of the ideas sketched by William Pruitt (1986). His analysis, however, was limited to factual aspects and an overall description of the source. This article, using the hermeneutic research method, takes a broader look at the practical issues that may be useful for music historians and for organists who want to deepen their historical knowledge about early French organ music.
References
Aleksandrowicz, Miłosz. Teoretyczne podstawy francuskiej polifonii liturgicznej XVII wieku. Gaudium, 2017.
Anthony, James R. French Baroque Music from Beaujoyeulx to Rameau. W.W. Norton, 1974.
Bianconi, Lorenzo. Music in the Seventeenth Century. Cambridge University Press, 1987.
Borrel, Eugène. L'Interpretation de la musique française de Lully à la Revolution. Librairie Félix Alcan, 1934.
Brossard, Sébastien de. Dictionnaire de musique. Paris, Christophe Ballard, 1703.
Broude, Ronald. "Composition, Performance, and Text in Solo Music of the French Baroque." Text, vol. 15, 2003, pp. 19-49.
Buch, David. "Guillaume-Gabriel Nivers, «Motets à voix seule, accompagnée de la basse continue, Paris, 1689» introduced by Philippe Lescat and Jean Saint-Arroman (Courlay: Fuzeau, 1994) and Robert Ballard, «Premier Livre de tablature de luth, 1611», introduced by Pascale Boquet and François-Pierre Goy (Courlay: Fuzeau, 1995)." Journal of Seventeenth- century Music, vol. 3, no. 1, 1997, sscm-jscm.org/v3no1.html. Accessed 15 April 2020.
Carter, Tim, and John Butt, editors. The Cambridge History of Seventeenth-Century Music. Cambridge University Press, 2006.
Chambonnières, Jacques Champion de. Pièces de clavessin. Paris, Chez Jollain, 1670.
Chung, David. "Revisiting 'le bon goût': Observations on the Irregularities and Inconsistencies in French Harpsichord Music 1650–1730." Music and Letters, vol. 92, no. 2, 2011, pp. 183-201.
Couperin, François. L'art de toucher du clavecin. Paris, 1717.
Cyr, Mary. Performing Baroque Music. Ashgate Publishing, 1992.
Cyr, Mary. Style and Performance for Bowed String Instruments in French Baroque Music, Ashgate Publishing, 2012.
Dolmetsch, Arnold. The Interpretation of the Music of the 17th and 18th Centuries, Novello and Company, 1915.
Donington, Robert. A Performer's Guide to Baroque Music. Charles Scribner's Sons, 1973.
Donington, Robert. Baroque Music: Style and Performance. W.W. Norton & Company, 1982.
Donington, Robert. The Interpretation of Early Music. Faber and Faber, 1963.
Dufourcq, Norbert. La musique. Picard, 1972.
Eco, Umberto. Historia piękna. Translated by Agnieszka Kuciak. Rebis, 2005.
Egan-Buffet, Máire. Manuscript Sources of French Music Theory: Paris, Bibliothèque Nationale, Arsenal, MS. 3042. A Facsimile Edition with Translations, Introduction and Commentary. Institute of Mediaeval Music, 2005.
Egan-Buffet, Marie. "Le cantus firmus dans le Traite de musique (1583) d'Adrian Le Roy." Itinéraires du cantus firmus: Aspects multiples, ed. Edith Weber, Presses de l'université Paris-Sorbonne, 1994, pp. 39-59.
Gigault, Nicolas. Livre de musique dédié à la très Ste. Vierge. Paris, Chez l'auteur, 1682.
Gigault, Nicolas. Livre de musique pour l'orgue. Paris, Chez l'auteur, 1685.
Gisbert, Blaise. Le Bon goût de l'éloquence chrétienne. Lyon, Boudet, 1702.
Glaenzer, Cécile. "Présentation d'un manuscrit anonyme de la bibliothèque de l'Arsenal Manière de toucher l'orgue dans toute la propreté et la délicatesse qui est aujourd'hui en usage à Paris." Cahiers de la Société de musique ancienne de Nice, no. 4, Le Clavier: techniques, factures, interprétations, ed. Nicole Janicaud, 1992, pp. 87-102.
Kircher, Athanasius. Musurgia universalis. Rome, Corbellitti, 1650.
Le Cerf de la Viéville, Jean-Louis. Comparaison de la musique italienne et de la musique françoise, Brussels, François Foppens, 1705-1706.
Lebègue, Nicolas. Les pièces d'orgues. Paris, Pierre-Joseph Baillon, 1676.
Leon, Jean-Charles. "Les messes en style antique ou l'illusion d'un style." Le Jardin de Musique, vol. 2, 2008, pp. 143-154.
Mersenne, Marin. Harmonie Universelle. Paris, Cramoisy, 1636.
Neumann, Frederick. Ornamentation in Baroque and Post-baroque Music. With Special Emphasis on J.S. Bach. Princeton University Press, 1978.
Nivers, Guillaume-Gabriel. Livre d'orgue contenant cent pièces de tous les tons de l'église. Paris, G.-G. Nivers & R. Ballard, 1665.
Panetta, Vincent. Treatise on Harpsichord Tuning by Jean Denis. Cambridge University Press, 1987.
Ponsford, David. French Organ Music in the Reign of Louis XIV. Cambridge University Press, 2011.
Poprzęcka, Maria, and Antoni Ziemba. Teoretycy, historiografowie i artyści o sztuce, 1600-1700. PWN, 1984.
Pruitt, William. "A 17th-century French Manuscript on Organ Performance." Early Music, vol. 14, no. 2, 1986, pp. 236-251.
Pruitt, William. "Un traité d'interprétation du XVII siècle." L'Orgue, vol. 152, 1974, pp. 99-111.
Raison, André. Livre d'orgue. Paris, Chez l'autheur, 1688.
Saint-Arroman, Jean. L'Interprétation de la Musique Française (1661-1789). 2 vols. Honoré Champion, 1983-1988.
Saint-Arroman, Jean. Méthodes et Traités, Orgue. Vol. 1, France 1600-1800, Éditions Fuzeau, 2005.
Tatarkiewicz, Władysław. O filozofii i sztuce. PWN, 1986.
Van Wye, Benjamin. "The Ritual Use of the Organ in France". Journal of the American Musicological Society, vol. 33, 1980, pp. 287-325.
Veilhan, Jean-Claude. The Rules of Musical Interpretation in the Baroque Era. Alphonse Leduc, 1977.
Villari, Rosario, editor. Człowiek baroku. Translated by Bogumiła Bielańska, et al. Volumen, 2001.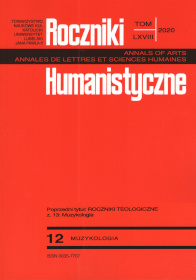 Copyright (c) 2020 Roczniki Humanistyczne
This work is licensed under a Creative Commons Attribution-NonCommercial-NoDerivatives 4.0 International License.