The Hymn Rex sanctorum angelorum in Notated Missal ms. 387 and its Partial Meaning in the Search of the Provenance of the Manuscript
Janka Bednáriková

Catholic University in Ružomberok, Slovakia
Keywords:
medieval manuscripts, Gregorian chant, liturgical tradition, missal, hymn
Abstract
Amongst the 18 notated manuscripts (today located in Slovak depositories as part of our precious cultural heritage), we can find Notated Missal ms. 387 from the former Evangelical College Library in Bratislava. It is preserved in the Central Library of the Slovak Academy of Sciences in Bratislava. Currently it is the subject of deeper research. Its most disputable aspect is its provenance. According to many scholars, it dates back to the 13th century, because it does not include the Feast of Corpus Christi. On the basis of a later note in the calendar (f. 5) we may also assume that the manuscript was written (or, at least, utilised) in the city of Lund, Sweden. For confirmation or refutation of such a hypothesis, the author will take into account the considerations regarding the hymn Rex sanctorum angelorum, that may represent one of the clues in order to get closer to the truth.
References
Adamko, Rastislav, and Eva Veselovská. Graduale Cassoviense (s. XVI in.): Liturgicko- muzikologická štúdia. Verbum, 2016.
Adamko, Rastislav, et al. Graduale Nitriense (s. XVI). Liturgicko-muzikologická štúdia. Facsimile. Verbum, 2016.
Adamko, Rastislav. "Príspevok k problematike kalendára v Misáli R. 387." Slovenská hudba, Revue pre hudobnú kultúru, R. XXXII, no. 2, 2006, pp. 144-151.
Akimjak, Amantius, Rastislav Adamko, and Janka Bednáriková. Spišský graduál Juraja z Kežmarku z roku 1426. Verbum, 2006.
Bergier, Nicolas Sylvestre. Dizionario enciclopedico della teologia, della storia della Chiesa, degli autori che hanno scritto intorno alla religione, dei concilii, eresie, ordine religiosi ec. Vol. IV, Tradotto in italiano Clemente Biagi, Venezia: Girolamo Tasso, 1828.
Dobszay, László. "Niekoľko aspektov skúmania stredovekých hudobných kódexov Bratislavy." Hudobné tradície Bratislavy a ich tvorcovia, vol 18, 1989, pp. 11-22.
Dreves, Guido Maria, editor. Hymnographi latini. Lateinische Hymnendichter des Mittelalters. Vol. 2, Analecta hymnica medii aevi. O. R. Reisland, 1907.
Hiley, David. The Western Plainchant. Clarendon Press 1993.
Pikulik, Jerzy. Polskie graduały średniowieczne. Wydawnictwo UKSW, 2001.
Sopko, Július. Stredoveké latinské kódexy v slovenských knižniciach. Matica slovenská, 1981.
Szendrei, Janka. A magyar középkor hangjegyes forrásai. MTA Zenetudományi Intézet, 1981.
Szendrei, Janka, and Richard Rybarič, editors. Missale Notatum Strigoniense ante 1341 in Posonio. Curis, 1982.
Veselovská, Eva, Adamko Rastislav, and Janka Bednáriková. Stredoveké pramene cirkevnej hudby na Slovensku. SMS, ÚHV SAV, 2017.
Veselovská, Eva. "Choralnotationen der mittelalterlichen liturgischen Kodizes des 14. und 15. Jahrhunderts in slowakischen Archivbeständen." De Musica Disserenda, vol. V, no.1, 2009, pp. 92-93.
Veselovská, Eva. Mittelalterliche liturgische Kodizes mit Notation in den Archivbeständen von Bratislava. Slowakisches Nationalmuseum – Musikmuseum, vol. 63, 2002.
Veselovská, Eva. Mittelalterliche liturgische Kodizes mit Notation in den Archivbeständen von Bratislava II. Institut für Musikwissenschaft der Slowakischen Akademie der Wissenschaften, 2006.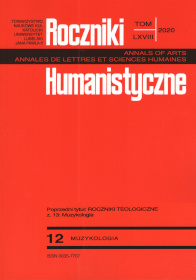 Copyright (c) 2020 Roczniki Humanistyczne
This work is licensed under a Creative Commons Attribution-NonCommercial-NoDerivatives 4.0 International License.