Selected Issues from the Theory and Practice of Audiovisual Translation Teaching in Polish Modern Language Faculties
Keywords:
audiovisual translation, AVT teaching, modern language teaching methods, modern language education, applied linguistics, dubbing, subtitling
Abstract
Audiovisual translation (AVT) is the most dynamically developing kind of translation of the modern era. According to the authors of this article, the popularity of this type of translation will only increase. Unfortunately, within the framework of contemporary Polish modern language faculties, classes in audiovisual translation have not yet entered the curricula as obligatory subjects. The aim of this article is to draw the academic community's attention to the necessity of introducing AVT translation classes into the curricula of modern language faculties, such as applied linguistics, translatology and contemporary linguistics. The article discusses the latest theoretical trends in AVT and presents the most popular types of translation of this type, which can be successfully used in the process of learning foreign languages in neophilological fields. These include, above all, subtitling and dubbing. The article ultimately raises the main question of how this type of translation can be used in class and what glottodidactic effects can be achieved in this way.
References
Chaume, Frederic. «Synchronization in Dubbing: A Translational Approach». Topics in audiovisual translation, ed. Pilar Orero, John Benjamins Publishing Company, 2004, cc. 35-52.
Díaz Cintas, Jorge, editor. New trends in audiovisual translation. Multilingual Matters, 2009.
Franco, Eliana, Anna Matamala, and Pilar Orero. Voice Over Translation: An Overview. Peter Lang, 2010.
Gambier, Yves. «The position of audiovisual translation studies». The Routledge handbook of translation studies, ed. Millán Carmen, and Francesca Bartrina, Taylor and Francis, 2013.
Garcarz, Michał. Przekład slangu w filmie. Tertium, 2007.
Gorshkova, Vera. Perevod v kino. IGLU, 2006 [Горшкова, Вера. Перевод в кино. ИГЛУ, 2006].
Hendrykowski, Marek. «Z problemów przekładu filmowego». Wielojęzyczność literatury i problemy przekładu artystycznego, red. Edward Balcerzan, Ossolineum, 1984.
Jakobson, Roman. «On Linguistic Aspects of Translation». On translation, ed. Ross Brower, Harvard University Press, 1959.
Kornaukhova, Nataliya. «Audiovizual'nyy perevod v usloviyakh novoy tekhnologicheskoy re-al'nosti». Nauchnaya diskussiya: voprosy filologii, iskusstvovedeniya i kul'turologii. Internauka, 2016 [Корнаухова, Наталия. «Аудиовизуальный перевод в условиях новой технологической реальности». Научная дискуссия: вопросы филологии, искусствоведения и культурологии. Интернаука, 2016].
Sikora, Iwona. Dubbing filmów animowanych. Oficyna Wydawnicza pwsz, 2013.
Taylor, Christopher. «Multimodality and audiovisual translation». Handbook of Translation Studies. Vol 4, red. Yves Gambier and Luc Doorslaer, John Benjamins Publishing Company, 2013.
Tomaszkiewicz, Teresa. «Przekład audiowizualny, werbo-wizualny czy intersemiotyczny: różne wymiary tej samej rzeczywistości?». Lingwistyka Stosowana, vol. 3, 2010, cc. 33-44.
Tomaszkiewicz, Teresa. Przekład audiowizualny. Wydawnictwo Naukowe PWN, 2006.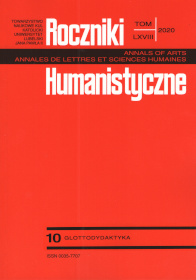 Copyright (c) 2020 Roczniki Humanistyczne
This work is licensed under a Creative Commons Attribution-NonCommercial-NoDerivatives 4.0 International License.