Beyond East and West: What 'Ladder' Did John Wu Use Towards This Goal? (Part One)
Keywords:
John Wu, Beyond East and West, spiritual autobiography, Christian faith, friendship, human and divine love, natural law
Abstract
John Wu Jingxiong (1899-1986) was a diplomat, scholar, and authority on international law. He was also a prominent Chinese Catholic convert. His spiritual autobiography Beyond East and West (1951) reminds us of the Confessiones of St. Augustine for its moving description of John Wu's conversion to Catholicism in 1937 and his early years as a Catholic. The very title of Wu's autobiography points to his spiritual ideal which let humanity go beyond cultural particularities (be they Western, Chinese or other). John Wu found wisdom in China's great traditions, i.e. Confucianism, Daoism and Buddhism, pointing to their universal truths that come ultimately from, and are fulfilled in, Christ. The author of this contribution has searched for John Wu's universal traits which go beyond any culture and which he called, metaphorically, a "ladder". He has found a threefold ladder, i.e. that of Christian faith, that of human friendship and human and divine love, and that of natural law.
References
Gentile, Emilio. Politics as Religion. Princeton University Press, 2006.
Harris, Maxine. The Loss That Is Forever: The Lifelong Impact of the Early Death of a Mother or Father. Penguin Books, 1995.
Hathaway, Ronald F. Hierarchy and the Definition of Order in the Letters of Pseudo-Dionysius: A Study in the Form and Meaning of the Pseudo-Dionysian Writings. Nijhoff, 1969.
Healey, Charles J. Christian Spirituality: An Introduction to the Heritage. St. Paul's Alba House Bookstore, 1999.
Keegan, Nicholas M. "From Chancery to Cloister: the Chinese Diplomat who became a Benedictine Monk." Diplomacy & Statecraft. Routledge, part of the Taylor & Francis Group, vol. 10, no. 1, 1999, pp. 172-185.
Marcel, Gabriel. Homo Viator: Introduction to a Metaphysic of Hope. French original: 1945. Translated by Emma Craufurd. Harper & Row, 1962.
Raveis, Victoria H., Karolynn Siegel, and Daniel Karus. "Children's Psychological Distress Following the Death of a Parent." Journal of Youth and Adolescence, vol. 28, no. 2, 1999, pp. 165-180.
Thérèse of Lisieux. The Autobiography of Saint Therese of Lisieux: The Story of a Soul. Translated by John Beevers. Doubleday Religious Publishing Group, 1989.
Tillich, Paul. Dynamics of Faith. Harper & Row, 1957.
Tsakiridis, George. Evagrius Ponticus and Cognitive Science: A Look at Moral Evil and the Thoughts. Pickwick Publications, 2019.
Vetterling-Braggin, Mary (editor). "Femininity," "Masculinity," and "Androgyny": A Modern Philosophical Discussion. Adams, 1982.
Welch, Patricia Bjaaland. Chinese Art: A Guide to Motifs and Visual Imagery. Tuttle Publishing, 2008.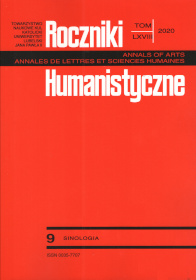 Copyright (c) 2020 Roczniki Humanistyczne
This work is licensed under a Creative Commons Attribution-NonCommercial-NoDerivatives 4.0 International License.